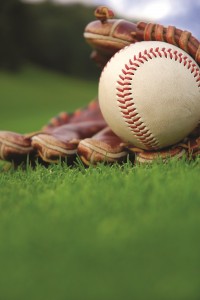 From hitting the ball, to hitting the books, Auburn University baseball and softball players from the College of Engineering are learning to juggle the roles of both student and athlete. From waking up in the morning to train for their sport, to catching those much-needed nightly z's after spending hours studying and completing engineering homework, student-athletes are quickly learning the importance of a work-life balance. It's not an easy process to achieve, and they have faced their share of bumps along the way, but through sheer perseverance, dedication and a laser focus on the big picture, these individuals are making their mark both in the classroom and on the field.
Kasey Cooper

"Greatness is a way of life" is not just a quote Kasey Cooper likes to read; it's what this 2014 National Freshman of the Year lives by each day.
Cooper, a sophomore in mechanical engineering and Auburn softball player, has proven to be a force as both an athlete and student. The Dothan, Alabama, native was recruited out of high school and was offered both an athletic and academic scholarship, choosing academic to pursue her long-term goals. She even turned down offers from other schools that wanted her to play, but while postponing her work in engineering.
"Softball only lasts so long, but my education lasts forever," Cooper said. "Engineering is what I want to do. I get to solve problems both on and off the field."
While Cooper has garnered many softball accolades – including 2013 Gatorade Alabama Softball Player of the Year and 2014 National Fastpitch Coaches Association Co-Freshman of the Year, among others – her other passion lies within engineering.
A student who has never made below a B from elementary school through now, Cooper discovered early on that she enjoyed math and science and could easily grasp those subject-related concepts. Once arriving at Auburn, she quickly learned she could not just rely on her natural talent to get by.
"I underestimated the amount of time it takes to complete engineering homework," Cooper said. "Time management is essential because I can't procrastinate. I also learned balancing softball with engineering is not as easy as it looks, and I'm no longer afraid to ask for help."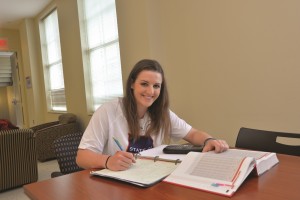 Her original plan was to earn an engineering degree and continue on to medical school to become a surgeon. However, Cooper was offered an internship this summer to work on missile projects, which has sparked another interest.
"I'm a bit torn right now because I thought I had my path figured out: graduate with an engineering degree and go to medical school," Cooper said. "Now, I have this exciting opportunity this summer to work on missiles, and I definitely see myself enjoying that type of work."
Not that Cooper can go wrong either way. In addition to her national athletic honors, she was inducted into the National Society of Collegiate Scholars after earning a 4.0 GPA her freshman year and continues to stay on top of her courses even during the season.
"I always make my presence known to my professors. I find it helps that I'm attentive and ask questions," Cooper said. "Therefore, professors are more understanding and flexible when I'm traveling so I can still succeed in engineering."
That success also translates to the field. Auburn's softball team is currently ranked among the top in the nation, thanks in part to Cooper's athletic prowess as a powerful left-handed batter who rarely strikes out. For Cooper, the wins Auburn softball continues to rack up is icing on the cake compared to what she gets back from being part of a large group with common goals.
"As we say on the team, we have bridesmaids for life," said Cooper. "We are all in the same boat when it comes to balancing softball, school and some semblance of a social life. But in the end, it is a privilege to live my dream and play softball at the college level."
Brett Olson
Brett Olson, sophomore in mechanical engineering and player on the Auburn baseball team, has some big shoes to fill, but he's doing it his way through his education.
Olson is the son of legendary Auburn baseball player Gregg Olson, who went on to play for 10 teams in Major League Baseball, including the Baltimore Orioles, Atlanta Braves and the Houston Astros.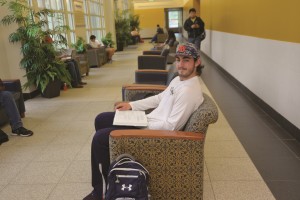 "My all-time favorite baseball player would have to be my dad, but we're different and I'm trying to carve my own path here at Auburn," Olson said. "I realize attending the same school my father went to made carving that unique path a lot more difficult, but I enjoy it and understand gaining an academic education is just as important as becoming a good baseball player."
And Olson is going above and beyond to achieve that education with many sleepless nights and having up to five tutors at a time to catch him up on engineering subjects. The balance of baseball and school is challenging, but Olson is prepared and determined.
A typical school day for Olson involves 8 a.m. classes every day of the week to ensure he is finished by noon and can grab a quick lunch before making it to practice by 1 p.m. Depending on the time of season, practice lasts until 5 or 6 p.m., which is followed by lifting weights, eating dinner and studying with his tutors and completing homework until 10 p.m., or later.
"I have to stay committed and I have to keep my routine if I want to have success," Olson said. "There is a lack of sleep and a lack of free time, but I see the greater good and this was my decision."
Even though his life is structured and every minute is planned out, Olson said it helps because others on the team can relate to his schedule. He credits the assistance of classmates, tutors and Athletic Director Jay Jacobs for providing student-athletes the tools they need to experience continued success in the classroom.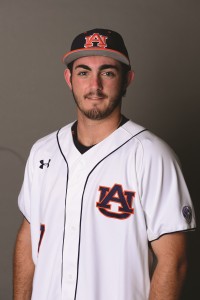 "Sometimes it does get tough, but the great thing about the team is there are 34 other guys who can relate," he said. "I spend more time with them than anyone else, so they help to ease the stressful times because they're students too who also have a love of the game."
Growing up, that passion for playing the game grew and Olson knew he wanted to take baseball to the next level, while also wanting to flex his academic muscle.
"Math and science always came naturally to me, and I knew I wanted to play baseball in college. When it came down to make a decision for where to play, my mother was adamant I had to go somewhere that had a good engineering program, and that place was Auburn," Olson said.
While Olson ultimately hopes to become a professional baseball player, he realizes having that engineering degree in his back pocket would appeal to his "fixer" side.
"I do enjoy working with vehicles, machines and weapons to make them safer, and I could see myself working for a government or military agency if baseball did not work out," he said. "I even thought of joining the Marines to be an engineer in the field. Improving machinery has always interested the engineering part of me."
Whether Olson becomes the next great baseball player or the next great engineer, one thing is for certain: the future looks bright and Olson's path will be distinctly his own as an Auburn Engineering graduate.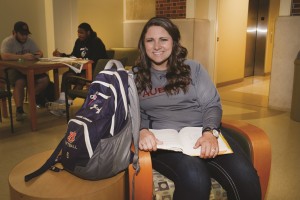 Hilary Mavromat
Hilary Mavromat, senior in chemical engineering, is one of the most multifunctional people you will ever meet.
Mavromat has been on the Auburn softball team for five years, holding positions from pitcher to hitter to first base. Since her playing eligibility ended last year, Mavromat has found herself in a new role as an assistant to the team. Now, she sets up drills, practices hitting techniques with players and serves as an announcer during SEC softball games for the SEC Network. Oh, and she manages to squeeze in chemical engineering classes among everything else.
"It's hard and can be stressful, but time management is essential," Mavromat said. "I have to study whenever I have a gap anywhere in the day."
Those gaps come few and far between which is why Mavromat has to operate under a strict schedule beginning at 7:30 a.m. every day. Her classes last from 8 a.m.-2 p.m., followed by hitting the softball field for practice from 3 p.m.-6 p.m. Following practice, Mavromat eats a quick dinner, followed by studying and homework until it's time to hit the bed and start all over the next day.
"Since I'm now on the staff side, it does make my schedule a little easier, and I can balance classes better," she said. "When I was a student, it took a lot for me to figure out how to squeeze in homework and classes."
The success Mavromat has had on the softball field extends to the classroom. Initially, when she first came to Auburn her goal was to go to medical school. Upon declaring her plan, she received advice to pursue chemical engineering.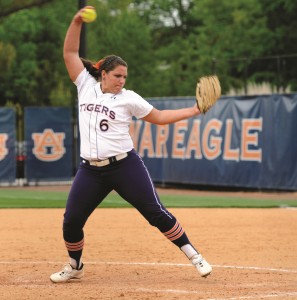 "I didn't realize how difficult chemical engineering would be for me, especially in my junior and senior year," Mavromat said. "I had to re-learn how to manage my time to continue making good grades and remain on the team."
While Mavromat took advantage of the tutoring services offered while playing, now the tables have turned since the players know her engineering strengths.
"Some of the girls on the team do approach me asking about their math and science homework because they know I'm in chemical engineering and those subjects come naturally to me," Mavromat said.
Becoming a dual threat in the classroom and on the field did not come overnight for Mavromat, and she has faced a few speed bumps along her journey. As she describes, a person can learn a lot about themselves from "the game of failure." The most important lesson, however, is how they handle it and turn it into a positive.
While Mavromat may have faced past failures, it's obvious she triumphed. After graduating in May, Mavromat will pursue a career in the chemical engineering industry, instead of medical school. But she will always be grateful for her time on the team and all the lessons she learned.
"Being on the softball team with 20 other girls has given me so many opportunities, including dealing with adversity, challenges and success," Mavromat said. "I've been able to determine my strengths, and the experience I've gained will help me go far in life."