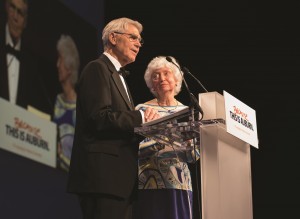 Before the kickoff celebration at the annual A-Day football game on April 18, Auburn University and the Samuel Ginn College of Engineering celebrated the kickoff of the Because This is Auburn $1 billion capital campaign with the largest gift in school history. John and Rosemary Brown, both 1957 Auburn graduates, committed $57 million to the university to fund two major new facilities: an engineering student achievement center will be constructed with $30 million of the gift, with the remainder used to build a new performing arts center.
This state-of-the-art engineering achievement center will enhance a multitude of student support activities, including student recruitment, curriculum advising, tutoring, career mentoring, job placement and an industrial relations center. The center will also create space for a student project incubator and an engineering international experience office.
"We are very happy to give back to Auburn," said John, a chemical engineering graduate. "Auburn was a transformative educational experience for us, preparing Rosemary for her career in teaching and laying the foundation for my various roles in industry."
John was CEO and chairman of the board of Stryker Corporation, a leading medical device company with annual revenue exceeding $9 billion. Rosemary retired after serving as a mathematics teacher for almost 30 years.
"We wanted to do something that not only impacted Auburn students, but also something that would impact the entire community," Rosemary said. "That is why we decided to do both the student center and the performing arts center."
Auburn also announced it has raised more than $775 million to date in support of the Because This is Auburn campaign, the largest in Auburn's history and one of the largest fundraising campaigns to date in the state.
"Today, we show the world why we believe in Auburn University," said Auburn President Jay Gogue. "This effort is unprecedented in Auburn's 160-year history. This campaign will add new chapters to Auburn's story and will make Auburn stronger for all the generations that follow."
For more information on the Because This is Auburn campaign, click here.