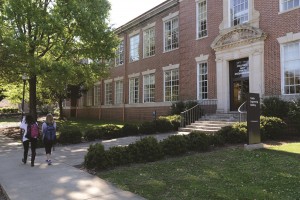 One of the classic, most iconic buildings on Auburn's campus will soon be outfitted and renovated into a state-of-the-art research laboratory thanks to a generous gift made possible by Carol Ann and Charles Gavin.
The $15 million project – with $8 million coming from the Gavins and the balance from the university – will result in the Textile Building being renamed the Carol Ann and Charles E. Gavin III Engineering Research Laboratory.
The building, which faces Magnolia Avenue and was originally constructed in 1929 to prepare future engineers for the textile industry, has served as a vital component to economic development in the region and state for more than eight decades.
"Charles and Carol Ann's generous gift will enable the college to retrofit the new laboratory with advanced technologies to serve students for the next 80 years," says Christopher B. Roberts, dean of engineering. "This is very important as the college continues to provide meaningful hands-on experiences to students."
An additive manufacturing facility will be incorporated into the building to allow students to gain experience with emerging fabrication technology, as well as a new polymer and composite laboratory to continue the college's research in this area and to meet industry needs.
The renovated facility will include traditional research laboratories, as well as a lab for the Nuclear Power Generations Systems Program, a new wind tunnel system, a series of hands-on student project areas and collaborative meeting spaces. A paper machine used in microfibrous materials research is also planned for inclusion into the new facility.
This transformational gift will allow the college to raze the L-Building and shop buildings, paving the way for a new engineering student achievement center, which will enhance a multitude of student programmatic support services.
The south entrance of the Gavin Engineering Research Laboratory will also be renovated to allow students more convenient entry to the building when coming from the heart of campus, while also providing accessibility to the student achievement center once it's constructed.