Calling chemical engineering senior Christy Pickering a renaissance woman may be an understatement. From sun up to sun down, Pickering can be found around campus playing the clarinet in the Auburn University Marching Band, leading the Biomedical Engineering Society as its vice president and serving as a tutor as part of the Study Partners program. One of her biggest time commitments, however, is also one of her most rewarding, as it has the potential to impact chemotherapy patients worldwide.
Pickering has partnered with Rusty Arnold, associate professor in Auburn's Harrison School of Pharmacy, as a cross-disciplinary collaboration to develop more efficient and effective ways to deliver drugs used in chemotherapy treatments. Working with Arnold since 2013, Pickering puts in approximately 10-15 hours per week in his lab as an undergraduate research student.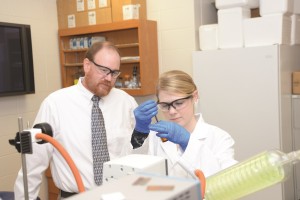 "It's a big time commitment, but it's worth it and so rewarding when you think that the research you're performing could potentially have an impact on curing cancer," Pickering says.
Pickering and Arnold are researching ways to use a more active targeting approach which would allow liposomes — small spherical particles used in chemotherapy — to attack only the cancer cells in the body. Instead of just using the chemotherapy drug doxorubicin as the treatment method within the liposome, Pickering has also been incorporating gold nanoparticles as an imaging contrast agent to closely examine the tumors. Pickering believes if she and other researchers can put doxorubicin and gold nanoparticles into the liposomes at the same time and ensure it travels to the tumor cell, the cell could be imaged at the same time it is being killed. This would create a combined diagnostic and therapeutic capability in one particle.
In connection with the nanoparticle research, the Enhanced Permeability and Retention Effect (EPR Effect) is a characteristic of the tumor that liposomes capitalize on for delivery and allows them to locate potential tumors. Because tumors grow so quickly, they stimulate the production of blood vessels, creating a more porous cell wall and disorganization among the blood vessels. Holes in the tumor's blood vessels allow the liposomes to pass through the vessel walls and into the tumor.
According to Pickering, the EPR Effect is a passive way to target a growing tumor since medical professionals are relying on the liposomes to naturally locate cancerous tumors by passing through the blood vessel. One treatment, called Doxil, is a liposome with doxorubicin encased in it.
"By using the liposome injections we can see an increase in the cancer cell death based on image contrasting," Pickering says.
The research in Arnold's lab has garnered national attention and has earned her a $5,000 Gateway to Research Scholarship from the American Foundation for Pharmaceutical Education. The scholarship recognizes and supports faculty-mentored research in pharmaceutical sciences.