Civil engineering junior Rebecca Nylen is setting herself apart from the best civil engineering students in Alabama and in the nation. She has received the 2015 Eugene Glysson National Chi Epsilon scholarship, one of only 11 national and nine district scholarships presented by the civil engineering honor society annually. Scholarship applicants were evaluated on GPA, university activities, offices held, honors and awards, service to community, work and research experience and a personal essay.
"I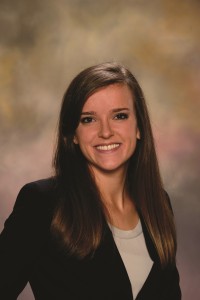 am grateful that my hard work has been recognized on a national level and I am thrilled to represent Auburn University," Nylen said. "Chi Epsilon is a prestigious organization and it means a great deal to be recognized by them."
In addition to being recognized nationally, Nylen has been named the 2015 Student Civil Engineer of the Year by the Alabama section of the American Society of Civil Engineers (ASCE). The selection was made by a panel of ASCE members from Georgia, Mississippi and North Carolina.
"I have learned a great deal through my leadership experiences and involvement with ASCE, and many of my current accomplishments are thanks to this organization," Nylen said. "I hope to continue my involvement with ASCE throughout my professional career and help to advance the civil engineering profession in any way possible."
Nylen serves as secretary of Auburn's chapter of ASCE and is involved in the concrete canoe team. She is also active in Auburn's chapter of the American Concrete Institute and participates on Auburn University's cross country and track and field teams.