Christy Pickering and Connor Dobson, seniors in chemical engineering, were named 2015 national Goldwater Scholars by the Barry Goldwater Scholarship and Excellence in Education program.
Pickering, as seen on page 25, is a Huntsville, Alabama, native, and performs research with Rusty Arnold, associate professor in the Harrison School of Pharmacy. Her research investigates a different approach to encapsulate gold nanoparticles within the aqueous core of liposomes and improve tumor targeting. These multifunctional gold-lipidic drug carriers may lead to an increase in efficacy and reduce toxicity of chemotherapeutic drugs used to fight cancer.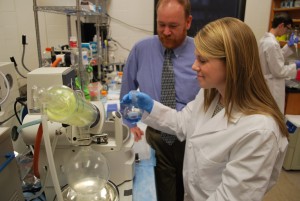 "I am incredibly honored to have been recognized by such a prestigious award," Pickering said. "Conducting undergraduate research has opened up my passion for pharmaceutical research and continues to challenge me. By working with Dr. Arnold, my skills and knowledge have grown tremendously, and I am excited about the opportunities available."
Dobson is from Jacksonville, Florida, and is also partnering with Arnold and other research students to examine the synthesis of multifunctional gold nanoclusters that can be used in combination with stealth nanoparticles to improve cancer detection and drug delivery.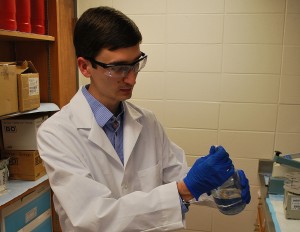 "I am humbled to have been selected for this honor," Dobson said. "It reflects the wealth of opportunities and incredible group of faculty here at Auburn who have provided mentoring and guidance in my undergraduate studies."
The scholarship is awarded to only 300 students nationwide each year to encourage them to continue scientific research. It is generally recognized as the most prestigious award in the United States for undergraduates pursuing a major in science, technology, engineering and mathematics.