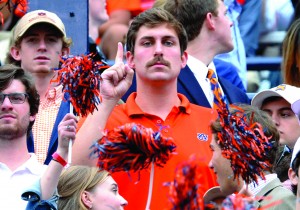 Auburn Engineering student Lucas Tribble gained instant fame during Auburn's home football game against Mississippi State on Sept. 26, when he became the focal point on Jordan-Hare Stadium's new 200-foot-wide video scoreboard.
With a deadpan stare into the camera, Tribble held up one hand and extended his index finger – an emotionless "number one." He did not move a muscle, and hardly blinked, as the camera stayed on him, and later came back to him for more.
Fans laughed at his expression and cheered when he came on the screen. The camera shot to kids mimicking his pose. By the end of the game he was a campus celebrity known to most as "The Mustache Guy," homage to his impressive facial hair that was front and center on the big screen.
"The Mustache Guy" was quickly imprinted on a T-shirt design stating he is "The Hero We Need, Not the One We Deserve." Football fans and students alike ask him to pose for photos, and call out to him when they see him on campus.
He was in the newspaper, on the scoreboard time and time again and even a Halloween costume at the game against Ole Miss on Oct. 31.
But there is more to "The Mustache Guy."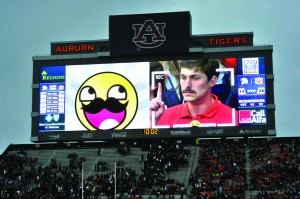 Tribble is a senior in industrial and systems engineering, and is unaffected by the newfound attention. The 6-foot-6 Montgomery, Alabama, native is instead focusing on the greater good, which was his career goal all along.
After graduating this year, Tribble plans to go to seminary school to one day become a pastor and apply his engineering skills to the mission field. He currently serves as a youth minister at a church in nearby Smith's Station, to which he is donating 25 percent of the T-shirt profits to the church's mission budget.
It seems that, like his "The Mustache Guy" alter ego, Tribble himself is also a hero we need. And we can't wait to see what he does next.