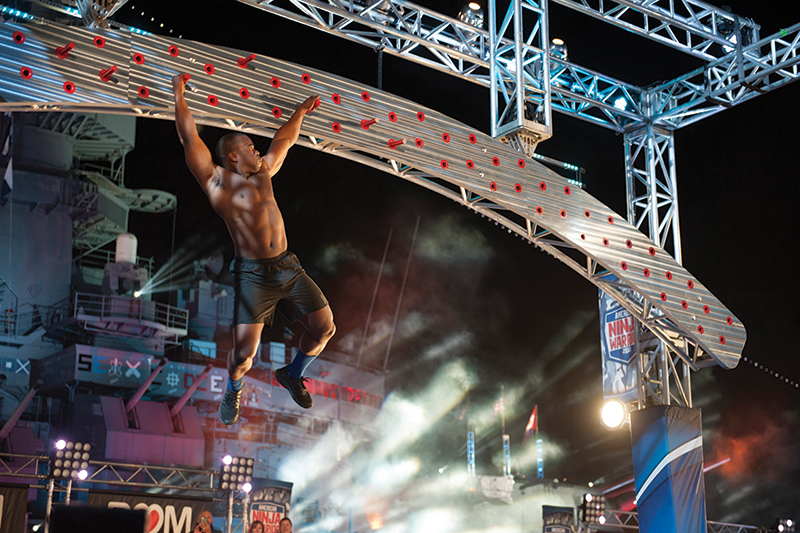 Deon Graham has earned his nickname "The Destroyer" through his physical prowess displayed on "American Ninja Warrior." Graham, '09 civil engineering, was one of the contestants featured this season on the action-packed show that quickly became a fixture among households across the nation.
Graham stood out from among the 50,000 individuals auditioning for the show because of his dynamic three-minute video which displayed his athleticism, training regimen and background. Working as a nuclear trained warfare officer for the Navy, Graham already had the discipline needed to be successful on the rigid course.
"To prepare and condition, I did a lot of upper body training, focusing more on my body weight than traditional weightlifting," Graham said. "I also utilized rock-climbing walls and spent time outside improving my endurance."
Once selected for the show's special active/retired military-themed episode, Graham flew to Long Beach, California, to film, along with 110 other contestants. Since Graham's turn to complete the course was right in the middle of other competitors, he was able to watch their mistakes and formulate a strategy for how he could get through the course. He ended up unable to complete the entire course, but it was not a disappointment and more of a triumph.
"Once I got going it was just a rush with the crowd cheering and my adrenaline pumping," Graham said. "It honestly felt as if how a professional athlete experiences a game, with lots of cheering and support."
Graham did complete the military qualifying round and advanced to the military finals competition in San Pedro City, California. Ultimately, Graham placed 20th overall before being eliminated.
Graham may not have conquered it all, but he won the admiration of thousands across the country not just for how he competed, but because of his service to the nation.
Serving as a warfare officer for the Navy, Graham oversees the propulsion systems and personnel on nuclear-powered aircraft carriers. In addition, he is responsible for the maintenance and operations of nuclear aircraft engineering space and keeping the reactors under his control.
Graham decided to enlist in the Navy after he completed high school and served for two years, before he was selected for the commissioning program. The program pays for a student's college education while they serve on active duty through the school's ROTC program. Graham selected Auburn as a secondary choice, but now says it was fate that brought him to the school he grew to love.
"Everything happens for a reason and as soon as I arrived at Auburn, I knew I had made the right decision and fell in love with the people and campus," Graham said.
One of Graham's strongest subjects throughout his schooling had been mathematics and while engineering, specifically civil, was not something he knew a lot about, he thought the combination of the two could serve him well in the long run.
"I was most intrigued with civil engineering because I could study structural analysis, and civil is such a tangible field where you can see and touch anything," Graham said. "I thought earning an Auburn Engineering degree would serve me well in any capacity whether I stayed in the Navy or pursued other options."
As part of the commissioning program requirements, Graham had to attend classes year round and graduate within three years, which was quite a challenge in the civil curriculum. He faced that obstacle head on, however, and is grateful to the college for the boost it has given to his career.
"My degree has helped me solve problems, which is a large part of what I do now in my job," Graham said. "When I'm in a ship with a reactor, I always take a methodical approach to solve challenges and my Auburn Engineering degree laid that groundwork for me."
Looking toward the future, endless opportunities are open to Graham, especially now because of his "American Ninja Warrior" involvement. He's coming up on a milestone with the Navy where he can commit to 10 more years, or evaluate other options available to him. Thanks to his popularity on the show and social media, Graham has interviewed for several consulting positions with various companies. As he faces this fork in the professional road, Graham is ready to tackle his future with great optimism just like he did facing the "American Ninja Warrior" obstacle course.