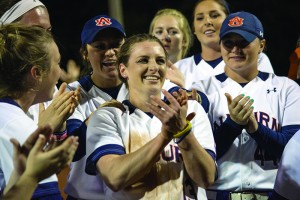 Kasey Cooper, junior in mechanical engineering, was named the Southeastern Conference's Player of the Year and Scholar-Athlete of the Year in softball. She is the first player in Auburn school history to be named the conference's Player of the Year. Cooper was also named espnW's softball Player of the Year, and is one of the top 10 finalists for the USA Softball Collegiate Player of the Year award.
Cooper is tied in the SEC for the lead in home runs (19), and leads the SEC in slugging percentage (.939), total bases (138) and walks (53).
The third baseman has been a key player in Auburn's SEC title run and has 73 RBIs on the year, which makes her Auburn's all-time leader in the category.
Off the field, Cooper maintains a 4.0 in mechanical engineering.
This summer, she will represent the United States in the World Cup of Softball XI, the WX World Baseball Softball Confederation Women's World Championship in Surrey, British Columbia, Canada and the Japan Cup.