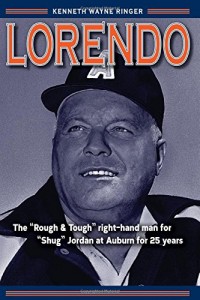 If you've read the recently released biography titled "Lorendo" about beloved and long-time assistant football coach Gene Lorendo, you'll notice the author's name also has a familiar ring to it.
The book was written by Ken Ringer, '59 industrial management, and it chronicles the life of Lorendo, including his service with the U.S. Coast Guard in the Pacific theater during World War II and his 25-year career as an assistant coach under legendary head coach Ralph "Shug" Jordan.
Ringer spent the majority of his career in sales at 3M before retiring to Auburn with his wife, Joyce. They are members of the university's Petrie and Foy societies and the college's Ginn Society.
"Lorendo" is available for purchase at local Auburn bookstores and on Amazon.com.