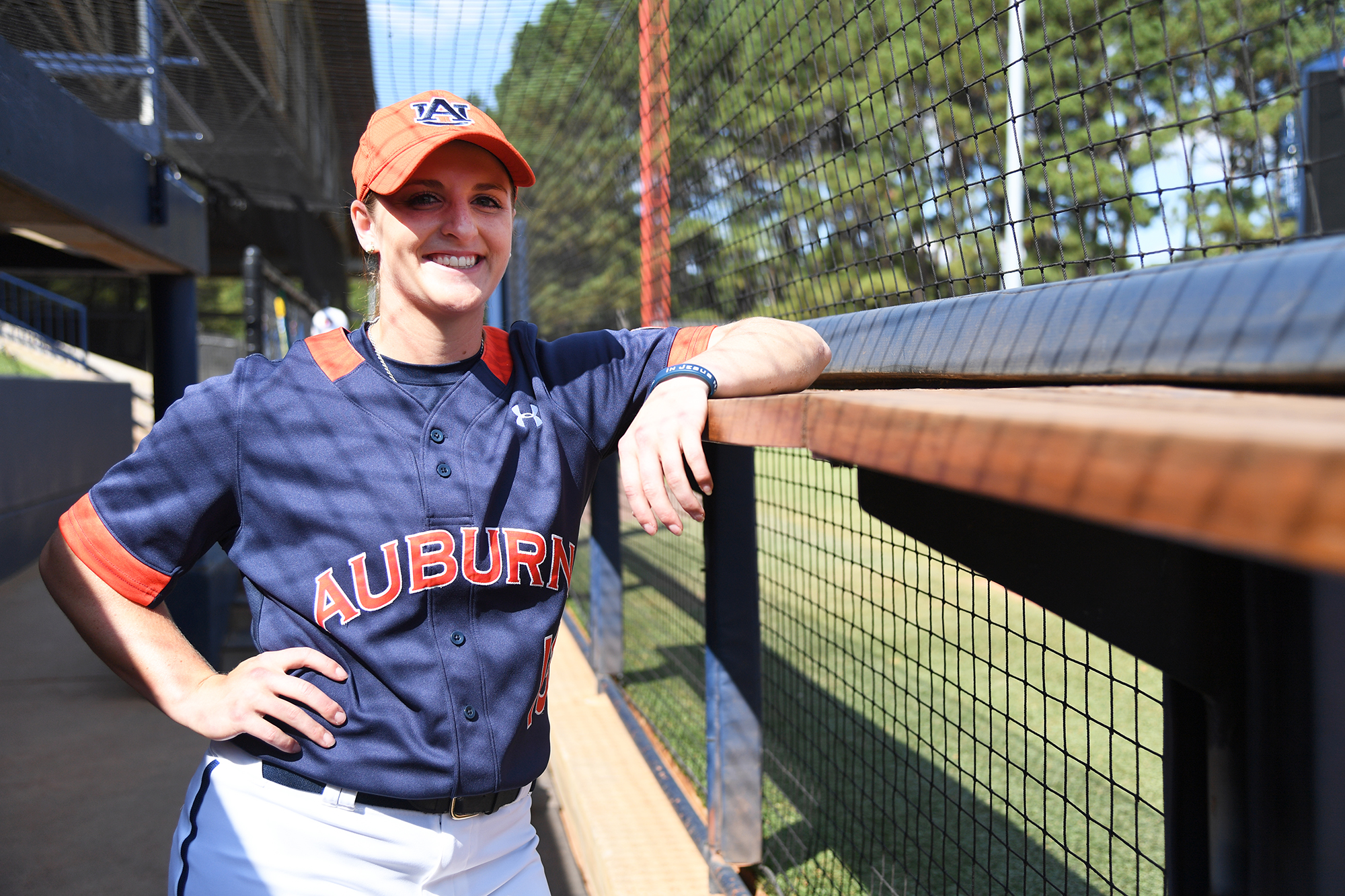 Two roads diverged in orange and crimson, and Kasey Cooper took the one less traveled by. Cooper, a senior in mechanical engineering and third baseman for the Auburn softball team, grew up in Dothan in a house divided.
"My mom graduated from Alabama, but my dad grew up in the Opelika area so he has always been an Auburn fan," Cooper said. "I was a mom's girl, so I cheered for Alabama. My car was named Allie and my cat was named Bama. I never thought I would ever come to Auburn University."
But after visiting Tuscaloosa and stepping foot on the Plains, her mind was made up. And while her mother bled crimson and white, she was nothing but supportive of her daughter's decision, although it did take her some time to come around to the new colors.
"Mom told me, 'this is the school for you.' My parents were happy for me because they knew it was the best decision for me. They support me and love me," Cooper said. "However, my first year my mom wore only orange or only blue. Now, she wears Auburn softball gear and even has some other Auburn stuff. Dad was just so ecstatic that he finally had another Auburn fan in the house."
At home, Cooper's father kept her structured on the field while her mother was the enforcer of grades. Although softball was an extremely important element in her life, it was her academic goals that sold her on Auburn.
"My mom always told me that school is going to get me everywhere," Cooper said. "It came down to which engineering school was the best. I walked on campus for my official visit, I said, 'Mom, this is where I want to go. This is where I belong.'"
Upon seeing Shelby Center for the first time, Cooper said she was amazed at the facilities and the engineering faculty she met.
"I loved the Auburn Engineering structure, the family atmosphere," Cooper said. "This is what Auburn is."
After touring the engineering campus, Cooper said she was impressed with the hands-on learning environments such as the Design and Manufacturing Laboratory. Although she was unsure of a major, she was intrigued with mechanical engineering after hearing professor Roy Knight speak at orientation and listening to him talk about how he felt it was the broadest field and it explored options across all disciplines.
"In high school, I always wanted to be an engineer because engineers figure out how to solve problems and they break down complex problems into the simplest form," Cooper said. "So, I chose mechanical engineering because you have to know a little bit about everything."
And even though she knew choosing such an arduous curriculum was going to be tough, especially coupled with the brutal softball schedule, she was comforted by the support she received from the athletic department, coaches, administrators and faculty.
"They told me it was going to be difficult, challenging and rigorous," Cooper said. "But I met with (Assistant Dean) Dr. (Bob) Karcher and he told me 'You can do it.' That's all I needed to hear."
Balance has been the key to being a success on the field and inside the classroom, and Cooper has been both. In the classroom, she's at the top of her class and was named the 2016 SEC Softball Scholar-Athlete of the Year.
"I lose a lot of sleep every night, but you learn to time manage, you learn to fit in everything. Maybe tonight I need to focus on heat transfer and organic chemistry, maybe another night I didn't really feel good on the field and so I'm going work more on softball and get my mind away from the classroom," Cooper said. "It's all about finding a little bit of balance and knowing I'm never going to get it all done. I'm not perfect, I don't strive to be, but I strive to be great and the greatest Kasey I can be."
On the field, Cooper has been just as amazing. In 2016, she was named the NCAA Elite 90 Winner, espnW Player of the Year, Top 3 finalist for USA Softball Player of the Year, NFCA First Team All-American, Women's College World Series All-Tournament Team and SEC Player of the Year while leading the Tigers to a runner-up finish in the WCWS. While many of the accolades bestowed upon her are individual in nature, she credits everyone from those in her hometown to her coaches and teammates for any and all of her successes.
"It takes a village to raise a family. I always give credit to Dothan because that's where I'm from, but Auburn is my home. Auburn just took me in," Cooper said. "My success is everyone's success. I know I have a God-given talent and it's my job to work that talent, it's my job to set that foundation and standard to live my dreams."
Cooper has also succeeded outside the classroom through an internship with Lockheed Martin and extra credit research through a partnership with the School of Kinesiology. Last year, following a career fair organized by the athletic department, Cooper worked on a missile line at Lockheed's Troy plant, learning the ins and outs of what engineers do each day. Her extracurricular research also gave her a glimpse of everyday engineering life, as she combined her love of softball and engineering to study the center of percussion on aluminum composite bats while factoring in different models, sizes, weights and how the sweet spot varies from person to person because of how each player breaks in a new bat. Cooper used popular DeMarini bats for her project and then compared the findings with the batmaker.
"We verified the data with DeMarini, and it was really cool to see that we could replicate the data from their lab to Dr. [Wendi] Weimar's lab in the Department of Kinesiology in both ways," Cooper said.
While her research and internship fueled her passion, she still had a deep down desire to pursue a dream she had for many years. During her sophomore year, Cooper felt a pain in her side that wouldn't go away, and that pain would eventually lead her down a road to realizing her dream. After consulting with a local physician to get the pain checked out, Cooper discovered she had a large ovarian cyst. With the possibility of the cyst being cancerous, she sought out the advice of trainers, family and coaches, who also had personal experience with their wives going through the same thing. Cooper decided to travel to Birmingham to see a specialist, and it's a good thing she did. After meeting with Dr. John Straughn Jr. of UAB, she contemplated whether surgery was the right option. She opted for surgery and Straughn performed the successful procedure just two days following her 20th birthday. When she returned to Auburn, the outpouring of support from her teammates was overwhelming.
"I got to my apartment and it was completely full of gifts and get well wishes, and I just started crying," Cooper said. "I never knew how much Auburn really meant by family until then."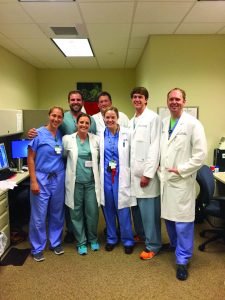 Following the surgery, Cooper and Straughn continued to have a bond and a strong relationship that lasts till this day. Straughn, a former Princeton football player and Alabama football fan, knew the rigors of being a college athlete, and he wanted to ensure she healed properly. As a new Auburn softball fan, he attended the regionals and super regionals that year, and even extended a shadowing opportunity to Cooper, which she gladly accepted. Following the Women's Softball World Championship in July 2016, Cooper spent two weeks with Straughn to see exactly what the life of a surgeon is all about.
"I've always considered medical school, and my goal was to go into it with an open mind. I didn't really know what to expect," Cooper said. "I wanted to take this opportunity because not a lot of people have it."
Cooper spent 11-12 hours per day with Straughn, arriving when he arrived and leaving when he left. She witnessed surgeries of all kinds, and came away with a definitive conclusion that the medical field was for her.
"I found out that I was so mentally exhausted. It was just like softball," Cooper said. "You go up and down. It's like a roller coaster."
And because of her training in the engineering classroom and on the softball field, she knows the transition from the locker room to the operation room will be a seamless one.
"I never knew how much teamwork and communication actually played a part in the medical field. You can relate athletics and engineering to the medical field because sometimes things don't happen the right way. You have to think on your feet, you have to figure out the problem and it has to be a good solution. I am confident that because of my time here at Auburn, I will be able to perform under pressure and come up with the best plan of action for each patient. Softball and engineering have provided me the tools to solve problems, effectively communicate with a team, perform under pressure and trust the process," Cooper said. "Seeing how softball and engineering ties into the medical field, I thought this is what I want to do. I want to help people. I just fell in love. This is where I belong."
And that has made all the difference.