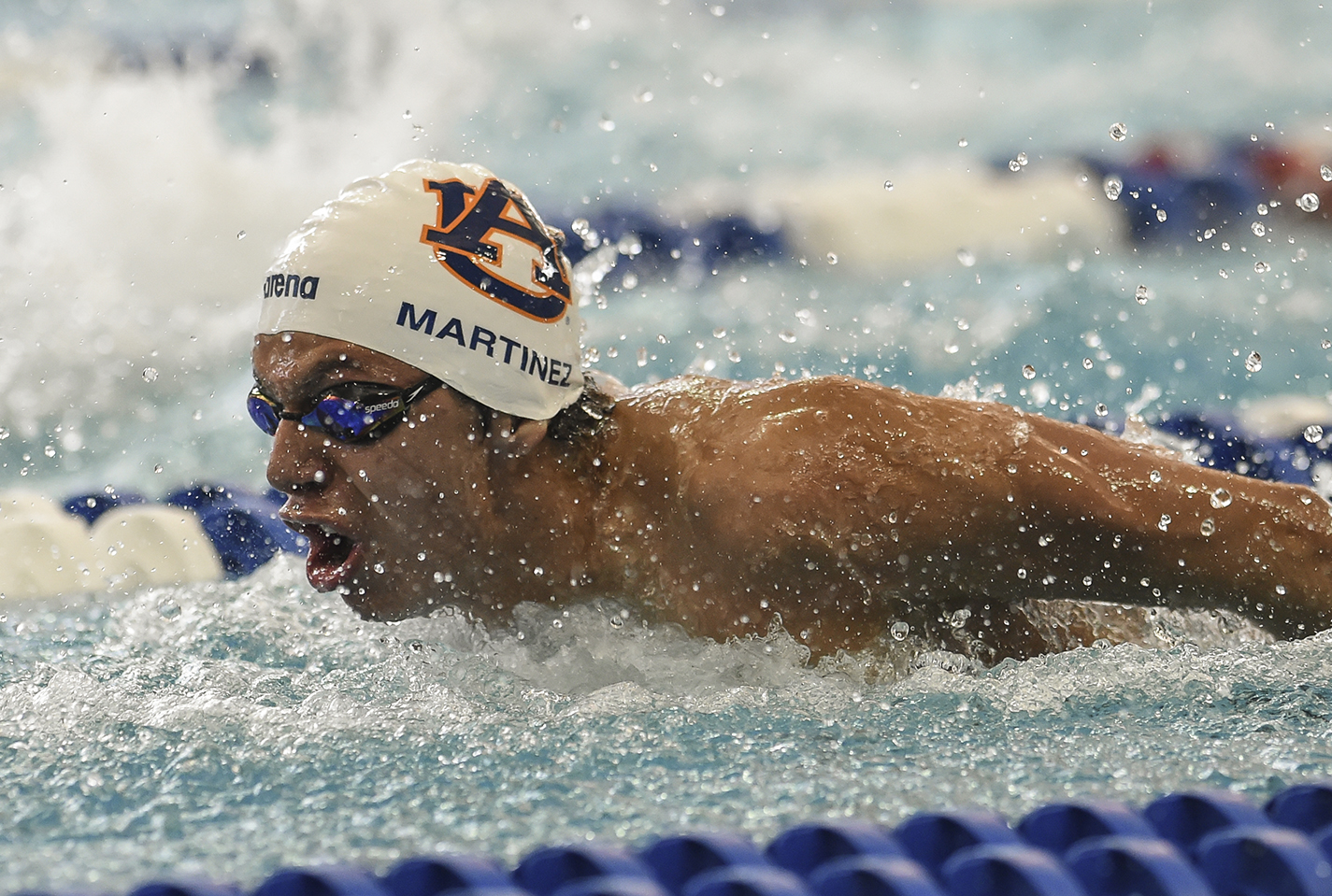 Mornings are the toughest part of swimming. Awake before sunrise and into the frigid waters of the James E. Martin Aquatics Center pool, Luis Martinez, junior in mechanical engineering and member of the Auburn swim team, finishes his laps before most people are out of bed. Whether training to cut a fraction of a second from his lap times or trying to find enough hours in the day to attend class and study, he doesn't have a moment to spare. It's a grueling pace that would overwhelm many athletes, but Martinez doesn't know any other way.
Fighting off the desire to sleep, his race against the clock is a mental struggle. It's the desire to get better, and not being afraid of failure, that has led to his ability to come to terms with his relentless schedule. But consistently getting better every time, as he has, requires perseverance. Day after day, month after month, year after year, Martinez is defining himself in a sport where doing something over and over again is crucial for success. You can see it when he's behind the blocks, waiting for the signals that start the race; he is swimming not only against the competition, but against the standard he has set for himself.
Martinez secured his spot in the 2016 Olympics by proving he could swim against the sport's most elite. In fact, his time of 52.35 in the 100-meter butterfly – clocked at the U.S. Winter Nationals last year – was third behind Michael Phelps and Tom Shields. Representing Team Guatemala in Rio, Martinez was 19th fastest in his Olympic heats. Although he didn't make the finals, he cut his time to 52.22, a personal best and Guatemalan record.
"Going to the Olympics is a dream for any athlete that belongs to an Olympic sport," Martinez said. "But making the Olympics is not the dream. The dream is going to the Olympics and performing the best you've ever performed. Going there and knowing I accomplished that, and gave it my all, was one of the best feelings I've ever felt in my life. No matter if I would have finished second, first or last, it would be probably the same feeling at the end. You have 52 seconds to prove that you've worked harder than a lot of people, and that's tough when you know some have worked just as hard as you. It's extremely competitive, but everyone is going to feel happy at the end."
Born in New Orleans and raised in Guatemala City, Martinez appreciates the opportunities he's had in life and said that swimming has opened "some amazing doors that maybe nothing else would have opened." Like many Latin American nations, Guatemala has regions that struggle with poverty and malnutrition rates. For many in the country, the distribution of income remains highly imbalanced, with more than half of the population below the national poverty line.
"Guatemala is a very unequal country. There is a huge gap between upper class and lower class. There's no real substantial middle class," he said. "I know a lot of kids [in Guatemala] don't have the opportunity I have, which gives me a lot of motivation to represent my country in the best way possible."
Martinez was determined to swim from the age of 3. After a few years, his trainer suggested that the talented athlete should take his skills to the next level. With the support and encouragement of his parents, he was competing by age 10 and moved to Florida after high school.
"I decided to move to the U.S. to pursue not only a career in engineering, but also as a swimmer. And the U.S. is the biggest powerhouse for swimming in the world," Martinez said.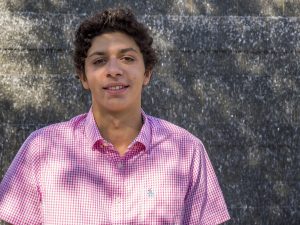 Martinez will be the first to tell you that he was afraid he wasn't fast enough to be recruited by the NCAA powerhouse Tigers, but transferring to Auburn was the best decision he's ever made. After swimming at Missouri University of Science and Technology, Martinez realized he wanted more, especially the option to compete year-round. That's where Auburn entered the picture.
"Even though (Missouri S&T) was really good, I knew there were some other great schools, such as Auburn, that have an amazing engineering program and also have such an amazing swim team. It's just a really good sports legacy."
Swimming at this level is a full-time job, but the Auburn junior manages it while also dealing with the academic demands of mechanical engineering, a major that could rival any college course of study for the title of most rigorous. Although he is determined, he acknowledges that pursuing both dreams at once can be a physical and mental struggle. Akin to the butterfly stroke, it is quickly exhausting – an act of coordination that becomes a challenge of rhythm and timing.
"It's getting to a point where none of my classes are easy anymore," he said. "Some are easier than others, but that doesn't make them easy. Now that I'm starting the real engineering classes, it's so time demanding. Sometimes I just want to sleep. Sometimes I just want to nap instead of going to class. And a part of me knows that actually I would get more benefit for my body, but on the other side my grades would be hurt if I don't go to class. But it's going to be like that forever. Even when I'm not swimming, when I get a job, there are decisions you have to take that you're not going to like. But you have to take them because they're necessary."
Swimming doesn't allow much time for extracurricular activities, but Martinez tries to make sure he isn't missing out on the typical life of a college student. He catches up on sleep during the weekend, he attends football games with his friends and teammates on Saturdays and he even plays the electric guitar – a passion of his for almost nine years.
"I'm a huge fan of music. I played piano when I was a little younger and I used to give little concerts when I was in Guatemala. I was so serious about piano that I actually thought about quitting swimming for piano. I'm glad I didn't do that. I stopped playing piano and I forgot everything."
For now, his aspirations for the near future remain in the pool. Martinez plans on training for the 2020 Olympic trials, but a career in engineering is what he's striving for in the long term. Inspired by wanting to innovate new and creative ways to solve problems, he is excited about the future and the opportunity to work in the U.S.
"I really like designing. I would love to go to a job, and someone tells me, 'We have this idea, and I would like you to sit down and give us a prototype, or design something, or manufacture this.' That would be my dream job. That sounds really fun."
Martinez is confident that the lessons he's learned from competing will apply to the engineering profession. The combination of self-discipline and the motivation to constantly improve and progress to the next level is something he takes to heart. If he doesn't give it his all and learn from his mistakes, Martinez knows he will have no one to blame but himself.
"In swimming, time doesn't lie. If you're out of time, you're out of time. You can't cheat the clock," Martinez said. "If you didn't do something right, just one thing right, you're going to pay for it at the end. There's no other way around it. We have this subconscious feeling when we know we didn't give it everything we could have, and the end result isn't going to be the best it could have been, you know it's because that's on you. It's hard to get better all the time, month after month. When you realize you've done everything perfectly, there's always something to get better at."