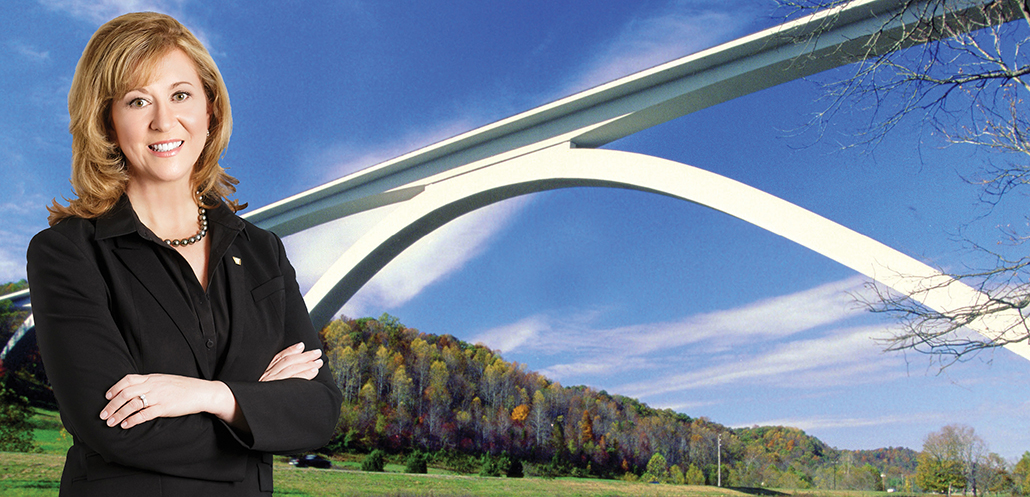 Linda Figg, '81 civil engineering, knows how to bridge the gap. As president and chief executive officer of FIGG Bridge Group, Figg has a keen eye for the design and construction of the structural marvels. From an early age, Figg always knew she wanted to combine her love of nature with math and science to make something that would have an impact on people every day around the world. With her Auburn Engineering degree, coupled with her superb level of bridge knowledge, Figg has seamlessly transitioned into the highest-level position at FIGG Bridge Group and along the way, has made her childhood dream come true.
MB: Why did you choose to become an engineer, and more specifically choose to attend Auburn Engineering?
LF: Growing up I was always fascinated by creative ways to make things and loved to climb to the top of trees and sit for hours each day dreaming of building structures high in the air surrounded by nature. I loved math and science, while also expressing myself creatively through designing and sewing my own clothes and working with various fabrics. The engineering and artistic creation of bridges built upon this passion. Most FIGG bridge designs are made of concrete, which is a structural material that can be shaped into many unique designs. I chose Auburn Engineering because of the memorable day my father took me to visit the campus to learn about the engineering program. And honestly, it just felt like home. It was my first visit and it was all I needed to know that I was in the right place.
MB: Describe your first job out of school … how did it lead to you becoming owner of FIGG?
LF: My father started our bridge company when I was at Auburn, studying civil engineering. We shared a passion for creating bridges so I joined the company after graduation. One of my first assignments was monitoring and overseeing the construction of bridges in the Florida Keys. Over the next 20 years, I learned every part of the bridge business working with my father. In 2002, I took over the company after my father passed away unexpectedly. It is hard to believe that was nearly 15 years ago.
MB: How did your civil engineering degree from Auburn prepare you as a business owner?
LF: The Auburn Engineering experience gave me skills that went beyond technical engineering in areas such as technical writing, public speaking, human relations, teamwork, leadership, organizing and preparing reports, time management and an appreciation for success.
MB: Tell us about how you and FIGG develop such innovative bridge concepts. How did you think to create such modern (and frankly nicer-looking) bridges over the traditional, older-feeling ones?
LF: It is embedded in the foundational spirit of the company to appreciate the beauty of the natural environment of every bridge site. Then our mission is to discover distinct traits of each community and reflect their vision. Through innovation and creativity each bridge tells a story of the technology of its time, and we hope becomes a lasting symbol of the community it serves. We think of each bridge as a functional, structural sculpture that blends economy, sustainability and timeless artistry.
MB: What is your favorite, or most interesting bridge project you've had the opportunity to be part of?
LF: The most interesting bridges are always the ones that are right in front of us, and that we're working to build at the moment. Each new bridge is like a member of a special family and is loved for its own unique aspects and story. A few of our more prominent bridges that people might recognize in the past 15 years include:
The new I-35W bridge in Minneapolis
10-lane interstate bridge over the Mississippi River designed and built in 11 months after the old bridge collapsed
Zakim Bridge in downtown Boston
Penobscot Narrows Bridge and Observatory in Maine (tallest public observatory on a bridge in the world)
I-280 Veterans Glass City Skyway in Toledo, Ohio
4th Street Bridge in Pueblo, Colorado
Colorado River Bridge in Moab, Utah
MB: Where do you see yourself professionally in 10 years? What are your professional goals you have yet to achieve?
LF: It has been great fun working with our bridge team on new ideas in design and building, so I want to continue expanding our team and create many new bridges over the next 10 years and beyond! One of my goals is to help more communities build bridges using private resources when public funding is not available. We have a new company that focuses on this mission called United Bridge Partners.
MB: What have you learned as a woman in the engineering industry?
LF: When you are a woman in a profession dominated by men you automatically examine performance based on what people do and not who they are. Perhaps there is some feeling of having to work harder to prove yourself. Finding the best solutions takes all viewpoints and ideas in a team environment.
MB: What is the biggest piece of advice you would offer women considering a career in engineering?
LF: Engineering changes people's lives. It makes a difference and it is rewarding to know that people are better off because of what you do. It's important to believe that you can do anything you put your mind to and it will be a success. Trust your instincts. "Can't" is a four-letter word that is not allowed in my vocabulary. Creativity comes from the heart, mind and soul with an extreme passion to seek new ideas. Success is an adventurous spirit. Read, ask lots of questions and surround yourself with great people who enjoy working together.
MB: What do you enjoy doing in your spare time?
LF: Bridges are my work and my hobby. When I am not working on bridges, I like to take long hikes or travel with my husband, Richard. We also enjoy art shows and the symphony. I also enjoy reading mostly nonfiction, human interest stories, inspiring business books and natural health reports. Occasionally I shoot clay targets. In addition, I also like to help with Habitat for Humanity, College Possible Program and other education programs for middle schools to encourage students to pursue careers in engineering and construction.