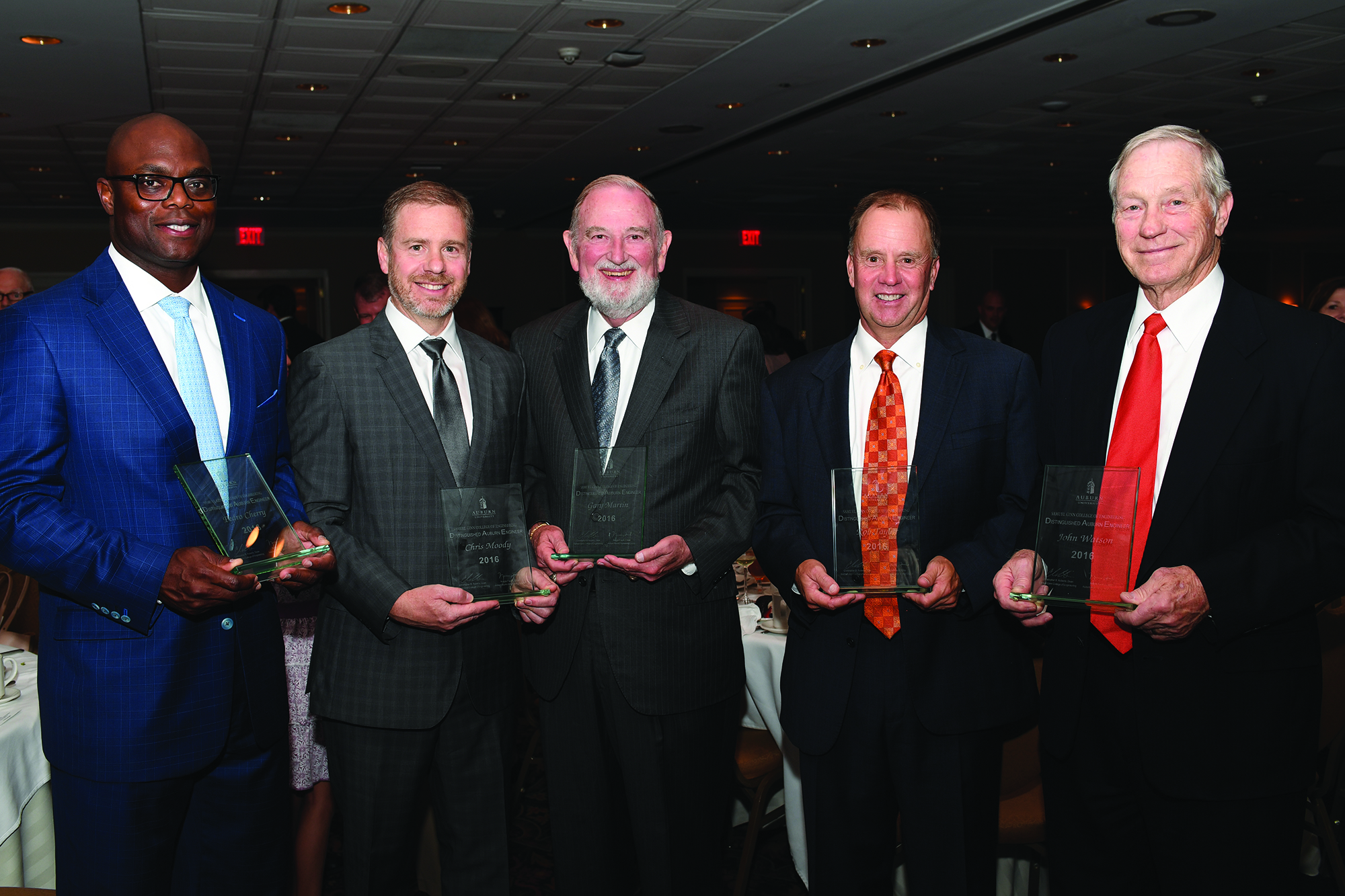 Each fall, the Auburn Alumni Engineering Council honors outstanding alumni for their representation of Auburn University and the Samuel Ginn College of Engineering. Eight exceptional alumni ambassadors who have made distinct contributions to the engineering profession received recognition at the awards banquet held Sept. 30. Five were recognized as Distinguished Auburn Engineers, two as Outstanding Young Auburn Engineers and one for his superior service to the college.
Pedro Cherry
Distinguished Auburn Engineer
After completing his undergraduate degree, Pedro Cherry, '93 industrial engineering, earned a master's degree in operations management and finance from Auburn in 1995. He played three seasons on the Tigers' football team, which included the 1989 SEC Championship squad. He began his career with Carolina Power and Light Corp. While there, he held positions of increasing responsibility and served as vice president of international finance. In 1997, Cherry joined Southern Co. subsidiary Southern Energy and then worked for Mirant Corp. He returned to Southern Co. in 2006, and from there served as finance manager for Southern Generation/Southern Power. Before leaving the company, he rose to assistant to the chief financial officer of Southern Co.
In 2010, Cherry became metro west region manager for Georgia Power, serving 175,000 customers in the Atlanta area. He also served as vice president of community and economic development for the company, where he led efforts to recruit new industry and improve the marketability of communities in the state. He currently serves as senior vice president of the metro Atlanta region for Georgia Power. In this role, he is responsible for the company's operations, sales, customer service, economic and community development and external affairs activities for 1.2 million customers across 29 counties.
He is on the board of the Georgia Regional Transportation Authority, the Georgia Transportation Alliance, the Atlanta Convention and Visitors Bureau and the Latin American Association. Cherry is vice chair of the Atlanta Aerotropolis Alliance and an advisor to the board of directors for the Georgia Department of Economic Development. He also serves on the board of directors for Junior Achievement of Georgia, Great Promise Kids and the State of Georgia Children's Cabinet. Cherry is a member of the Georgia Economic Developers Association, CFA Institute, Association for Financial Professionals, NAACP and Auburn's Alumni Engineering Advisory Council.
Gary Martin
Distinguished Auburn Engineer
Gary Martin, '57 industrial management, knew he always wanted to attend Auburn University despite living in Texas and having never visited the Plains. His father went to Auburn in 1929 and was a member of Sigma Alpha Epsilon. Later, his older brother attended in 1949 and pledged to the fraternity as well. Like his family before him, Martin pledged with the Sigma Alpha Epsilon Alpha Mu Chapter and made many lasting memories and great friendships. After leaving Auburn, he has worked at Martin Sprocket and Gear Inc., a manufacturing business, for 62 years, where he established the company's profit sharing program and serves as the executive vice chairman.
Through distance and time, Martin lost touch with the university for many years before returning for a visit, and falling back in love with Auburn. He has since been involved on campus with the College of Engineering as a huge supporter of the Formula SAE team and Engineers Without Borders, a student service learning project team working in Bolivia and Rwanda.
A member of the university's 1856, Foy and Ginn societies, he has demonstrated a strong commitment to Auburn and the Samuel Ginn College of Engineering. Martin received the Spirit of Auburn Family Entrepreneur Award in 2015.
Chris Moody
Distinguished Auburn Engineer
Chris Moody, '90 electrical engineering, began his career as a technology consultant working for EDS, Oracle and IBM. Currently, he is the vice president of data strategy at Twitter and is responsible for ensuring the value of Twitter's data is realized across the entire ecosystem of developers, partners and customers. Moody is considered a pioneer in the data industry, and has worked closely with some of Silicon Valley's fastest growing technology companies to help them formulate and execute their data strategies with leading social platforms such as Twitter, Tumblr, Foursquare, WordPress and Disqus.
Prior to his work at Twitter, he served as CEO of Gnip, the world's largest and most trusted provider of social data, which was acquired by Twitter in 2014. Before Gnip, Moody served in several executive roles at Aquent, including chief operating officer. During this time, he was responsible for the daily operations of 70 teams in 17 countries.
Moody is also the founder and chairman of The Big Boulder Initiative, the largest nonprofit organization focused on the impact of social data. His views on the importance of data to global health and safety have been shared at locations across the world, including the White House and the United Nations.
He credits his love for Auburn to his parents – a love he considers a gift he received from them at an early age. He and his brother, Michael, '84 electrical engineering, recently turned that love into an enduring legacy by creating the Thomas and Ernestine Moody Scholarship in honor of their parents. In addition, Moody was the guest speaker at the 2016 spring commencement ceremonies.
Rob Taylor
Distinguished Auburn Engineer
Ever since his co-op assignment at Auburn, Rob Taylor, '85 civil engineering, has ascended the Brasfield & Gorrie company ladder from an estimator in the mid-'80s to the company president. From the time he joined, Taylor led the pursuit and construction of several pivotal projects for the Atlanta office, including the Georgia Dome. He built on the preconstruction training he received from Miller Gorrie and other company leaders and honed it for the Atlanta market, implementing strategies that established Brasfield & Gorrie as the most accurate, value-driven contractor in the area.
Under Taylor's direction, the Atlanta team secured commercial, education and health care projects, developing Brasfield & Gorrie's commercial office portfolio, working with universities in the state and building relationships through multiple projects on several hospital campuses. During Taylor's decades of leadership in Atlanta, the office has grown from a decision that Gorrie once questioned to the company's second-most profitable office, in line only behind the corporate office in Birmingham. Taylor was named president of the company as a result of his practical engineering strategies, natural business savvy, ability to motivate and history of success in Atlanta and regionally across Georgia, the Carolinas and Texas.
As president, he has operational responsibility for more than 30 divisions performing work across the country and generating approximately $2.5 billion in revenues annually.
He has served on the board of directors for the Associated Builders and Contractors, the Associated General Contractors and the Construction Education Foundation of Georgia. Taylor has also been on the board of directors for the Atlanta Chamber of Commerce, the WellStar Kennestone Hospital Foundation and the DeKalb Medical Center Foundation.
John Watson
Distinguished Auburn Engineer
John Watson, '60 mechanical engineering, is the chairman of Smith's Inc. and Engineered Systems Inc. His role at Smith's began after his college co-op experiences at Redstone Arsenal and Fort Rucker, and after completing service in the U.S. Army Corps of Engineers as a second lieutenant. Within four years of joining Smith's, the founder extended financing to support the final sale to Watson and two colleagues.
Watson's flair for engineering economics led to Smith's quick and marked diversification. Simple heating and air-conditioning contracts yielded to complex industrial ventures that, following the launch of Engineered Systems, were often completed in-house. Projects include the nation's largest latex glove manufactory, a cutting-edge baker's yeast plant representing one-seventh of the U.S. market, a camper manufactory, a pelletized fuels plant and a financial products company. For his contributions to the engineering field, he was inducted into the State of Alabama Engineering Hall of Fame in 2008.
In addition to his professional achievements, he is a founding board member for the Alabama Institute for the Deaf and Blind, and has helped double its financial endowment. He was named the institute's 2002 Volunteer of the Year, and his contributions led to the construction of the institute's Wiregrass Center for disabled infants, children, adults and seniors. Watson has also chaired the Alabama Ethics Commission, served on the Alabama Industrial Relations Board and was a board member of the Alabama Research Institute.
A dedicated member of the Auburn Family, he is a member of the Oaks, Talons, All-American, 1856 and Ginn societies. In honor of his contributions to Auburn athletics, the field house bears his name.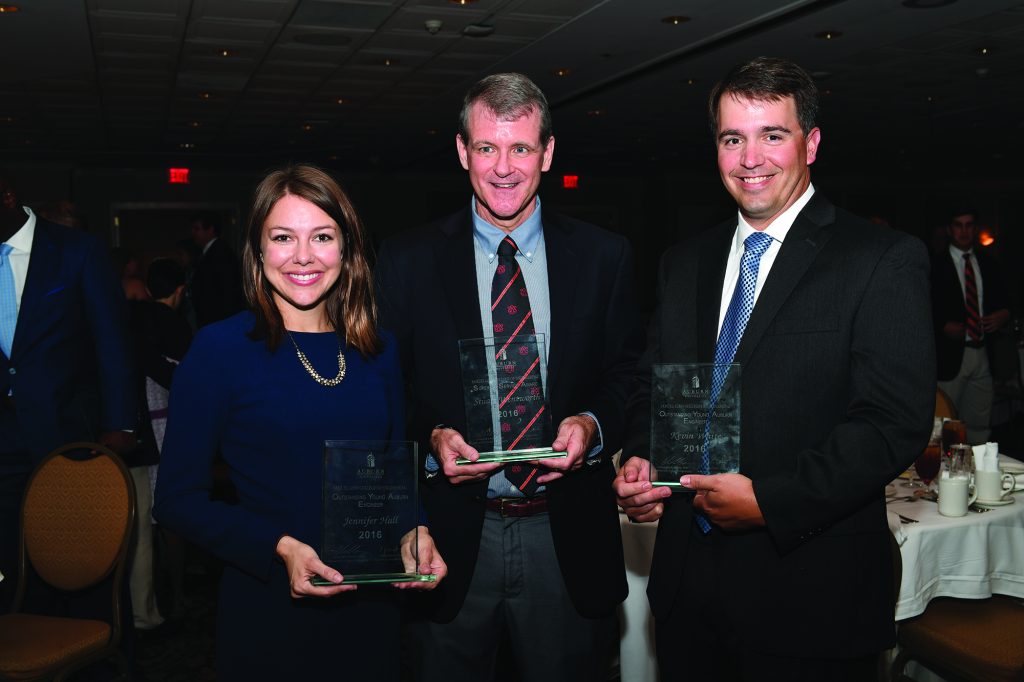 Jennifer Hall
Outstanding Young Auburn Engineer
Following graduation, Jennifer Hall, '05 chemical engineering, rose through the ranks at Southern Co. She served as a modifications engineer at Southern Nuclear's Farley plant and as a project-reporting engineer at the Vogtle 3 and 4 plants.
She has since moved to Georgia Power where she was an executive speechwriter before being promoted as the assistant to the chairman, president and CEO. She currently serves as the general manager of environmental affairs for Georgia Power.
For her professional achievements, she was awarded two Southern Nuclear Excellence Awards and four Georgia Power Excellence Awards. Hall was also chair and public outreach chair for the Southern Nuclear North American Chapter of the Young Generation in Nuclear.
Hall is a founding member of the College of Engineering's 100+ Women Strong program and has been on the Young Alumni Council and the Young Alumni Chemical Engineering Panel.
Kevin White
Outstanding Young Auburn Engineer
Kevin White, '99 civil engineering, currently works as vice president and division manager at Brasfield & Gorrie. Following his co-op assignment at Saiia Construction (formerly BEC/Allwaste), he joined Brasfield & Gorrie as an assistant project manager and estimator and worked his way up through responsibilities such as project manager, senior project manager and operations manager.
During his time with the company, he has helped develop the division responsible for power plant construction, making it a substantial component of Brasfield & Gorrie's business. White's successful track record of helping to grow a multimillion-dollar division and solving challenges on heavy construction jobs place him among the company's most valuable employees.
Some of the projects he has worked on include the $3.5 million Interstate 65 emergency bridge replacement project in Birmingham and the $89 million Waterscape Condominiums project in Fort Walton Beach, Florida. The Birmingham project was honored with an Alabama Associated Builders and Contractor's Excellence in Construction award in the Construction Infrastructure/Heavy category. It also received a prestigious ABC National Eagle Award and a Civil Engineering Award from the American Society of Civil Engineers. In addition, this project was named to the State of Alabama Engineering Hall of Fame.
Stuart Wentworth
Superior Service
Stuart Wentworth, '82 chemical engineering, is an associate professor in Auburn's Department of Electrical and Computer Engineering and heads the curriculum committee for the department. In addition to his Auburn education, he also earned a master's degree in electrical engineering in 1987 and a doctorate in the same discipline in 1990, both at the University of Texas. Before joining Auburn's faculty in 1990, Wentworth served as a quality assurance engineer at DuPont and as a technician at Pinson Associates.
Wentworth has been awarded the Electrical Engineering Outstanding Faculty Award an impressive eight times, while also being honored as the college's faculty member of the year in 1995, the Birdsong Merit Teaching Award winner in 1999, the William F. Walker Superior Teaching Award winner in 2005, the Auburn Alumni Association Undergraduate Teaching Excellence Award winner in 2010 and the Auburn SGA Final Lecturer in 2015.
Do you know a deserving alumnus or alumna worthy of being nominated as a Distinguished Auburn Engineer or Outstanding Young Auburn Engineer? If so, click here and fill out our online form.