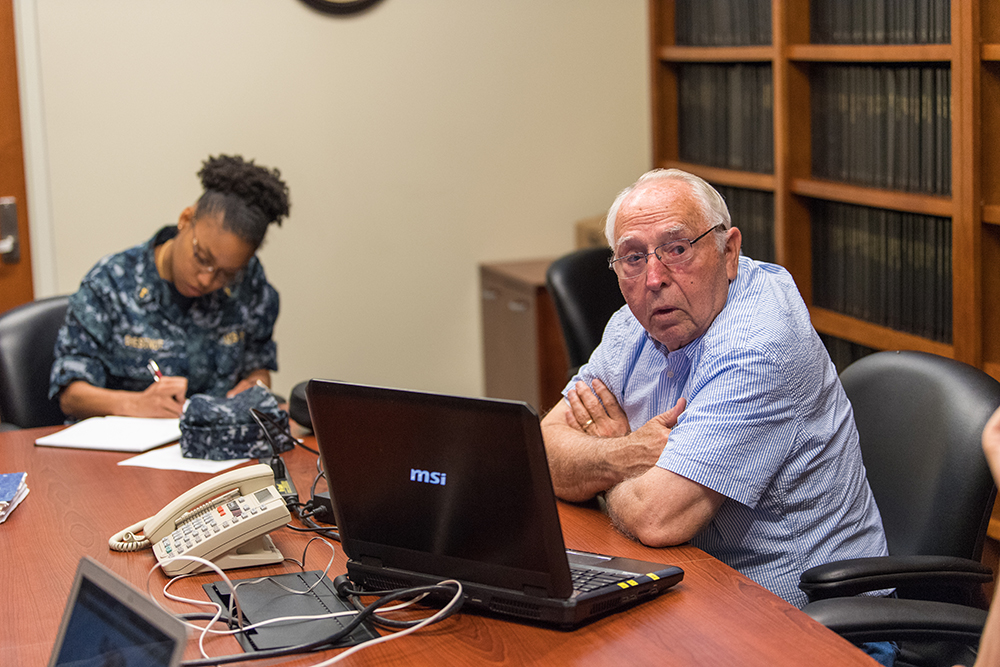 Tommy Gentry doesn't need a degree in mechanical engineering from Auburn University to help him get a job.
At 75, the Phenix City native has had a successful career, running the machine shop started by his father. He's helped the business grow to employ more than 50 people in Phenix City. It remains family-owned and operated with Gentry's son-in-law, niece and nephew handling daily operations.
And yet, four years ago, Gentry returned to Auburn with one goal: finally earn a piece of paper that signifies he is an Auburn graduate.
Gentry first enrolled at Auburn in 1960 after graduating high school in Phenix City. He flunked out two years later.
The one bright side to Gentry's unfortunate situation was that his childhood sweetheart, Dyane, was still waiting for him in Phenix City. Gentry moved home, married the girl next door whom he had grown up with and dated since he was in ninth grade and started working in his father's machine shop.
"It just plagued me all my life that I didn't get a degree because I flunked out," Gentry said. "I made several attempts and the last time I attempted to go back was in 1989. I was doing fairly well. Then my dad got sick and died, so I flunked out again. I thought that was it, I wouldn't try again.
Gentry resigned himself to mastering his craft in his shop. He and Dyane had children and then grandchildren. He was successful at work. But there was still one thing that he knew he still needed to do and only one place to do it.
"It was Dyane's idea for me to come back to Auburn," Gentry said. "I told her I was thinking about taking some online courses and she said, 'Why don't you see if you can just go back to Auburn?' So I listened to her, emailed the school and got a response in an hour."
Gentry's transcript was reviewed by John Raines, an academic advisor in the Samuel Ginn College of Engineering, who suggested that Gentry take a few core classes at Chattahoochee Valley before coming to Auburn to complete his degree. Raines helped him register at Auburn and Gentry became an Auburn student once more in fall 2014.
He is on track to graduate in August.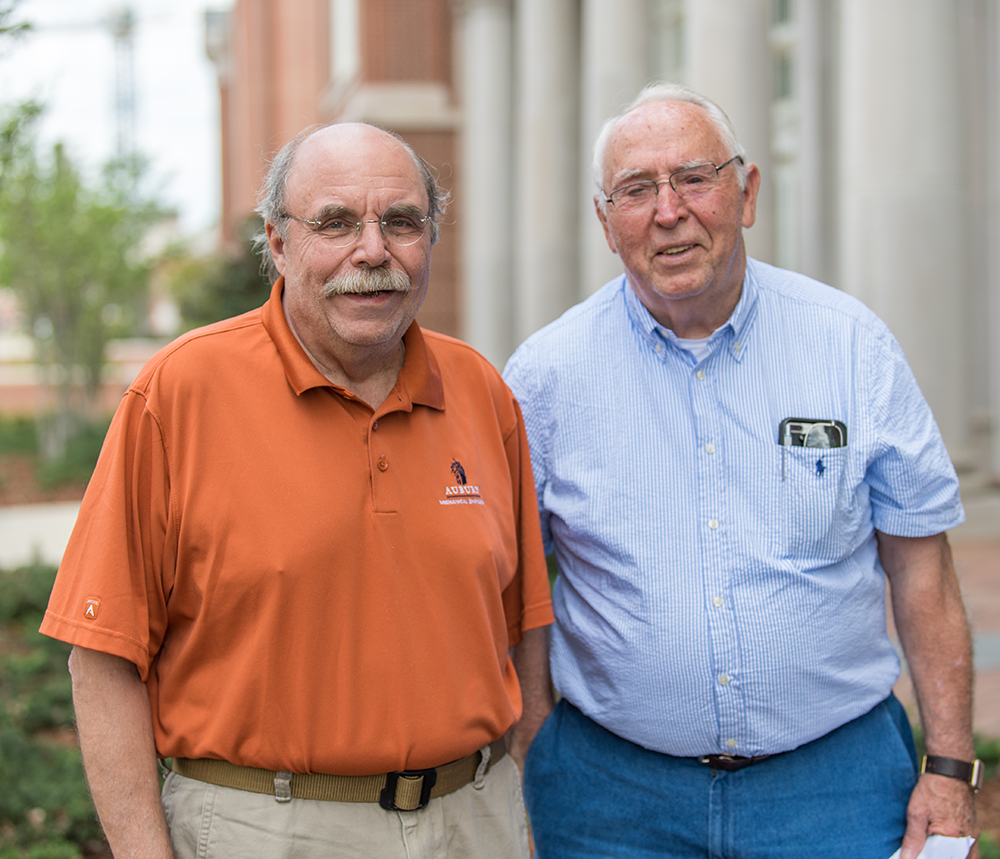 A NEW BEGINNING
Auburn students currently studying mechanical engineering will take what they learn from textbooks and the classroom and apply it to the practical world after graduation. Gentry has done the opposite.
"I don't ever go to class without having read the assignment or without having done the homework," Gentry said. "But I find that the textbooks are very difficult to follow."
Gentry's vision and hearing aren't as sharp as someone in their 20s, but those much younger classmates have been quick to help him whenever they can. Gentry has formed a close relationship with many of them.
"It goes both ways, with him helping me and me helping him," said classmate Matthew McGinness. "It's pretty special. He sends us motivating emails often and his attitude is great. There are a couple of us who have helped him with class notes. Being in his 70s, there are things we take for granted that he fights and overcomes. I would be completely frustrated, but he deals with it and goes to class."
Gentry has reached beyond the classroom to connect with his classmates and build relationships with them.
"I have about five people that I'm in a lot of the same classes with and have gotten close to," Gentry said. "I've had some of them over to my house for a barbecue. They help me out a lot with homework and with preparing for exams. I say a lot of funny stuff that doesn't make sense, but I also give them advice along the way."
Janet Moore, Gentry's academic advisor, has seen the impact that Gentry's work ethic has had on other students.
"He has to work 10 times harder than everyone else because he doesn't remember those things that he learned many, many years ago," Moore said. "He had to re-learn a lot. The amount of effort and dedication that takes is pretty significant in my mind. It sets a good example for his classmates."
Even though Gentry is older than most of his professors, he has nothing but respect for them.
"They bend over backward to be nice," he said. "The professors have been great. I had lunch with two of them one day. I'm always talking to them about the issues I'm facing that relate to the courses that they're teaching."
Peter Schwartz, one of Gentry's professors and friends, enjoys having a contemporary in the classroom.
"Tommy is a fantastic student," Schwartz said. "He acts like all the other students but he gets my jokes. I'm not afraid to make jokes about cars in the 1960s because he's probably ridden in them too."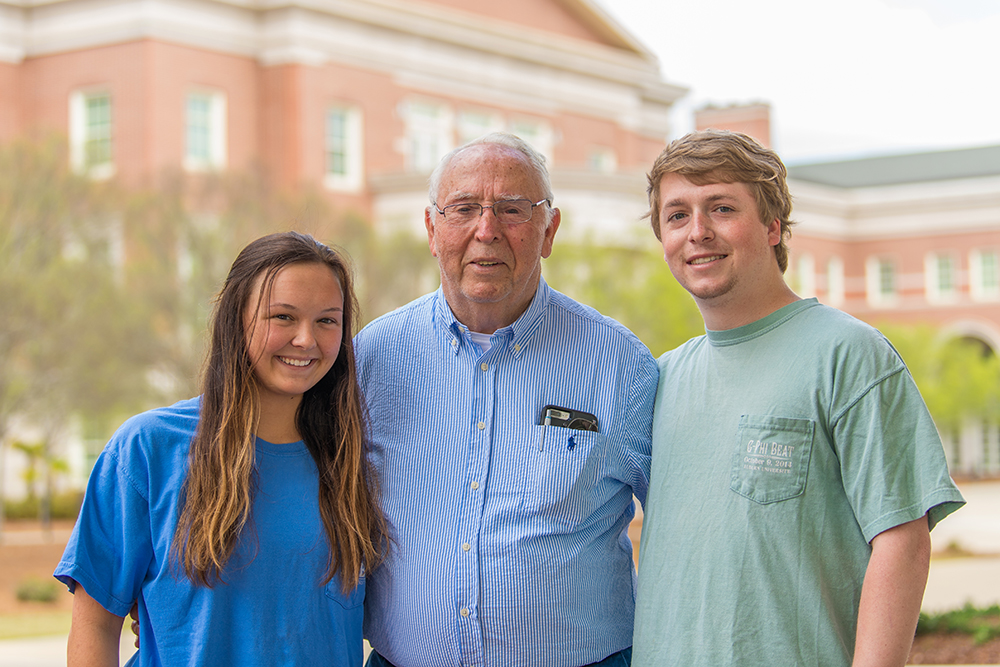 ALL IN THE FAMILY 
Since Gentry, a die-hard Auburn fan with football season tickets, returned to Auburn, he has shared the campus with three of his grandchildren. He said he enjoys taking them out to lunch and setting an example for them to never, ever give up. His grandson, Chase Jones, is a senior studying supply chain management.
"My grandfather inspires me to be a better student because he's shown me that anyone can complete any coursework," Jones said. "He came back, he's doing well and he's on track to finish. It was really hard for him to come back. He's doing well and seeing results, which inspires me to do whatever I set my mind to as well."
Gentry seems to have that same inspirational influence on everyone he meets – family, classmates, professors and advisors, alike.
"He never gives up," Moore said. "If it's a challenge, he will put in the time that it needs. He values engineering, he values the relationships that he has made and his impact has been unique. You can't put a label on it because it is pervasive. He doesn't let an opportunity to say thank you pass him by. You can't put a price tag on thoughtfulness – Tommy just brightens our day when he comes into the office."
McGinness was a non-conventional student himself when he first met Gentry. He was 26 when he decided to come back to school, and quickly developed a close relationship with Gentry.
"Tommy knows the Auburn Creed," McGinness said. "He's been an Auburn fan his entire life – he went to Auburn when it had military cadets. He lives the creed and he's taught me what it means. We've talked about how to be respectful to women and how to interact with teachers. He's generous with his time. One of the best things about him is he listens."
Gentry's Auburn experience is coming to a close as he is one semester away from graduation. However, he's not done inspiring everyone he meets.
Gentry was recently diagnosed with sarcoma in his leg and will be facing radiation treatment. He is ready to apply his lifelong philosophy of never giving up to this next season in his life.
One of his favorite stories is about a football game in 1976. Georgia Tech was playing Notre Dame and was losing 14-10 at halftime. They allowed cameras into Georgia Tech's locker room to hear what Coach Pepper Rogers had to say to his team. He said, "Boys, it's alright to win and it's alright to lose, but it's never OK to give up."