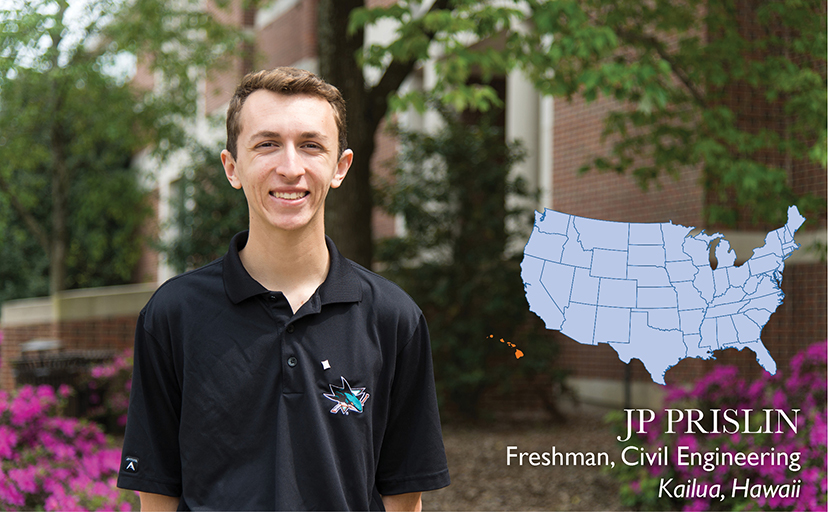 There's only one Auburn Engineering student from Hawaii, and his name is JP Prislin. His family moved to the island of O'ahu more than a decade ago when his father was stationed at Marine Corps Base Hawaii in Kaneohe Bay. Following his military service, the family stayed in Hawaii and moved an hour away to Kailua, where his father now serves as a commercial airline pilot.
When it came time to begin looking around at universities, Prislin's father encouraged him to not just look at the West Coast, as most students on the island did.
"I've always wanted to be an engineer, and Auburn kept coming up as a great engineering college," Prislin said.
So, he and his dad decided to take a trip around the Southeast, and their visit to the Plains made a lasting impression.
"It was my favorite school by far. I really liked the campus, the people and the facilities. It was everything I was looking for and fit me best," Prislin said.
While Auburn is almost 4,500 miles from home, Prislin's family is now part of the Auburn Family too.
"My parents are 100 percent bought in to Auburn now," he said. "They got the T-shirts, wine glasses, the dog's collar. I've even gotten several 'War Eagles' while wearing an Auburn shirt back home."
Although the Hawaiian native has found his place as an Auburn Engineer, there are still some adjustments he has had to make from paradise to the Plains.
"One day, it was sunny so I put on my shorts and shirt and headed to class and realized halfway there that it must have been in the 40s and I was freezing. Back in Hawaii, you can just look outside and know what the temperature is going to be like. Here, I've learned I have to check the weather," he said with a laugh.