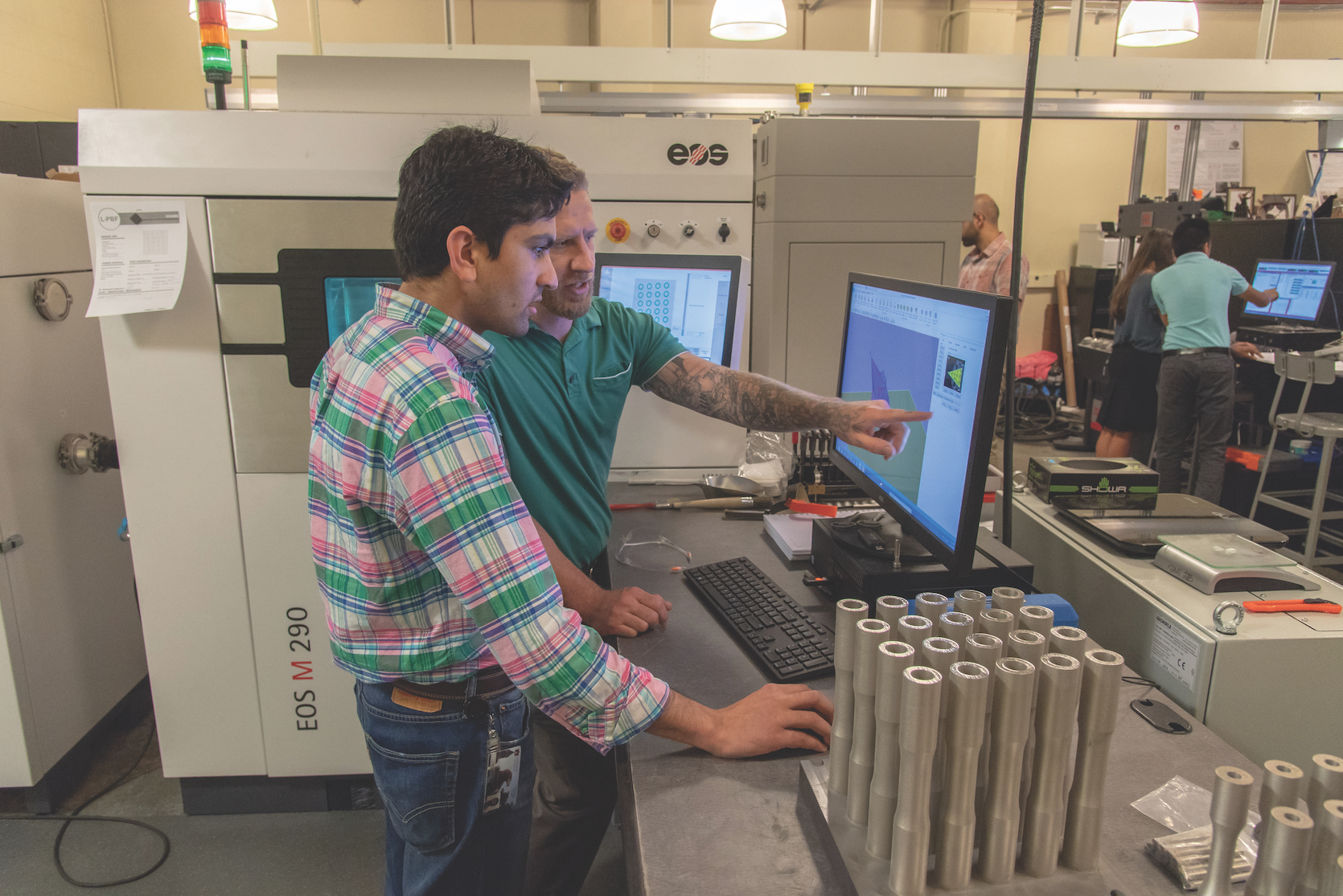 NASA inspires the world with its mission of space exploration, scientific discovery and development of new technology. That's why Auburn has partnered with NASA to employ 3-D printers that will build components for the next generation of spacecraft and even work onboard a spacecraft supporting a U.S.-led program for a human return to the Moon.
That is just one component of Auburn's thrust as a national leader in additive manufacturing research, which allows manufacturers to fabricate parts layer-by-layer from metals, plastics or other materials using a 3-D computer-aided design model.
To expand upon its existing relationship with NASA's Marshall Space Flight Center, Auburn has formed the National Center for Additive Manufacturing Excellence, or NCAME, and is already collaborating with more than 50 industry and government partners.
The center, which is housed within the college's Gavin Engineering Research Laboratory, is pushing the boundaries of research to improve the performance of parts that are created using additive manufacturing, and to share research results with industry and government collaborators and respond to workforce development needs in the additive manufacturing industry.
"Our college has a long history of collaboration with NASA and the nation's space programs," said Christopher B. Roberts, dean of engineering. "The establishment of this new center will allow us to work together to solve critical challenges in additive manufacturing that will help achieve our nation's aerospace goals. We have made major investments in faculty, laboratories and equipment to achieve a leadership position in additive manufacturing."
John Vickers, NASA principal technologist, echoed Roberts' vision for the center.
"The advancements we are seeing in additive manufacturing technologies are truly amazing and will aid the development of more capable and lower-cost propulsion systems and spacecraft to benefit all of NASA's science, engineering and spaceflight endeavors," he said. "Auburn's vision and focus on additive manufacturing research closely aligns with NASA's strategy to partner with and incorporate innovations from universities and industry to accelerate technology advancement and to help us achieve our NASA space exploration missions."
The center is also part of a new Additive Manufacturing Center of Excellence, a collaborative effort with ASTM International, engineering and technology nonprofit EWI and the U.K.-based Manufacturing Technology Centre.
This partnership will direct its efforts to the development of new standards for the additive manufacturing industry, as well as conducting research to advance additive manufacturing technology and workforce development.
"Additive manufacturing is a disruptive technology enabling designers and developers to create next-generation, precision-engineered products that couldn't be made any other way," Auburn President Steven Leath said. "Auburn is a national leader advancing this important new technology, and we're excited to partner with NASA and ASTM International."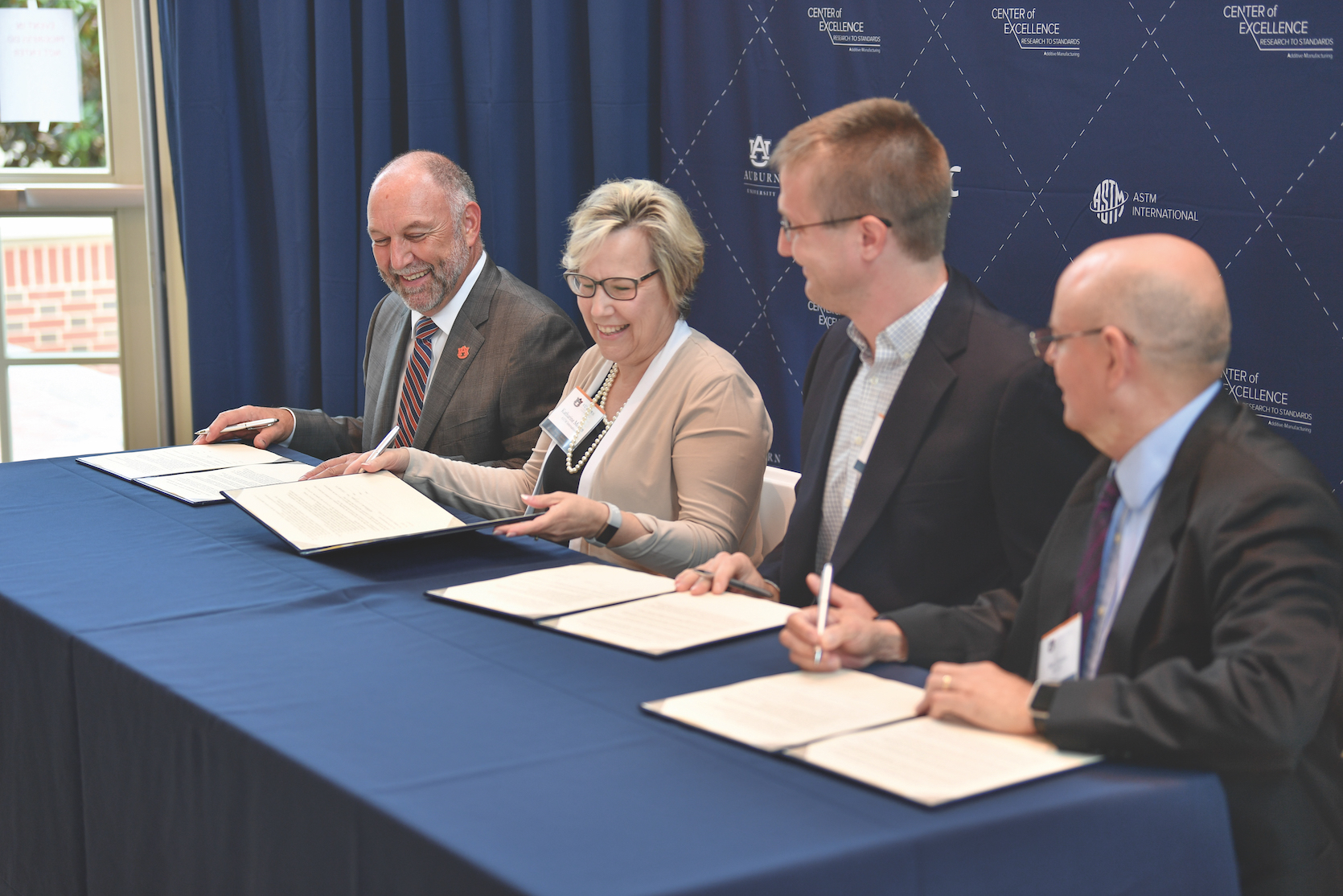 The new research centers also have major economic development implications for Alabama. More than 43,000 Alabamians work in the metal manufacturing industry, while the state's fabricated metal manufacturing exports were worth $400 million in 2016, according to the Alabama Department of Commerce.
"Alabama is an innovative leader in employing additive manufacturing techniques," Alabama Gov. Kay Ivey said. "By Auburn University, NASA's Marshall Space Flight Center and ASTM International working together, the public and private sectors will jointly bring about important technological advances and bring further opportunities for workforce development. This will ultimately produce a stronger, even better workforce and more opportunities for Alabamians to provide for their families."
On a national scale, the U.S. Department of Commerce's National Institute of Standards and Technology, or NIST, has awarded $6 million to Auburn University over the past three years for research and the development of techniques to improve the additive manufacturing industry.
"Auburn University has become a national leader in the field of additive manufacturing," said U.S. Sen. Richard Shelby, R-Ala. "These NIST grants will provide Auburn the unique opportunity to innovate and empower engineering industries, boosting efforts to promote the continued economic growth of our manufacturing sector. The research, training, and development that will take place as a result of this funding will allow the university to advance additive manufacturing and continue competing on a national stage."
This funding from NIST will allow NCAME to expand its programs to include new research on metrology, which is the measurement and characterization of 3-D printed parts, and advanced process models that will allow engineers to predict the properties and performance of these 3-D printed parts. The research resulting from this grant will have a strong technical and economic impact on various industries in the United States.
BIOMEDICAL BREAKTHROUGH
Auburn University is innovating life-changing medical devices through 3-D printing. Researchers from multiple disciplines are converging to reshape biomedical implants and orthotics by using additive manufacturing to create these life-changing products.
The research launched with support from the university's new Presidential Awards for Interdisciplinary Research, or PAIR, a $5 million program created by Auburn University President Steven Leath.
The research team will receive $1.3 million over three years to create an optimal experience for patients requiring neuromuscular and skeletal implants and orthotics. With 3-D technology, devices are custom-made to conform to each patient's unique injury and physiology, said Nima Shamsaei, NCAME director.
Biomedical devices created by additive manufacturing will significantly increase efficiency and customization while decreasing cost, said Shamsaei, who leads the research. In traditional procedures, the surgeon works with a standard implant or orthotic with minimal opportunity for modification. Researchers hope to turn that model on its head.
"With this method, we can scan patient anatomy, get all the information in order to design and print the part and send it to the operating room," Shamsaei said. Employing this technology, the physician will receive an implant or orthotic that is intricately catered to the patient awaiting it.
In addition, additive-manufactured biomedical devices will cut production time substantially.
The PAIR funding will give the ongoing research a tremendous boost, said Scott Thompson, associate professor of mechanical engineering who specializes in additive manufacturing.
"It's going to allow us to procure some very critical equipment to make our in-house capabilities stronger," Thompson said. "It's also going to fund six graduate students and bring together 15 faculty members from across campus, including researchers from the business school, veterinary sciences, engineering and pharmacy."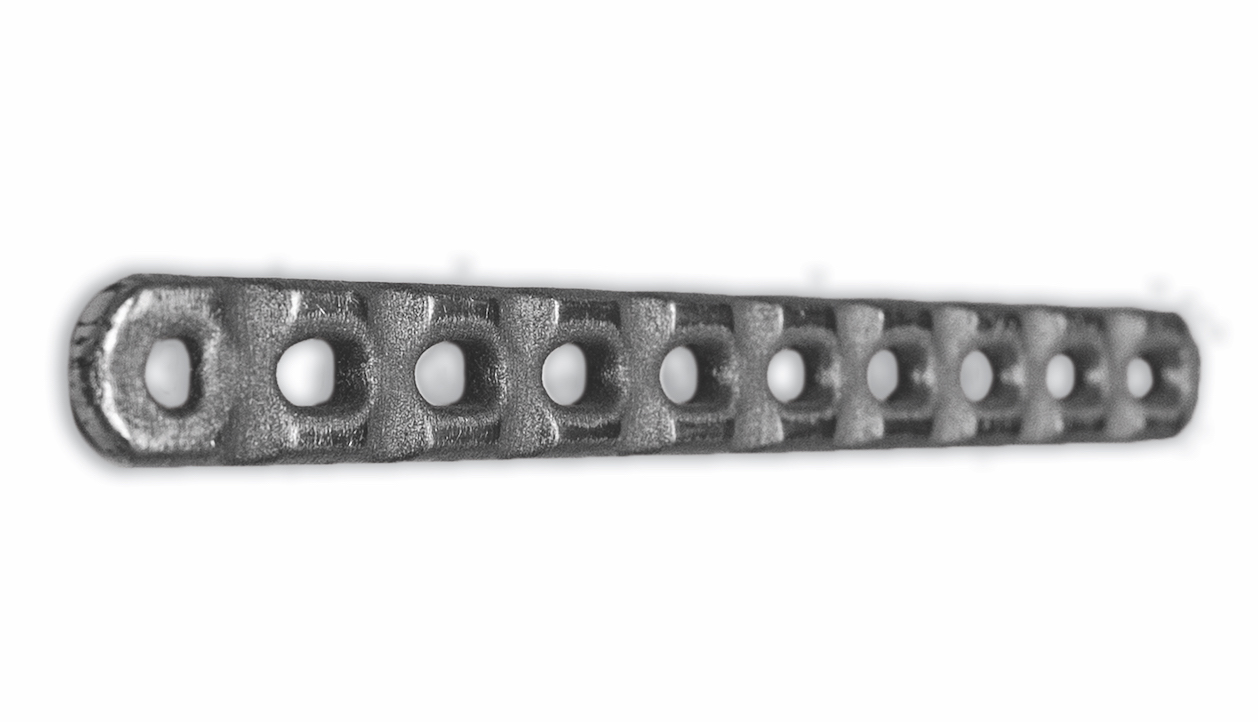 In the College of Veterinary Medicine, there is a potential for 3-D-printed orthotics to aid the in the care of horses, and additive-manufactured implants can be used in surgeries involving small animals, including cats and dogs. The Harrison School of Pharmacy's research efforts have yielded implants with the capacity to provide drug delivery, resulting in on-the-spot pain relief and infection prevention for patients. Researchers from the Harbert College of Business are exploring the entrepreneurial front, outlining start-up companies that are focused on this specialty that will involve future Auburn graduates.
"Our goal over the next three years is to prove the concept and to show the possibility of using this technology in a wider way for the biomedical industry," Shamsaei said. "We expect this project to bring us to the forefront of additive manufacturing research for biomedical applications."