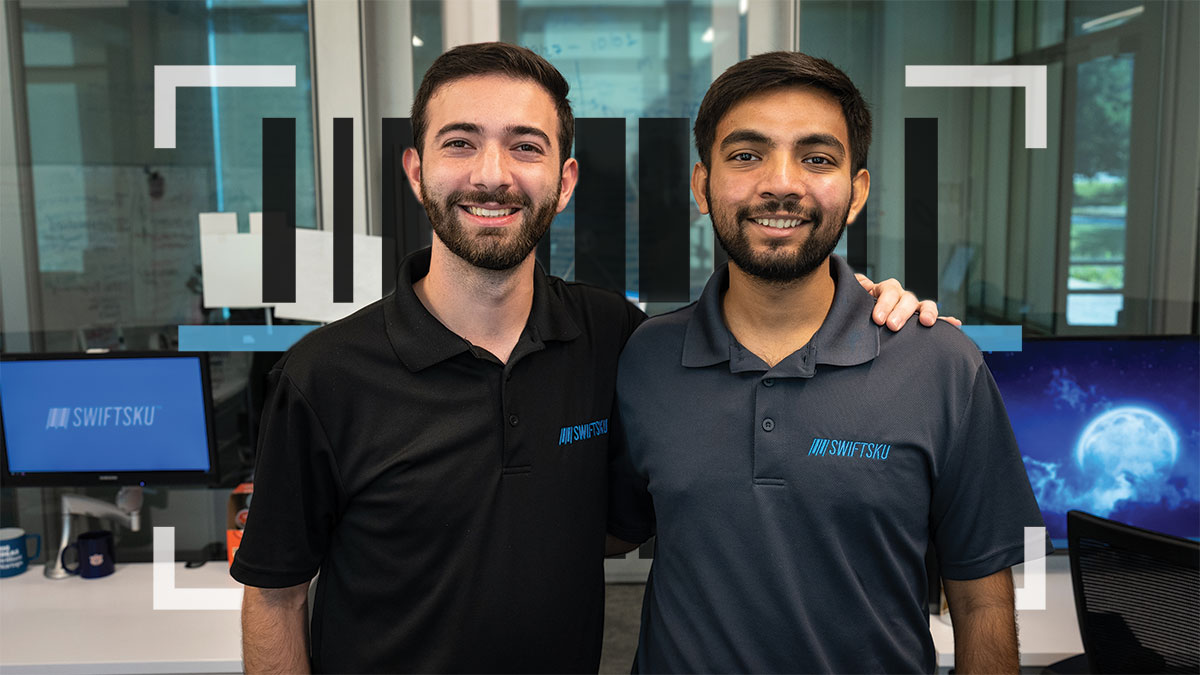 Mechanical engineering seniors Mit Patel and Daniel Mazur walked across the stage in December. They don't have anything lined up. They haven't received any offers. They're not even in the job market.
They're adding to it with SwiftSku.
Yes, the company the childhood friends started as a big data solution for non-franchised convenience stores currently has 16 full-time employees — half in product development, half in sales and support. That's what a few million in funding and prize money will do for you.
In April, after four days of elevator pitches and three finalist rounds, the judges of the 21st Rice Business Plan Competition, the largest and richest student startup competition in the world, deemed SwiftSku the best out of 54 participating companies. It was the first time an Auburn University team has swept the awards at the global competition, through which entrepreneurs have raised more than $3 billion — nearly half a million of which went to Mazur and Patel.
SwiftSku won the $350,000 GOOSE Capital Investment Grand Prize, $50,000 Business Angel Minority Association Investment Prize, $25,000 RG Advisory Partners' CFO Consulting Prize, $25,000 Tiger Cage Competition, the digital category of the Mercury Fund Elevator Pitch Competition, $10,000 Baker Botts' prize and third place in the Anbarci Family People's Choice Awards.
Add that to the investment haul earned earlier this year through Y Combinator, a world-renowned startup accelerator that has helped launch companies such as Airbnb, DoorDash and Dropbox, and the 2017 Hoover High School graduates now boast $3.2 million in funding for a company not even two years old.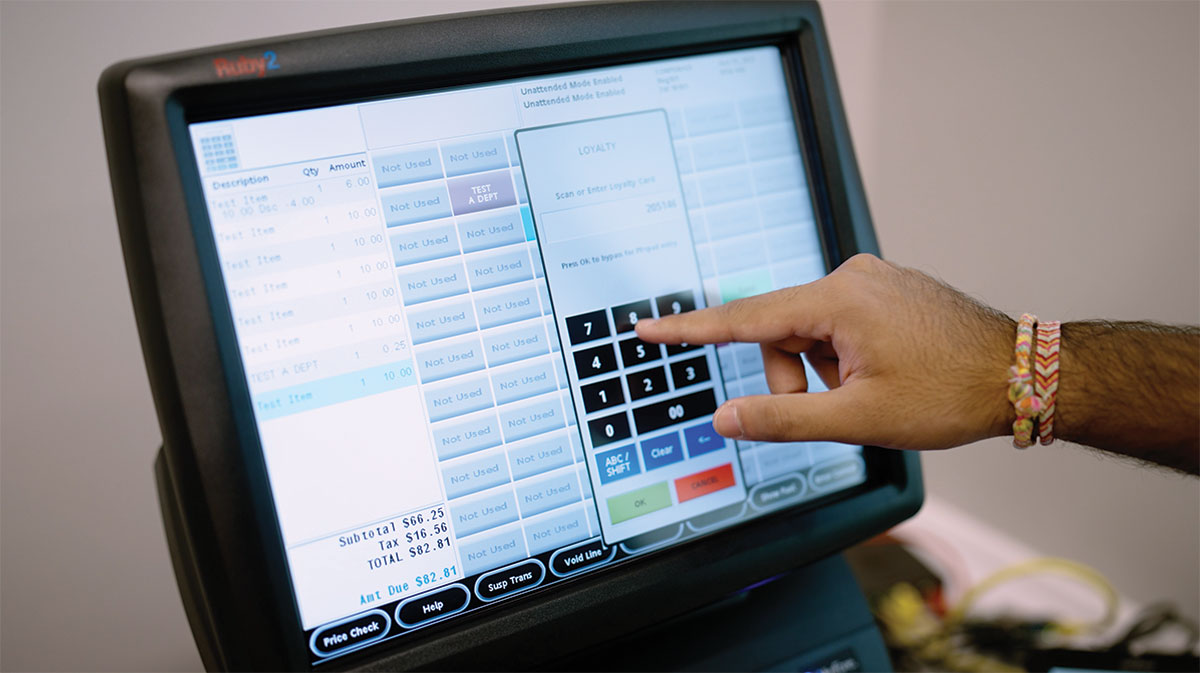 The idea for SwiftSku first came to Patel in 2019. His parents had worked in the convenience store industry for years. He'd spent plenty of long afternoons after school alongside them.
"I noticed a lot of inefficiencies and the potential to save countless hours by using technology to optimize their manual processes," Patel said. "I reached out to Daniel and said, 'There are all these different problems going on and we've got the skillset to fix them for people.'"
Operating out of an office inside Auburn University's New Venture Accelerator stocked with enough energy drinks and protein shakes to fuel a football team, SwiftSku now serves more than 400 stores by offering a centralized hub to analyze scan data from customer purchases, a customer loyalty program and business analytics. The platform also offers a solution to problems plaguing point-of-sale data tracking in the U.S.
Despite independent convenience stores — or C-stores as they're commonly known — making up one-third of American retail commerce, transaction data is deleted after 90 days, forcing owners at the end of each workday to print lengthy summary reports that frequently reach 15 feet or longer.
"With our solution, this priceless transaction data that represents 3.1% of America's GDP is preserved," Patel said.
"We help owners manage their stores with our back-office solution that lets them manage their inventory, price book and even remotely manage their fuel pumps."
And they can do it all in the palm of their hand — that, Mazur said, is what gets them. Case in point: the latest National Association of Convenience Stores (NACS) Show. Held in early October in Chicago's massive McCormick Center, the huge annual C-store industry event features everything from full-sized demos of the latest car wash technology to unreleased energy drinks.
Anything and everything that you'll soon start seeing at a 7-Eleven, Speedway or a Kwik Trip was on prominent display, promoted with signs, with models, with mascots.
The SwiftSku guys just brought their phones.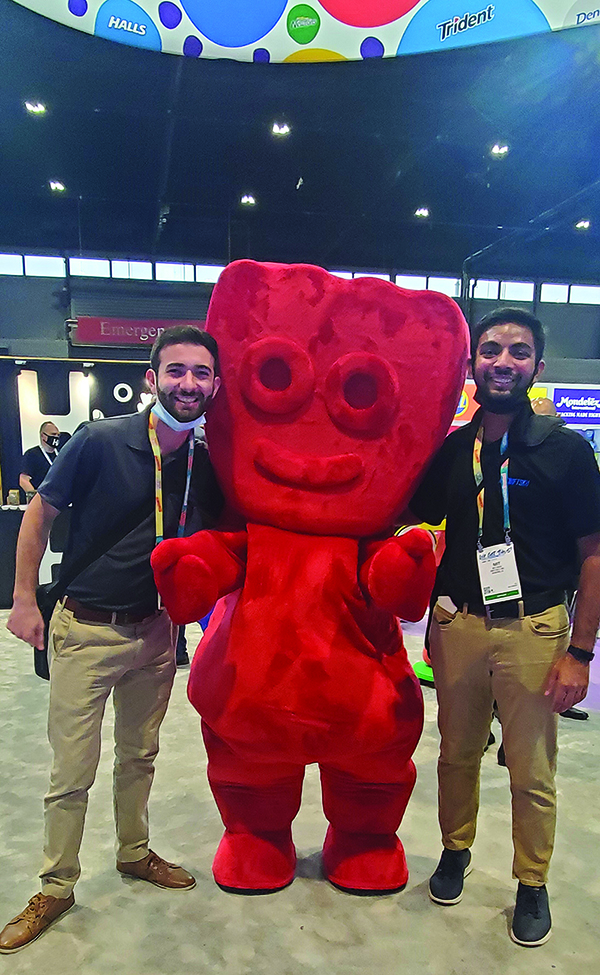 "Yeah, we would tell owners a little bit about what we can offer," Mazur said, "but when we show them the mobile app interface on our phone, and how many complicated things that they can do without a computer — well, for them, that's the biggest thing."
The multilingual thing doesn't hurt, either.
Part of how the company bridges data gaps between brands, retailers and consumers is by bridging language barriers.
Of the 153,000 convenience stores in the United States, 96,000 are independently owned; of those, 93% are operated by Indian immigrants, such as Patel's parents.
Patel and Mazur, both first-generation Americans (Mazur's parents emigrated from Ukraine) developed SwiftSku to serve this majority by providing customer support in Hindi, Gujarati and English.
"Having things explained in their native language is also another huge selling point," said Patel, whose computer monitor bears a note reading "I AM OBSESSED WITH CUSTOMER SATISFACTION."
The note on Mazur's monitor?
"I AM OBSESSED WITH GROWTH," it reads.
"Now that our fundraising is over, we're excited to continue building solutions for mom and pop shops, empowering them to compete against the Goliath chains of the industry," Mazur said.