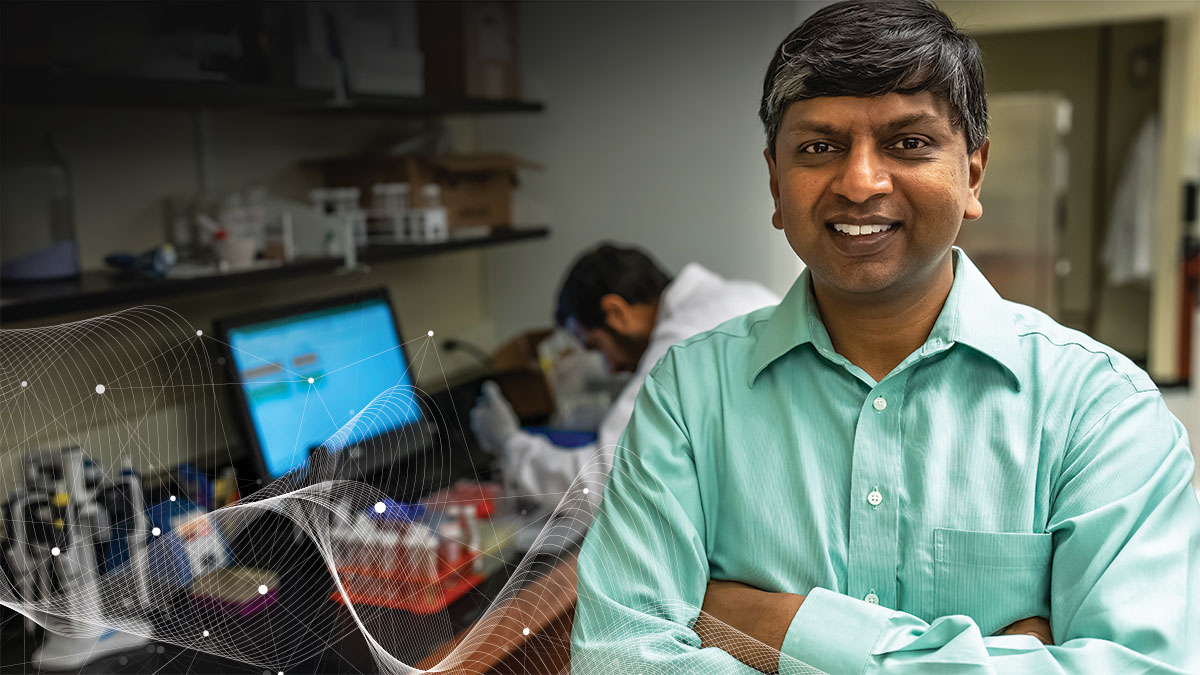 In the world of diagnostic imaging, physicians often turn to magnetic resonance imaging, or MRI, to diagnose a wide variety of diseases and conditions. For patients suspected of certain conditions, such as inflammatory or infectious diseases, an MRI contrast agent is used to help improve diagnostic accuracy. Unfortunately, the chemical makeup of the most common contrast agents currently on the market — gadolinium-based contrast agents — can have potential long-term toxicity risks in the bodies of individuals with poor kidney function, which affects a population of nearly 2 million patients globally.
Enter Allan David and the team of Auburn chemical engineers at Nanoxort LLC. In partnership with the Auburn University MRI Research Center, they developed a technology to reduce the toxicity of MRI contrast agents that could make MRI with contrast safer for patient populations that currently receive suboptimal care.
David, the John W. Brown Associate Professor of chemical engineering at Auburn University, co-founded Nanoxort in 2018 alongside Tareq Anani and Barry Yeh, both of whom earned a doctorate in chemical engineering in 2018 and were postdoctoral fellows working in David's lab at the time. Their technology, labeled diffusive magnetic fractionation, enables fine control of the properties of magnetic nanomaterials and is the inspiration for the company's name. Nanoxort (pronounced nano-sort) refers to the sorting of nanoparticles of different sizes into a homogenous product with optimal properties for biomedical applications.
While the company made its official launch in late 2018, the foundation for Nanoxort was laid in fall 2016 when the group participated in the Southern Regional Cohort of the National Science Foundation Innovation Corps (NSF I-Corps) program at Georgia Tech. There they learned about the MRI contrast industry and were able to evaluate the need for new, safer MRI contrast agents. The team then went on to participate in the national I-Corps program after receiving a $50,000 grant to conduct additional customer discovery in the United States and Europe.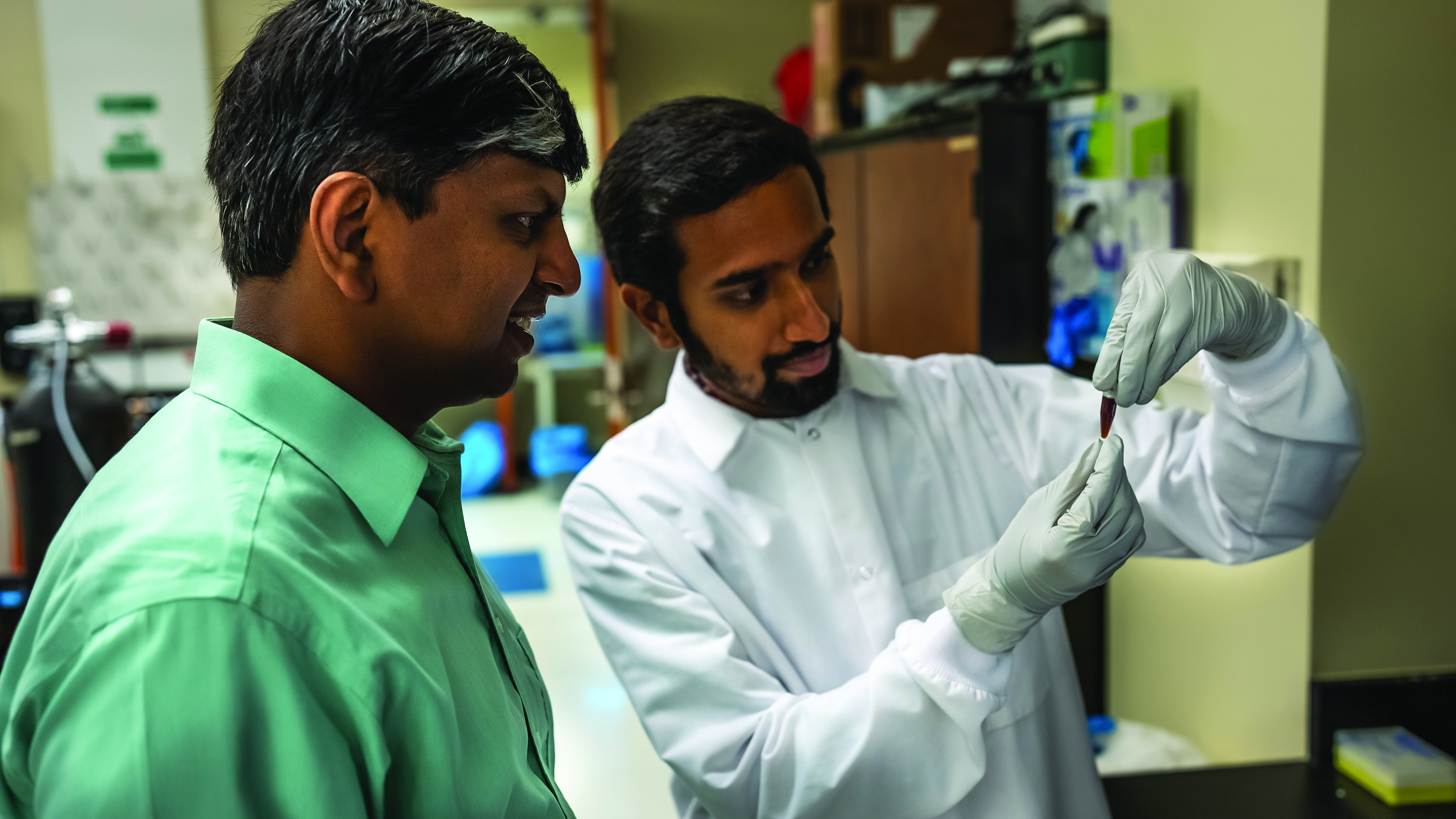 "We then went on to win the Auburn University LAUNCH award that allowed us to conduct additional preclinical studies," Anani said. "The combination of identifying a market opportunity and having a patented technology that could solve a significant clinical problem convinced us to start our company, Nanoxort LLC."
And to think, it all started with an email.
David first learned of the NSF I-Corps program through Auburn's Technology Transfer Office, now known as the Office of Innovation Advancement and Commercialization. After attending an information session and presentation on the I-Corps program, David sent out an email to chemical engineering graduate students looking for interested researchers to join his team. Anani and Yeh responded.
The rest is history.
"Initially when we started out, I was just impressed by their drive and their capability," David said. "When I compare myself to them at the same point in our trajectories, they were so much further ahead than I was at that point. There was a lot of trust among us."
Trust is an important building block among partners of a startup company. Another is work ethic. The Nanoxort trio has plenty of both.
"I always knew they were working hard. There were times when I would go to the lab and Tareq would look at me and I just knew to leave him alone because he was working on 100 different things and he would come to me when he was ready," David said. "There were also times when Barry would come to me looking so worn out. It would be early in the morning and I would ask him, 'why are you so tired this early in the morning?' He would tell me, 'I had this idea at 2 a.m. so I came to the lab to test it out.' I knew if I just stayed out of their way, they would accomplish great things."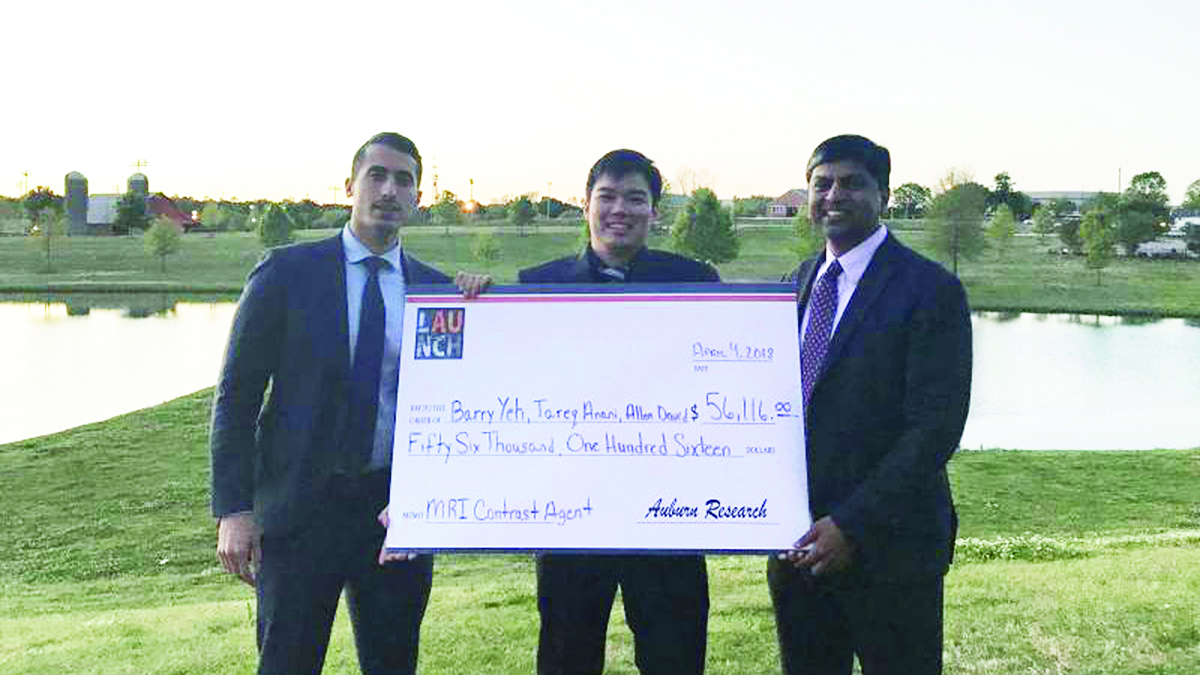 Despite a lack of formal business training, the three became increasingly good at pitching their business idea at various startup competitions. One challenge they encountered among the competitions is the timeline for developing a biomedical product simply takes longer than other products.
"I think some of the other competitors had an advantage in that they have something they can present immediately," David said. "Much of what we we're proposing is a concept that would be developed. Being a biomedical startup and having that long time to commercialization, obtaining resources is vital. It's the lifeblood of the company, so we continue to try to pursue all avenues."
One avenue that has proved successful is the Small Business Technology Transfer (STTR) program from the National Science Foundation. This program focuses on transforming scientific discovery into products and services with commercial potential and/or societal benefit. It serves to support the creation of opportunities to move fundamental science and engineering out of the lab and into the market or other use at scale, or startups and small businesses representing "deep technology ventures," according to the NSF.
Now, in their third year as business partners, the Nanoxort team has obtained an STTR Phase I grant and has hired its first full-time employee – Abhinav Sannidhi, also an Auburn chemical engineering graduate. Sannidhi completed his doctorate in 2020 working under Auburn chemical engineering Professor Thomas Hanley and in the same laboratory adjacent to David, Anani and Yeh.
"I didn't feel like I was joining a completely new company with new faces," Sannidhi said. "I've known all of these people for the last four years going back to the start of my Ph.D., so the transition was very smooth and the research aligns well with the company's goals."
In his role at Nanoxort, Sannidhi serves as research and development manager and the principal investigator on the STTR Phase I project where the company will be expanding its research outward from MRI contrast agents into magnetic resonance angiography (MRA) to address the need for improved diagnosis of cardiovascular disease.
The project, titled "Novel size-changing, gadolinium-free contrast agent for magnetic resonance angiography," will develop a contrast agent that improves the diagnostic value of MRAs, thereby bringing significant value to radiologists and medical institutions that perform MRAs for diagnosis of deep venous thrombosis, vascular malformations, peripheral arterial disease and in pediatric imaging.
"We know we have an advantage for MRI imaging as a contrast agent and we can see a market with immediate need in vascular imaging," Yeh said. "This is more of a subset of our original target and we think it will be quickly adapted by our customers."
Every decision the Nanoxort team makes is backed by the company's guiding principles: that the Nanoxort technology be adaptable to the healthcare needs of tomorrow; lucid to produce brighter images that allow for more accurate diagnoses; and empathic, putting patient safety front and center.
"One of our core guiding principles relies on safety and so, with a safer agent, compared to what's currently available, there are options that are going to open up for our product that aren't available to current products," David said. "There are larger markets out there, including pediatrics and therapeutics, even cancer. The vascular imaging market is really our entry point to these larger opportunities."
Though the team is rarely in the same place at the same time – Anani is a postdoctoral researcher in the department of orthopedic surgery at NYU Langone Health in New York City, Yeh is a senior development chemist at Eastman Chemical in Kingsport, Tennessee, while David and Sannidhi are based in Auburn – they remain in constant communication.
"I think our past history together, and the fact that we work well together as a team helps significantly," David said. "We complement each other and each one of us has our strengths. I think if meetings were left to me and Tareq, we'd spend a lot of time talking about the science and technical stuff — we could talk for hours about that. But early on, Barry did a good job of keeping us on task in terms of the meetings and now Abhinav has taken up some of that, as well. I think we're kind of like family and when we meet, we're in sync and we just work well together."