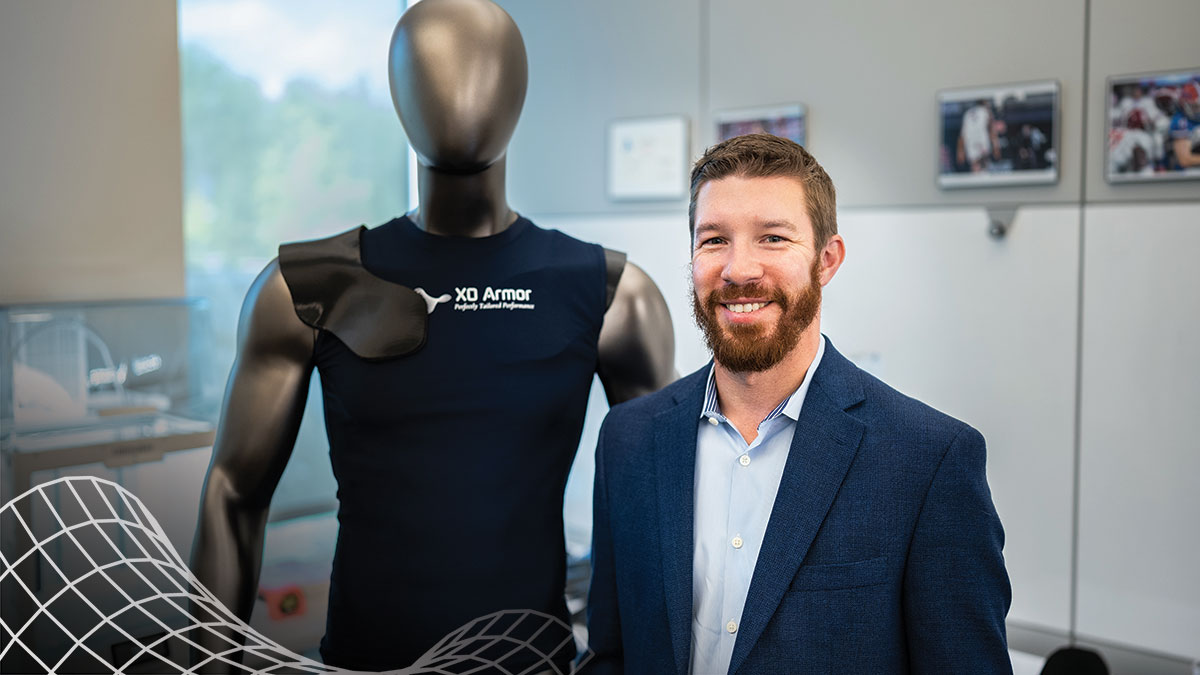 Fall Saturdays have gotten complicated for Michael Zabala, founder and chairman of XO Armor.
Rooting for, say, West Virginia or even Clemson hasn't been that hard. They're in different conferences. Auburn hasn't played West Virginia since the "Rain Game" Zabala flew back from Stanford grad school for in 2009. They've somehow managed to go four full years without playing Clemson. So, no big deal. Go Mountaineers. Go Tigers.
But, knowing that the work of his hands, the sweat of his biomechanically minded brow, the expertise he gained and cultivated at Auburn University as a mechanical engineering undergraduate, class of 2007, and now for Auburn University as an assistant mechanical engineering professor, and director of the Auburn University Biomechanical Engineering Laboratory (AUBE Lab), helped the evil empire across the state win yet another national championship?
He smiles.
"Well, you want to help any player get back to the field that you can," he said. "But, yeah, I kind of had to go to a special place."
And there in the special place, as always, is the Auburn Creed. Belief in the human touch, belief in mutual helpfulness, not just for injured Auburn wide receivers — but for all. That — and, of course, counting on what you eventually start to earn — is the XO Armor story.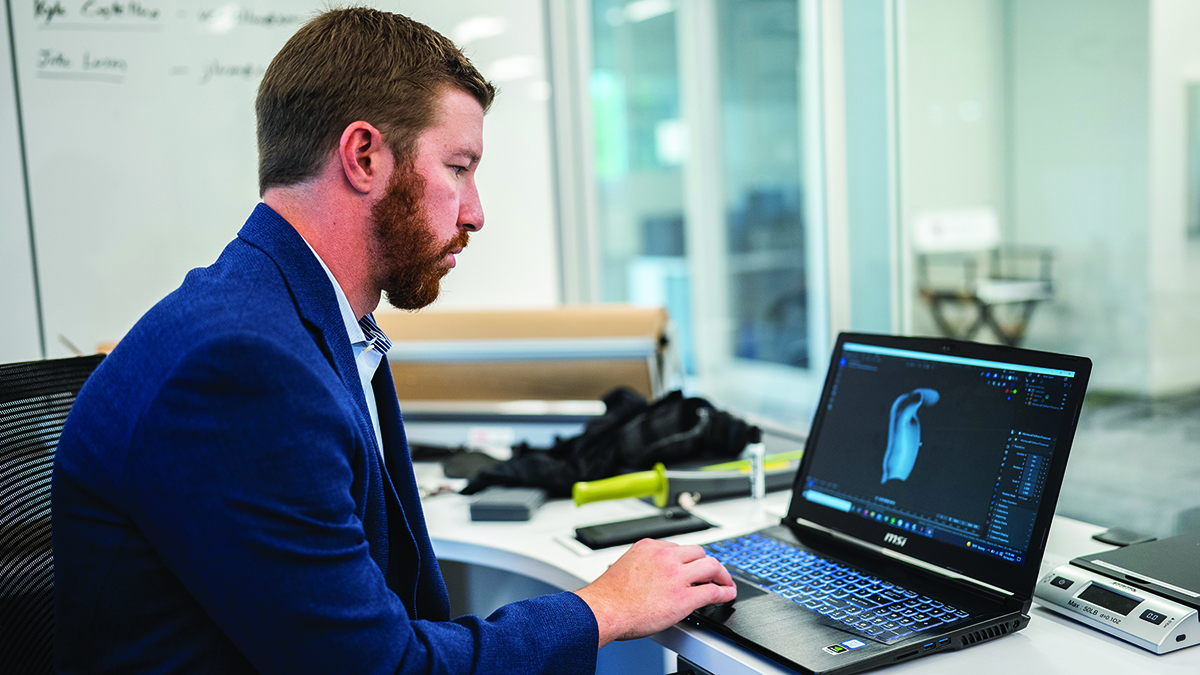 It began in August 2019. Through Auburn University's Presidential Awards for Interdisciplinary Research (PAIR) program, Zabala and an interdisciplinary group of Auburn engineers and scientists had recently been assigned nearly $1.3 million to research the additive manufacturing of durable, next-generation implants and orthotics — i.e. exactly what sophomore Auburn wide receiver Anthony "Flash" Schwartz desperately needed.
The fastest man in college football had broken his left hand in five places during a preseason blocking drill. Despite dressing out for Auburn's 2019 opener against Oregon less than one month later, he was a non-factor; ditto the following game against Tulane. Robbie Stewart, Auburn football's head athletic trainer, had a problem to solve, and he needed to solve it by Saturday's road-game showdown with Texas A&M.
Maybe, he thought, the engineering guy on the other side of the fence could help.
Stewart had heard of a custom elbow brace Purdue engineers had built for a Boilermaker basketball standout one year or so earlier. Wasn't that sort of like the stuff his neighbor Michael Zabala worked on? Orthotics and the musculoskeletal study of athletes and injury prevention?
"(Stewart) didn't want a bulky carbon fiber cast built from a plaster mold," Zabala said, "He didn't really know how we could do it, but he just asked if we could make Schwartz a more customized brace for his hand, and if we could make it quickly."
From scanning Schwartz's hand with the new Creaform GoScan scanner purchased for the PAIR project, to 3D printing a thin, durable brace that fit perfectly enough for Schwartz to wear under his glove with no one knowing it was even there, it took two days.
Up until the Texas A&M game, Schwartz had touched the ball just once, during the previous game against Tulane. He'd had a step on a defender. The pass had been on target.
The ball bounced off his fiberglass cast. Incomplete.
His next touch? The one with the custom, 3D-printed polymer brace?
A touchdown. Early in the game against the Aggies, Schwartz took a handoff with his perfectly protected hand all the way to the house for 57-yards. Zabala watched from his couch, ecstatic.
When Auburn's other star wide receiver, Seth Williams, scored a touchdown later in the game, thanks to the brace Stewart had also asked Zabala to print to protect William's injured left shoulder, he nearly had to pinch himself.
"It was like Auburn biomechanics scored 14 points that day," Zabala said.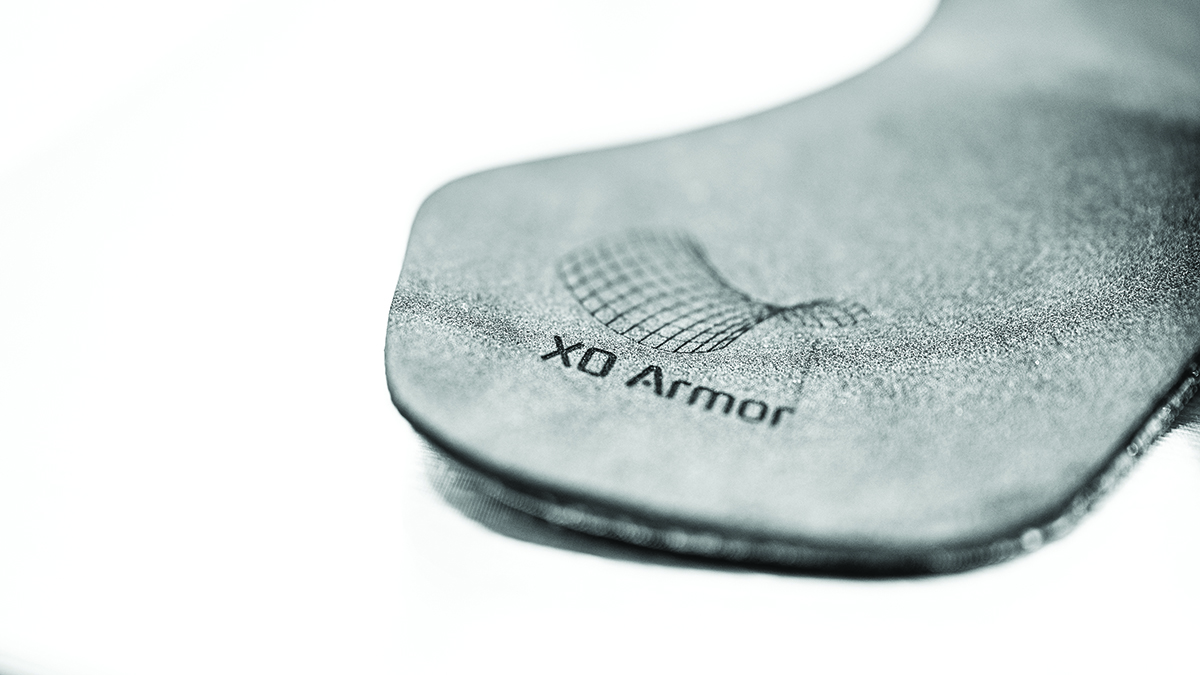 Word of the wonders coming out of the AUBE Lab quickly spread. Throughout the season, Stewart continued to grab a golf cart and discreetly zip injured players over to Wiggins Hall for scanning. Within a day, players such as Big Kat Bryant and Joey Gatewood would have the most advanced, customized athletic protective gear on the planet. Auburn basketball players began to take advantage of the technology. So did Auburn soccer players. ESPN's Holly Rowe reported on Auburn Engineering's contributions to the Tigers' success against Texas A&M live from the sideline during Auburn's game against Mississippi State. Auburn Athletics promoted an article documenting Zabala's new status as Auburn Football's 12th man.
"A lot of people read that story," Zabala said.
One of those people was an athletic trainer at West Virginia University named Zach Foster.
In late November, the Mountaineers had an injured standout receiver of their own, Sean Ryan. Foster reached out to Zabala.
Ryan was back in action for West Virginia's upset win over Kansas State the following week. That's when Zabala knew he might be on to something.
"West Virginia obviously didn't have time to drive their player to our lab to be scanned," Zabala said, "but we found an app for Zach to download on his phone that he used to get a scan detailed enough to convert into a 3D print file, and he sent that to us. We printed the pad, and shipped it the next day. Proving that it was something we could do remotely is when the potential for offering this technology to athletes outside of Auburn University really became apparent."
It's grown more apparent by the month.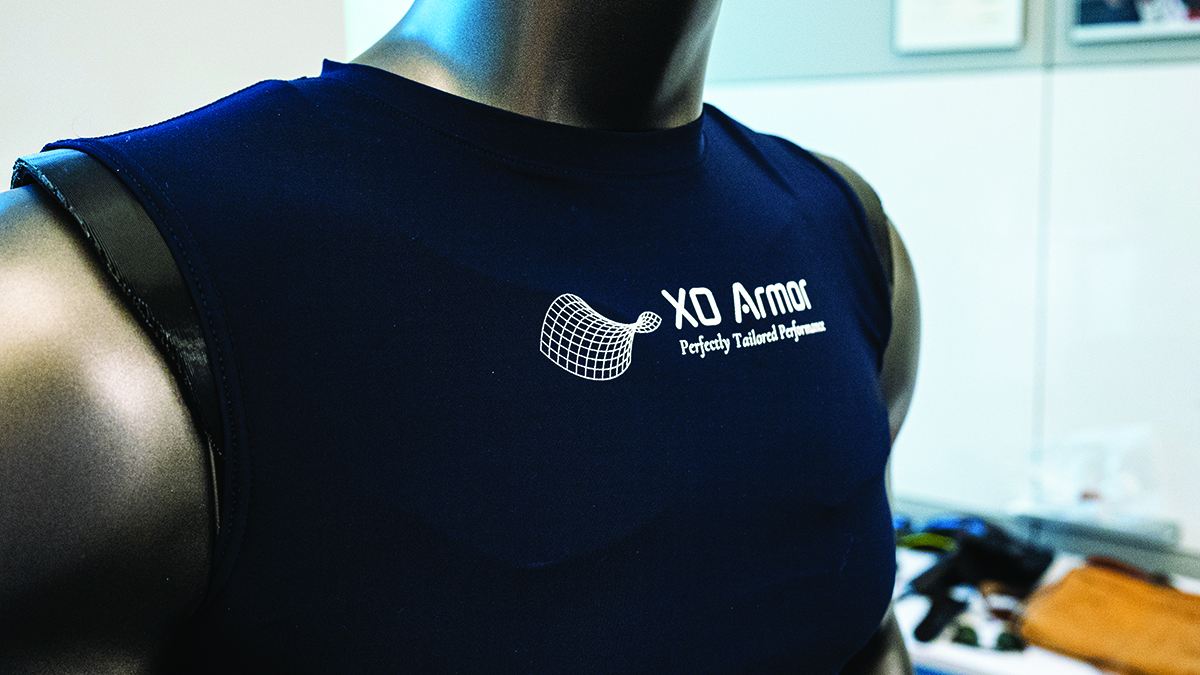 Branding as XO Armor, and setting up shop inside Auburn University's New Venture Accelerator, Zabala and two of his doctoral students, Jacob Larson and Kyle Castellano, quickly developed their own proprietary scanning app. They began sending samples of custom-fit pads to high school and college athletics departments, to NFL teams, to NHL teams.
As the company continued to hone its technology, its business and logistics models shifted.
Instead of shipping pads to clients, they would ship printers.
"We can still print pads in house, but we now give our clients custom 3D printers that allow them to scan their athletes and then print a pad on site," Zabala said. "Jacob Larson, our vice president of product, wrote code that converts the info from the smartphone scans into a 3D printable model, which was huge, but Kyle Castellano, our head of additive manufacturing and supply chain logistics, who knows 3D printers better than anyone, has been able to optimize this process for us over the past two years. The pads are now even stronger, and we can print them incredibly fast."
Seth Williams' original additively manufactured shoulder pad took 28 hours to print.
"With one of our printers, that now might take three hours," Zabala said. "Theoretically, if you're an XO Armor customer with a 3D printer in your training room, you could have a football player injured in the first quarter, and confidently back on the field by the second half."
That's all Clemson Athletics needed to hear. In May 2021, the Tigers in South Carolina signed XO Armor's first official contract. Auburn soon followed, as did — officially — West Virginia.
"We now have customers in every Power Five conference except the PAC 12, plus the Atlanta Falcons and the New Orleans Saints," Zabala said.
The company also has big plans to soon offer products to individual consumers, specifically targeting youth and teenage athletes. Custom fit soccer shin guards. Custom fit shoulder pads.
The list goes on.
"You'll be able to select the gear you want on our app, get instructions on how to scan, and we'll ship the gear straight to you," Zabala said. "Think about it. There are 20,000 high schools in the United States."
As for that school down the road? Well, it may just be a matter of time.
In December 2020, after hearing that star University of Alabama linebacker Christian Harris injured his left shoulder on the first play of Alabama's last regular season game, Zabala offered his services. Alabama accepted. They'd seen the results of what AUBE Lab had done for Anthony Schwartz and Seth Williams a year earlier. They'd lost to the results.
A week later, Harris took the field for the eventual national champions wearing a 3D-printed, customized, Auburn-made shoulder guard for Alabama's 52-46 win over Florida. His SEC Championship-sealing sack was the final play of the game. He led with his injured, perfectly protected left shoulder. Zabala watched from his couch, trying to not be too ecstatic.