Growing up in tiny Ste. Genevieve, Missouri, on the banks of the Mississippi River, Chris Roberts' future was destined for the music industry. His father owned a music store and Roberts spent hundreds of hours and many summers in the shop. But that all changed in a chemistry class during Roberts' freshman year of college.
"My professor pulled me aside one day and frankly asked me, 'What are you doing?' and I said 'What do you mean? I'm trying to survive your class,'" Roberts said.
The professor and Roberts then went back to the professor's office where he outlined Roberts' skillset and how he could affect positive change as a chemical engineer.
"He recognized that I had potential that I didn't see in myself," Roberts said.
Since that moment, Roberts has dedicated his life to creating those same life-changing moments for students who are like him.
"I've spent my whole life trying to emulate him," Roberts said. "That was very motivating for me to know that you could recognize in a young person something and to motivate them to achieve beyond even what they thought was their potential."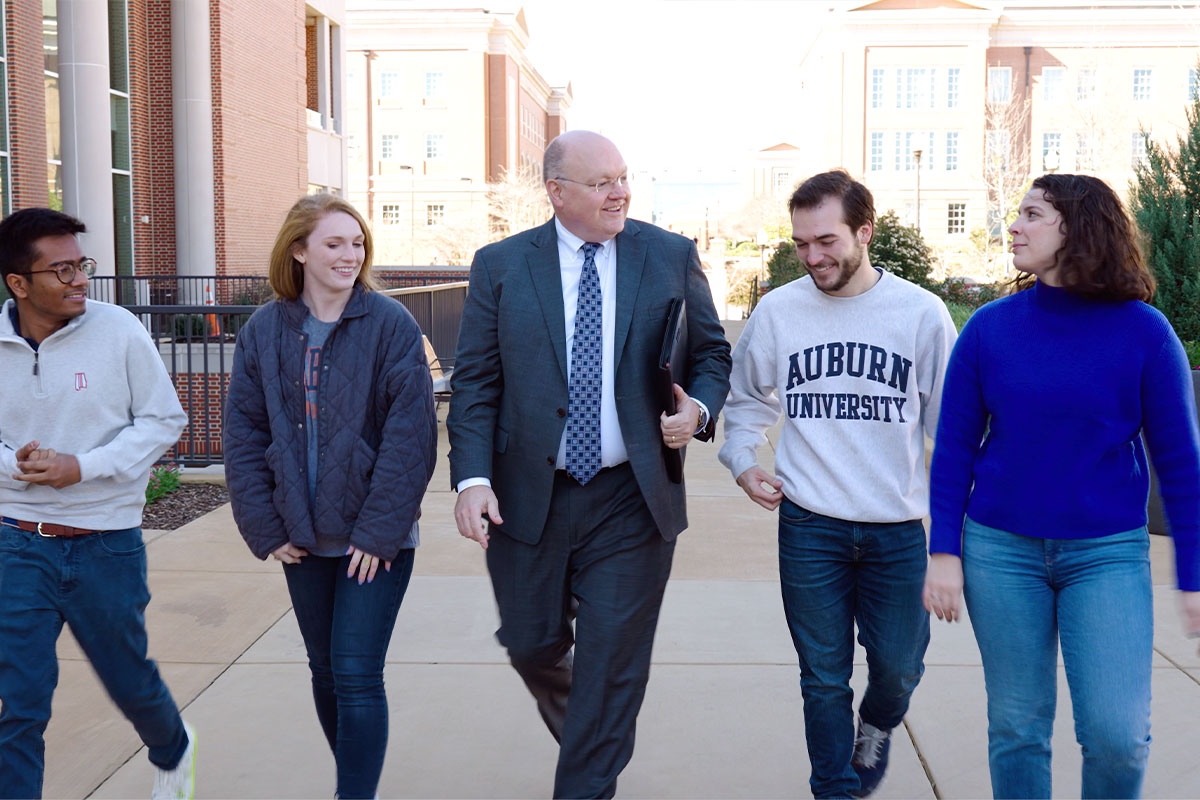 From Touchdown Jesus to Touchdown Auburn
After earning his bachelor's degree in chemical engineering from the University of Missouri, the born-and-raised Catholic made the move to the University of Notre Dame to pursue his master's and doctoral degrees.
During his time as a doctoral student, his Notre Dame professors also saw his academic potential and highly encouraged him to pursue a career in academics. When the time came, Roberts began interviewing at numerous institutions, but it was at the advice of his brother, Steve, to interview at a special place called Auburn University.
"I knew of Auburn through athletics, but I really didn't know much about it as an academic institution," Roberts said. "I don't know exactly why my brother knew so much about Auburn, but he did. When I came to campus, I fell in love with the place. I instantly felt connected to Auburn."
During his interview on The Plains, someone handed Roberts a copy of the Auburn Creed. That night, while in his hotel room, he pulled out the copy and began to read it.
"This is an institution that has a stated set of values and doesn't shy away from it," Roberts said. "Frankly, coming out of the University of Notre Dame, I had a deep appreciation for an institution who knew who it was. It's a differentiator for Auburn, and the Auburn people own it."
Roberts quickly knew Auburn is where he wanted to be. Even though he had not been offered the job yet, he called home and told his father this was the place for him.
Years later, Roberts was invited to Notre Dame to deliver a speech to graduating doctoral students. During the event, he read the Auburn Creed to the graduates.
"I hoped even they would identify it with parts of their lives that connect with their own set of values. Auburn has done that for me," Roberts said. "I hope to help continue to make Auburn an institution where our students and alumni identify with the university through these ideals."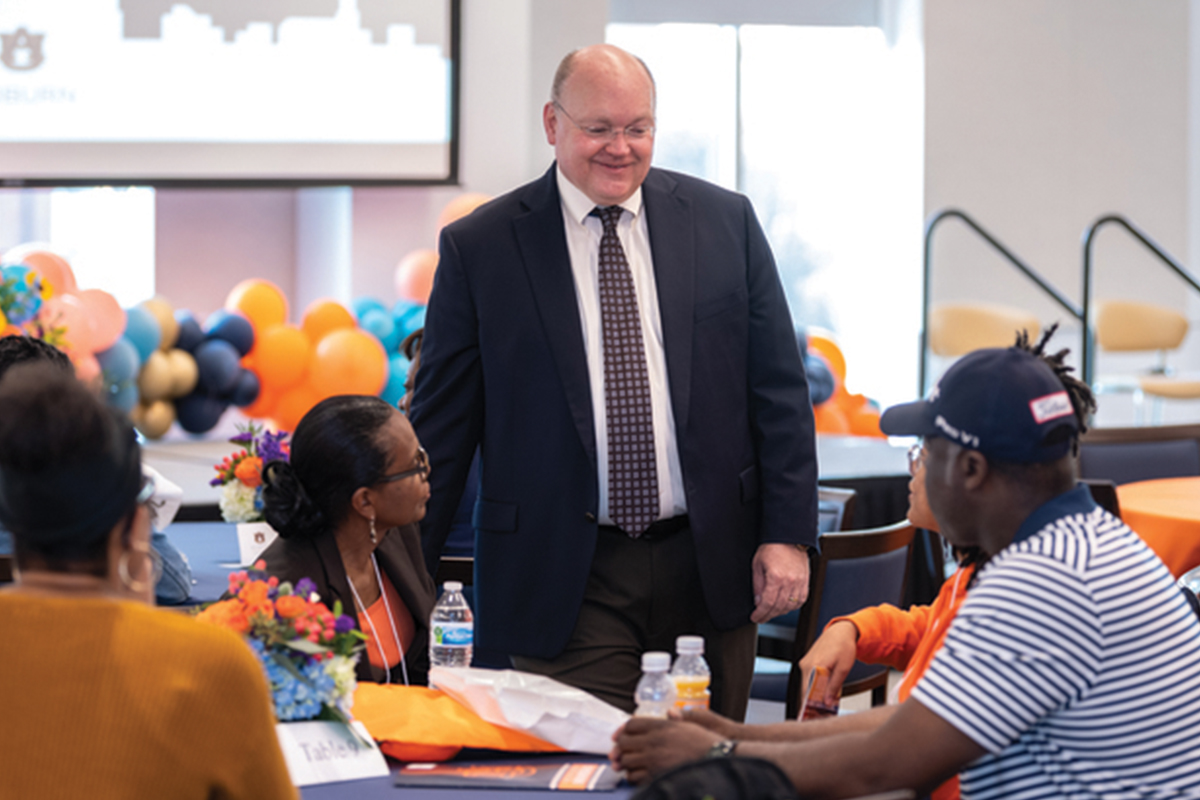 A Vision Fulfilled
Roberts joined Auburn University's Department of Chemical Engineering as an assistant professor in 1994. Within a decade, he was named as the department's chair in 2003, as well as the Uthlaut Professor. Similarly, less than a decade later, he was named dean of the Samuel Ginn College of Engineering in 2012.
As he looks back at each of those tenures, he still sees himself as that professor making an impact in students' lives. It's at his core.
"That's where my heart is. I loved interfacing with students at the frontier of technical challenges, innovation and their discovery and learning. It was a such a pleasure," Roberts said.
During his time as department chair, he began to experience a new joy, a joy similar to that of seeing his students excel.
"I learned to live vicariously through the successes of my colleagues, and was perhaps personally experiencing more joy watching my colleagues develop into master educators and master researchers," Roberts said. "That gave me confidence that we could have that effect across the college."
As dean, Roberts led the College of Engineering through exponential growth in undergraduate and graduate enrollment; underrepresented student enrollment and graduation; faculty recruitment; alumni gifts and involvement; new research awards and grants; and facility additions and enhancements.
During his tenure, Roberts led and oversaw:
• Growth in total enrollment of nearly 2,000 students
• Growth of new external research contracts by $55 million
• Growth in faculty by approximately 100 members
• Becoming a Top 25 producer of African American engineering graduates
• Growth of female enrollment to more than 22%
• Launching the 100+ Women Strong program
• Launching the Young Alumni Council
• Fundraising a record $65 million in donor funds in 2015-16
• Construction of the $44 million, 142,000-square-foot Brown-Kopel Center
• Renovation of the Textile Building into the Gavin Research Laboratory
• Construction of the Gavin Garden
• Renovation of Broun Hall to include the Davidson Pavilion
• Construction of the $22 million Advanced Structural Engineering Laboratory
• Acquisition of the Auburn University Research and Innovation Campus in Huntsville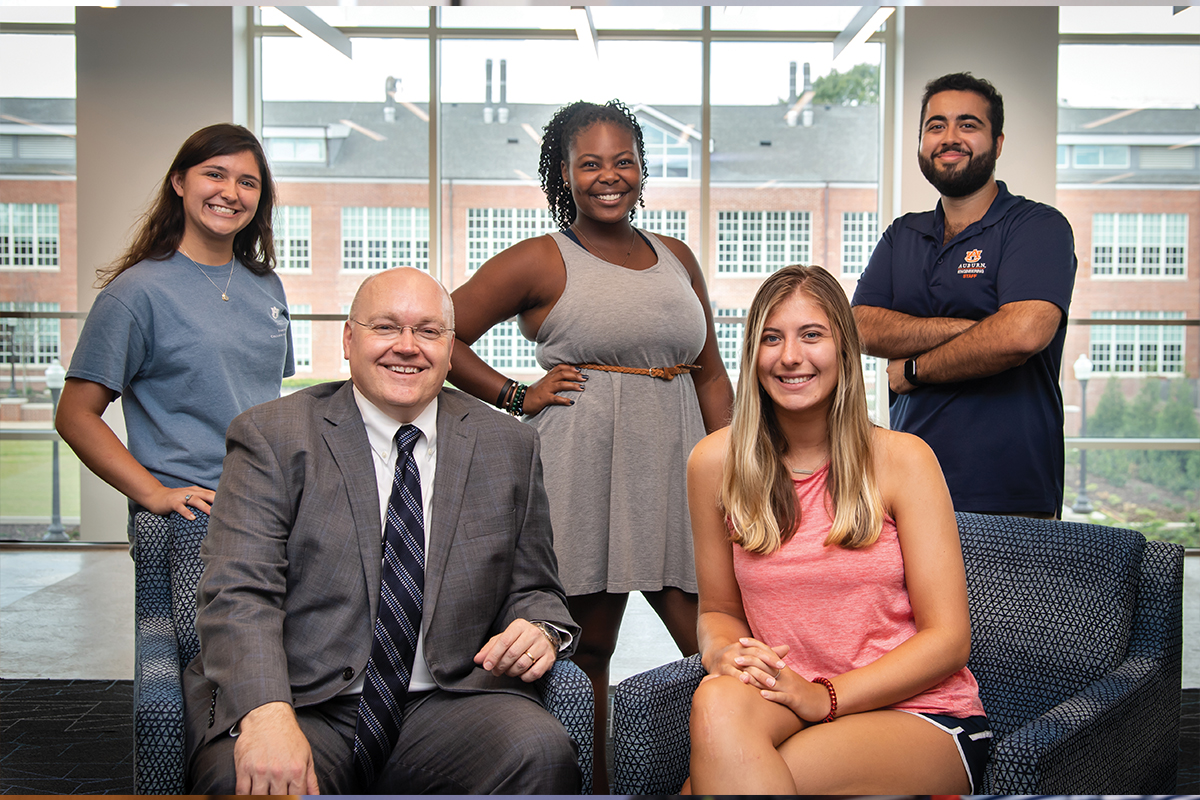 "My time as dean has illustrated to me, and I hope others, that we can do really ambitious things at Auburn while staying true to who we are," Roberts said. "What I'm most proud of is that we did this together. It took a lot of people — a lot of people — to come together with a shared vision and a desire to make an impact."
In February 2022, after a national search, Roberts was named as Auburn University's 21st president. He assumed the role in May, succeeding Jay Gogue.
"I didn't wake up one day and just decide I want to pursue the presidency at Auburn, but rather over the course of the past 28 years that I've been here I think I've developed a deep appreciation and understanding of the institution and a desire to see it reach its full potential," Roberts said. "I'm convinced that, in this new role, we'll be able to take on ambitious things and really further propel Auburn as a preeminent land grant university, while at the same time doing it in a uniquely Auburn way. I think that's what I've been able to hone over these years as a professor, department chair and dean here on this campus. Auburn is an amazing university with tremendous potential for greatness, and I hope to help us reach that full potential."
And while the Samuel Ginn College of Engineering will always be thankful of the role Roberts played in making the college the best student-centered engineering experience in America where everyone is made to feel welcomed, valued, respected and engaged, those in the college are comforted and confident that the entire university will soon experience the same upward trajectory felt on the engineering campus. Or, as you could say, it's music to their ears.
"I'm really honored to have this opportunity. It's the honor of a lifetime to serve Auburn in this truly unique way. There's nowhere else I would like to do this than right here," Roberts said. "And I can rest easy knowing the Samuel Ginn College of Engineering is a great college with strong leadership across the board with amazing world-class faculty members and a high-achieving student body. Knowing what I know about this next generation of faculty and students across this college, watch out! Auburn is on the rise."
---
SURPRISE!
Walt and Ginger Woltosz are among the university's most ardent and dedicated supporters, so it was no surprise to everyone when they gave $5 million to the Samuel Ginn College of Engineering to support the construction and programming of the Brown-Kopel Student Achievement Center.
Well, almost everyone.
On April 8, the Woltoszes surprised former Dean and now President-elect Chris Roberts by naming the grand atrium in the Brown-Kopel Center in his honor. The area, which serves as the front door to the college, is now known as the Christopher B. Roberts Grand Atrium.
The space was initially named by the college in honor of the Woltoszes, but Walt wanted to name the space after the person who had the vision to make the facility a reality.
During the Brown-Kopel Center's dedication ceremony in 2019, President Jay Gogue mentioned during his remarks that the facility was Roberts' vision, and that spurred the Woltoszes to make the generous gesture. Although COVID postponed the Woltoszes being able to formally recognize the name change, they were finally able to unveil it in front of a packed house of Auburn alumni, administration, faculty, staff and students. Interim Dean Steve Taylor presided over the event, which featured speakers Gogue, Board of Trustee member Mike DeMaioribus, Interim Provost Vini Nathan, Engineering Assistant Dean and Director of Student Services Janet Moore and the Woltoszes.
"Chris had this vision for a student achievement center, and I wish we had known that before it was too late and all the names were put up," said Walt, who earned a bachelor's and master's degree in aerospace engineering from Auburn in 1969 and 1977, respectively, and an honorary doctorate from the university in 2021. "Well, Chris, it's not too late."
A visibly stunned Roberts gasped as the drapes were pulled back, revealing the formal name change.
"This was an entire college project. This was probably the best project I've ever worked on, by a really significant margin," Roberts said. "But now, to know that you have done this, Walt and Ginger, I just can't tell you how much I appreciate it."