On Saturday, April 23, 1,061 people from 44 states, led by two-sport legend Bo Jackson, participated in the annual Bo Bikes Bama charity ride benefiting the Governor's Emergency Relief Fund.
One of them was former Auburn basketball player and engineering alumnus Gary Godfrey.
Apparently, he didn't get the memo.
Godfrey, a 1986 industrial engineering graduate who played alongside Charles Barkley as the Tigers reached the Elite 8 before embarking on a highly successful 30-year career in logistics and brand management consulting, has amyotrophic lateral sclerosis (ALS). ALS degrades nerve cells in the brain and spinal cord. It causes loss of muscle control, paralysis. He can't move. He can't talk. He's not supposed to be able to do things like complete a 20-mile bike ride.
But he did, thanks to 13 students in Auburn University's Samuel Ginn College of Engineering who said "yes" to the challenge.
A week earlier, a senior design team comprised of eight mechanical engineering seniors, an industrial master's student volunteer, three mechanical engineering graduate teaching assistants and an undergraduate teaching assistant completed a custom student-designed adaptive bike that could accommodate Godfrey, and the vehicle's operator, Chuck Smith, an experienced cyclist who has known Godfrey for years. The team was supervised by assistant mechanical engineering professor Kyle Schulze and mechanical engineering lecturer Jordan Roberts, who also serves as the director of the Samuel Ginn College of Engineering's Design and Manufacturing Lab.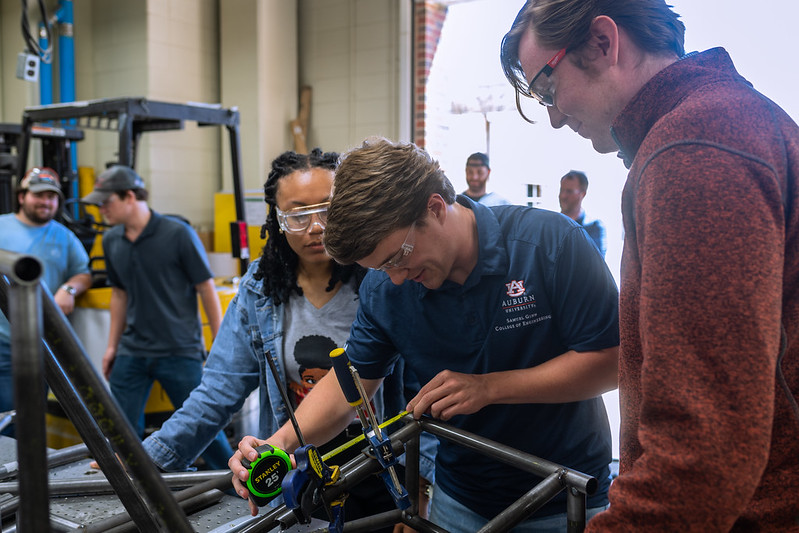 The bike is a modified cargo ebike with a custom-built frame that includes a hot-swappable battery for continuous operation. Godfrey sat securely in the front of the bike between two 20-inch tires pushed by the powered rear wheel and was monitored by three primary sensors — two GoPro cameras and a "twitch switch" — that allowed his support team to monitor his vital signs during the race. The switch was attached to Godfrey's cheek and connected to a light and siren system allowing him to signal the team via the slight facial mobility he maintains had he been in distress. He was secured to a racing seat with a five-point harness and his head was supported with a HANS device typical of motorsports safety.
"Building the bike for Gary was a great experience because it was an example of a real-world design and build process — we were working on a tight schedule with a big group," said mechanical engineering senior Joshua McCreight, the project's team lead, one of several team members who rode alongside Godfrey. "I'm really pleased we got it done in time for Gary to participate in Bo Bikes Bama. We were committed to finishing it, not only because it was our senior design project, but because it's such a great way to share the positive impact of Gary's story."
Gary's story — at least this chapter — started in late 2018. One day, he was just weaker. He was shooting hoops. Then he wasn't. He couldn't get the ball to the rim. For a 6-foot-8 former college basketball player, that was strange. He went to a doctor. He got weaker. He went to another doctor.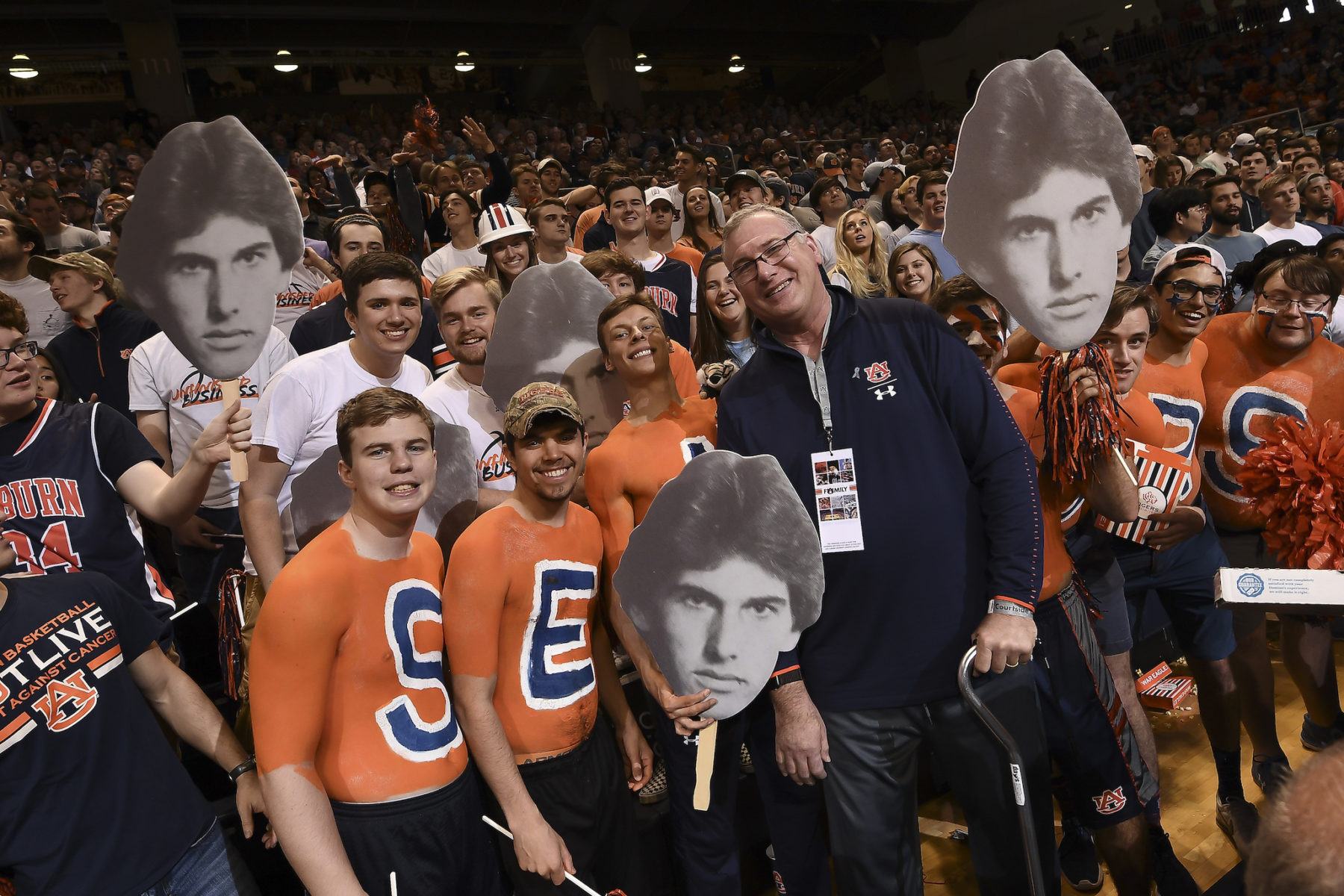 On Tuesday, Jan. 8, 2019, he got the diagnosis.
It was almost a relief. He knew what he was working with. He knew what he would be living with — emphasis on the living.
"I had a choice," Godfrey said through the text-to-speech app on the computer he controls with his eyes. "I could spend my energy on fighting ALS, or I could focus on living with ALS. I chose the latter. That's when all of my Auburn basketball experiences kicked in. What did I have to do to stay on the court — which probably is not the best metaphor since I wasn't on the court that much during my career at Auburn — or in this case, what do I have to do to live a full life with ALS?"
Cycling was on the full-life list. He'd been an avid bike rider before ALS. He'd done Bo Bikes Bama twice before ALS. No reason to stop now.
"After I retired, I wanted to get back in shape," Godfrey said. "I took up cycling. It became my passion. I was riding three to four times per week, riding between 200 to 250 miles. I lost over 80 pounds. I became a MAMIL — a Middle Aged Man in Lycra."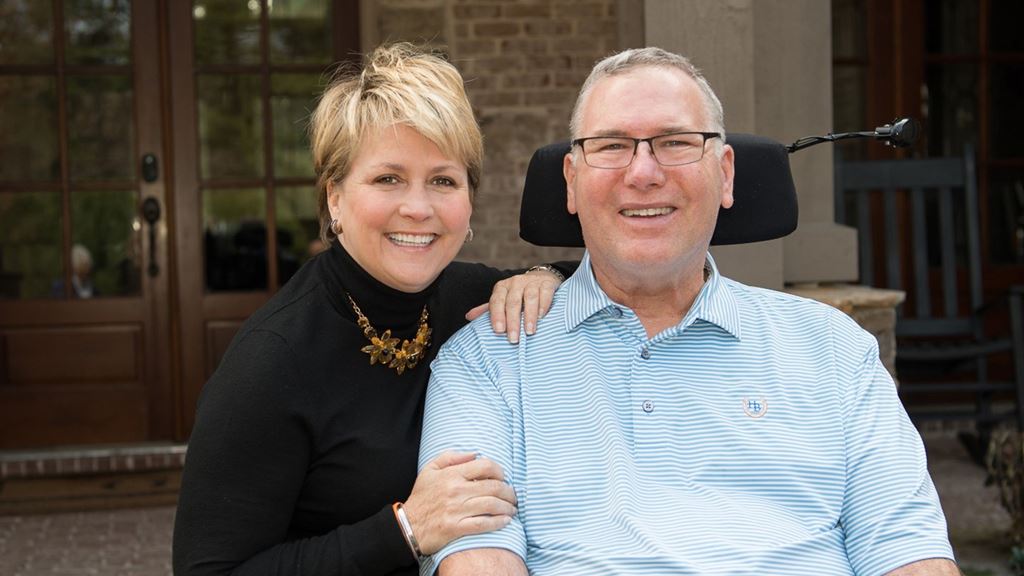 Godfrey and his wife, Carol, a fellow 1986 Auburn industrial engineering graduate who led a distinguished career in marketing and product development for Southwire Company, first approached the college about the project late last year. 
"I had ridden in Bo Bikes Bama a few times before my ALS diagnosis," Godfrey said. "I read about a man from Colorado, named Mike Cimbura. Mike was an avid cyclist before he was diagnosed with ALS. He didn't let ALS prevent him from riding. Mike teamed with Zach Yendra who built him a bike that could accommodate his needs and still go up to 60 miles per hour through the Colorado mountains. That inspired me to do the same thing for Bo Bikes Bama."
Gary showed a picture of Cimbura's bike to Carol. He typed out "I want to ask Auburn Engineering students to build me something like this."
"I was like, 'I don't know about going 60 miles per hour, Gary,' we might need to slow that down,'" Carol said. "But still, he always talks about living with ALS. Folks often ask me why we're doing things like returning to bike riding or pushing to be at Auburn basketball and football games or at a meeting of the Auburn Alumni Engineering Council. I guess their rationale is that Gary has ALS, can't move or talk or breathe on his own, or this, or that. And yet, what I'd tell you is that Gary's mind is sharper than ever, allowing him to dream up ideas like riding a bike again, and some amazingly bright young Auburn engineers were along on this ride with us."
Amazingly bright, said Schulze, doesn't even begin to describe it.
"Senior design projects typically take two semesters, but, with the way this worked out, the students had barely four months to finish," he said. "To be honest, what typically happens in situations like this is that the advisors end up having to finish the job because the students just don't have the technical know-how to meet the deadline. Any senior design professor out there would look at that bike and assume that's what happened here."
But it didn't.
"Jordan and I looked at each other just before the ride started and said 'they don't need us,'" Schulze said. "That's the biggest compliment I can give them. I couldn't be prouder."
Neither could Auburn University President Chris Roberts, former dean of the Samuel Ginn College of Engineering.
"This project and this day represents the full circle of the Auburn mission of education, research and outreach," Roberts said after powering Godfrey on a short demonstration of the bike's capabilities before the ride. "The bike ran incredibly well. I'm so proud of these students and so happy for Gary. This is what the Auburn Family is all about."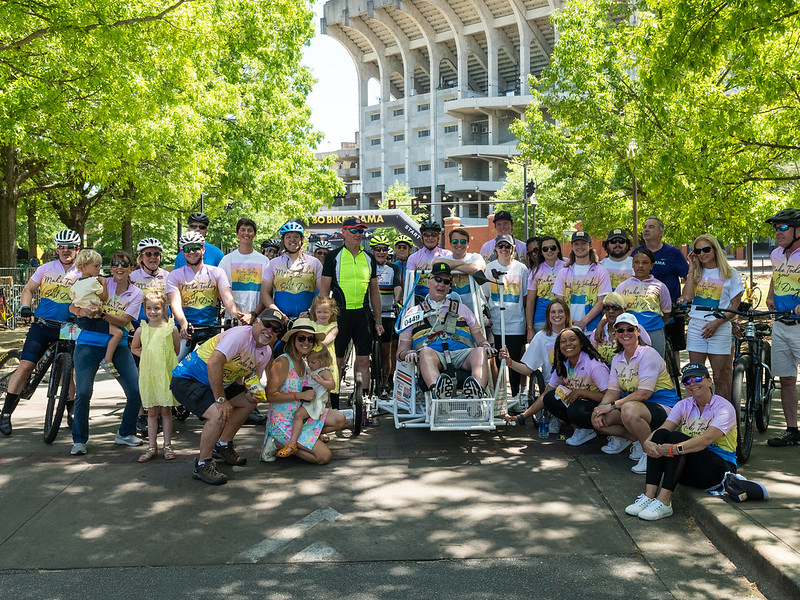 Godfrey couldn't be more grateful that it is.
The smile is subtle. But it's still there. It's the one physical form of expression the disease hasn't taken from him.
It was there at the starting line. Twenty miles and two hours later, it was there at the finish line. 
"Thanks to these Auburn Engineering students," Godfrey said. "I got to feel the wind in my face again."
---