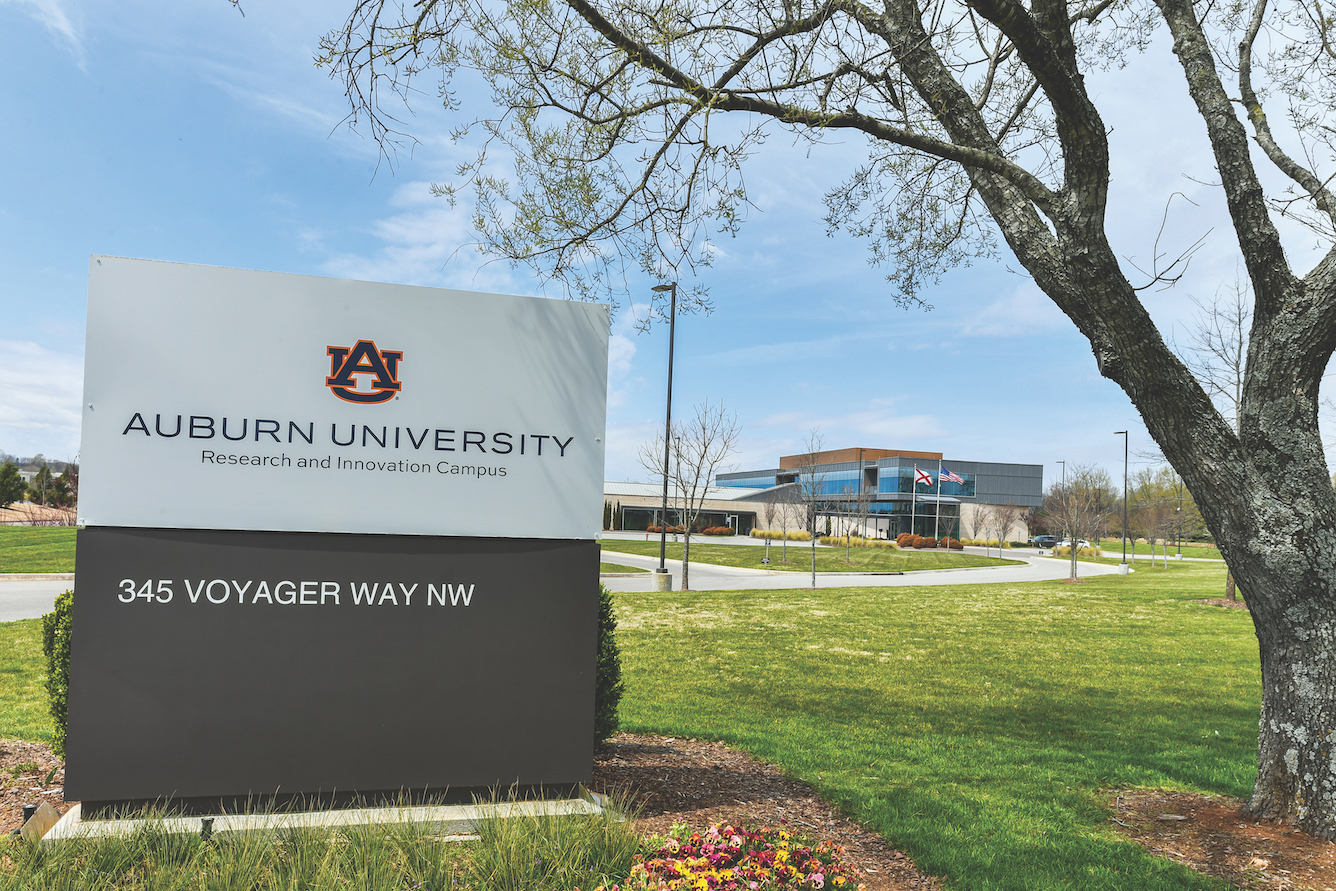 Steve Taylor, interim dean of the Samuel Ginn College of Engineering, has a sign above the door to his office that reads "Be like Mike — Do big things for Auburn." It's a tribute to his colleague and friend, Mike Ogles, inspired by the words of the Microsoft Outlook calendar reminder Ogles woke up to every day before losing a six-month battle with cancer in October 2021.
A 1989 Auburn University mechanical engineering graduate who served the college for several years as director of NASA programs, assistant director of the National Center for Additive Manufacturing Excellence (NCAME) and as the driving force behind the Auburn Makes initiative, Ogles was an invaluable resource for Auburn University. Working largely behind the scenes, his connections with NASA's Marshall Space Flight Center in Huntsville helped secure several major research contracts and partnerships for Auburn Engineering, including an $11.6 million NASA contract for work on the Rapid Analysis and Manufacturing Propulsion Technology project that helped establish NCAME as an international leader in additive manufacturing characterization and qualification research.
So, it came as no surprise that when talk of expanding Auburn's Huntsville footprint and updating its long-term Rocket City research strategy reached Taylor's ears in early 2021, many of the words belonged to Mike Ogles.
The timing just seemed right. Huntsville continued to top lists ranking the fastest growing tech hubs in the nation. The U.S. Space Command had just announced plans to relocate to Redstone Arsenal. In that first meeting, Taylor sat down with Ogles and Melanie Baker, director of Auburn Engineering's Army and Missile Defense Programs, with a vision: Do something big for Auburn in Huntsville.
Purchasing two buildings with more than 40,000 square feet of space situated on a 9-acre parcel of land is pretty big.
"I think Mike would be proud of the Auburn University Research and Innovation Campus," Taylor said.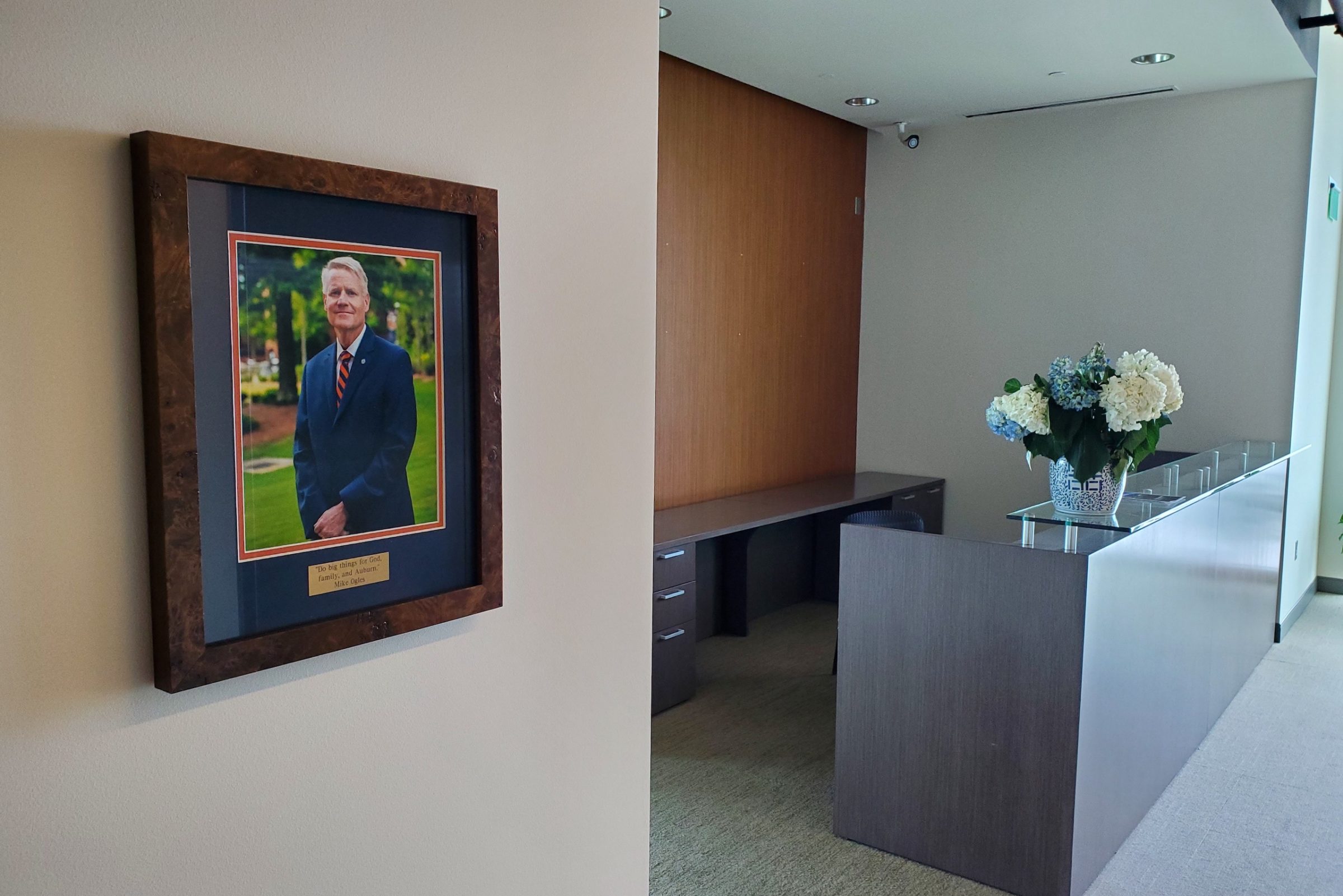 Located at 345 Voyager Way NW within minutes of Redstone Arsenal's Gate 9 entrance and near many of Auburn University's research partners in defense, aerospace, law enforcement and biotech sectors, the Auburn University Research and Innovation Campus (AURIC) lays a permanent foundation from which Auburn can leverage its regional reputation and thriving public-private partnerships into unprecedented national prestige and influence.
Jim Weyhenmeyer, university vice president for research and economic development, called the decision to move forward on the project "a defining moment for Auburn University and the Huntsville community."
"This facility," Weyhenmeyer said of AURIC, "will fast-track connections that change the world through our valued research partnerships."
LogiCore — a technology services company providing life cycle logistics, systems and software engineering, cybersecurity, information technology, programmatics and training services — operated the facility from 2015-22.
"It was just obvious to Mike and Melanie that we needed a greater physical presence in Huntsville," Taylor said. "We've obviously done very well and expanded our research efforts in Huntsville since Auburn opened an office there in 2010, but if we were going to truly grow our research portfolio, they knew we had to have a home — a physical headquarters that belonged to us."
Ogles and Baker, Taylor said, envisioned the campus as a collaboration engine that focused Auburn's expertise and next-generation resources on the defense, aerospace and law enforcement agencies that call Redstone Arsenal home.
When it officially opens its doors later this year, that, Taylor said, is exactly what it will be.
"When you look at the Redstone Arsenal, most people think of NASA and Marshall Space Flight Center," Taylor said.
"But there are so many other agencies and groups. There's United States Army Materiel Command, the U.S. Army Combat Capabilities Development Command Aviation & Missile Center, the U.S. Army Space and Missile Defense Command, the Missile Defense Agency, the Missile and Space Intelligence Center, Redstone Test Center — you can go on and on, and we already have working relationships with many of those groups," he added.
Taylor also expects AURIC to help facilitate Auburn Engineering's growing work with the FBI.
"The FBI now has a significant presence inside the fence at Redstone, and we significantly collaborate on cybersecurity with the FBI, as well as the Army," Taylor said.
"There's also, of course, a lot of interest in Auburn's additive manufacturing research through NCAME within the Army, as well as from our long-term additive partners at NASA."
The U.S. Army recently awarded Auburn's NCAME a $4.3 million contract on a two-year project focused on materials, parts and process qualification, all of which are necessary for furthering the adoption and implementation of additive manufacturing in Army operations.
"We are excited about the opportunities to expand our research capability in Huntsville, which is home to many members of the Auburn Family and our valued research partners," said former Auburn University President Jay Gogue. "We hope this facility will quickly become the primary connection for the Huntsville community to Auburn University and will be the go-to destination for government and industry entities around Redstone looking to meet in an unbiased, trusted location for technical interfacing."
Taylor agrees.
"The space we're creating at AURIC will allow Auburn to serve as a trusted partner where we can convene different agencies and different companies in an impartial territory and work through big problems with complex multidisciplinary solutions," he said.
The campus' main building features an event center large enough to host 300 people plus a 100-seat auditorium. The entirety of the second floor is dedicated to engineering research space. The second building is reserved for even more laboratory space that will be built out in the coming years.
"In terms of long-term goals, we want to significantly grow our research funding that comes from agencies in Huntsville," he said. "We're conducting millions of dollars of research with Huntsville partners, but I think we can easily triple our current numbers."
If the generated buzz is any indication, he's right.
"It's already generated interest among our peer universities and of our existing partners," he said. "I've had several conversations already. People keep asking, 'What will be happening here?'"
Big things, Taylor tells them — big things.
---