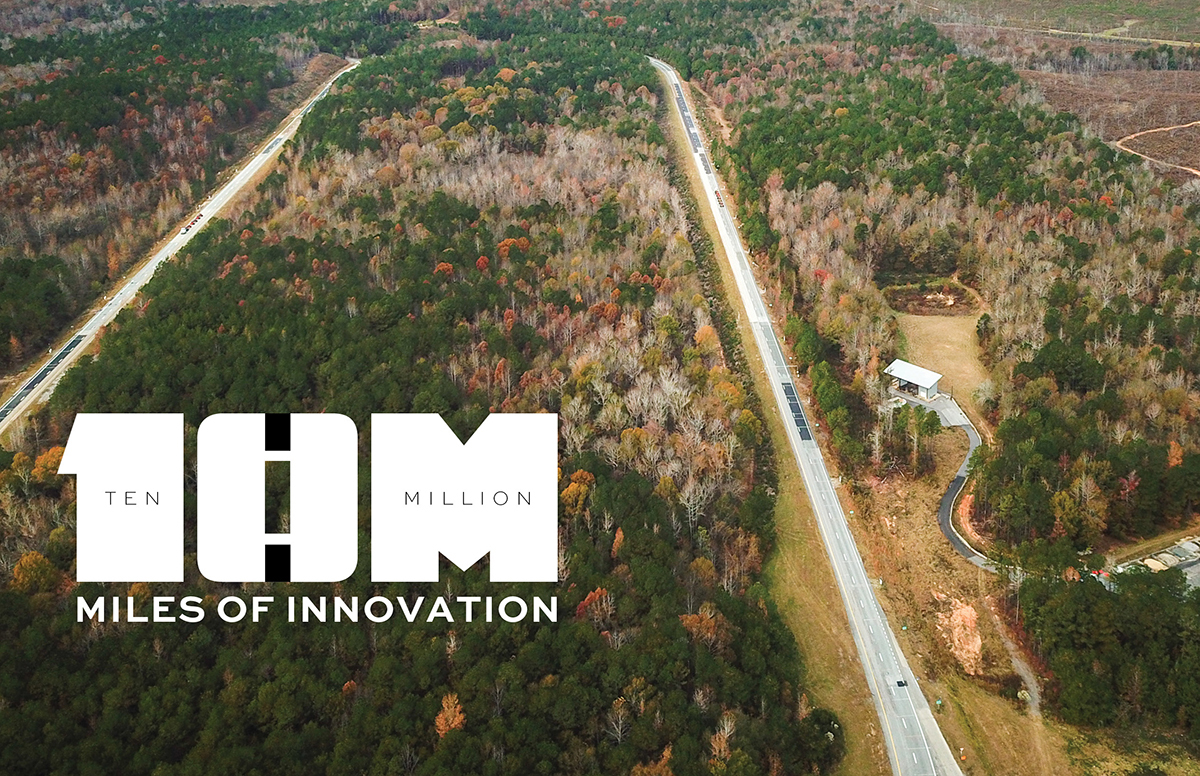 The National Center for Asphalt Technology (NCAT)'s Test Track recently crossed 10 million miles driven. Opened in 2000 as a testing facility for asphalt research, the track has provided pavement engineers across the USA with an outdoor laboratory where they can experiment with pavement designs while avoiding risks associated with damaged pavements on real-world roadways.
"The Test Track has always been an indispensable research tool to help highway agencies and the asphalt industry answer questions and prove the viability of technologies," said NCAT Director Randy West.
The Test Track offers researchers a unique chance to design, implement and show their findings on asphalt technology in one location, and has saved state departments millions of dollars each year with its results.
A Bridge Between the Real World and Laboratory
NCAT's Test Track is a 1.7-mile oval where research is conducted on experimental asphalt pavements. Located on a 309-acre site about 15 miles east of Auburn's main campus, the track is comprised of 46 200-foot test sections funded as a cooperative project among highway agencies and asphalt industry sponsors. The track was designed and built to simultaneously evaluate the performance of a range of roadway cross-sections and materials, and use those findings to improve sustainability, safety and cost effectiveness of roadways.
"We serve as a bridge between the real world and the laboratory," said Test Track Manager Jason Nelson. "We utilize real drivers in real trucks."
The track's test sections are classified in three different ways: structural experiments, surface mix experiments and pavement preservation studies. Multi-depth temperature probes are installed in each test section, and are paired with an on-site automated weather station, to aid in characterizing how the test section responds to loading and environmental changes. These variables allow researchers to quickly analyze and implement their findings into improved pavement designs.
"In a three-year research cycle, you can put a design life's worth of traffic in a couple years," Nelson said. "You don't have to wait 10 years, 20 years. You know what that pavement's going to do out in the real world."
Research cycles at the track last for three years and are broken down into three phases. The first phase focuses on construction, with research sponsors making on-site visits to ensure the sections satisfy their research needs. Various parameters are measured during the construction process to capture properties of the sections.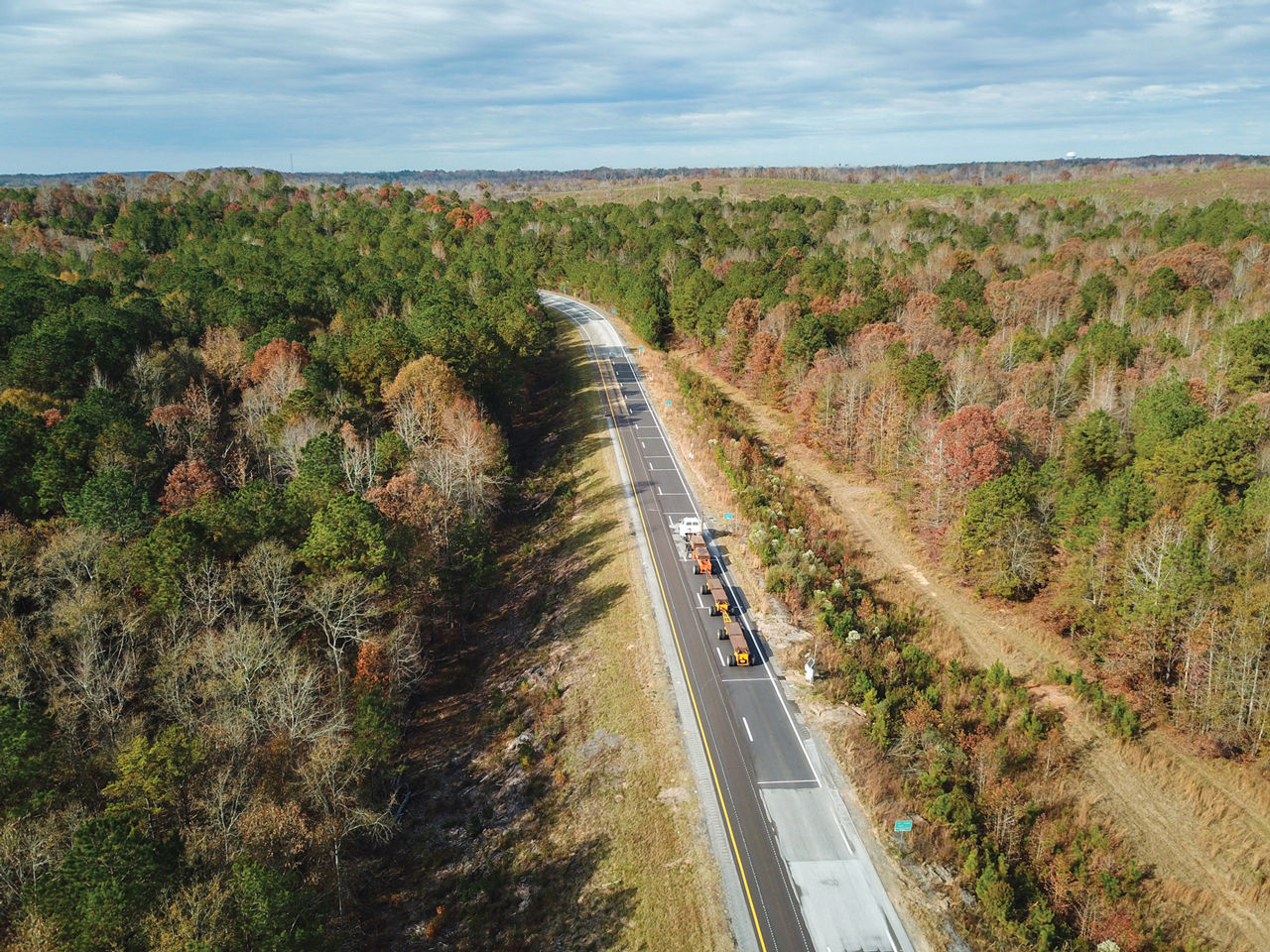 "Great research can be done in the lab and with computer simulations, but there is no substitute for proving that a new material or design method works on the Test Track," West said. "Our sponsors know that if we can prove something works on the Test Track, it is ready for implementation."
In the second phase, each section of the track endures rigorous heavy truck traffic in a period of two years. Each section of the track is subjected to 10 million equivalent single axle loads, which simulates long-term wear and allows researchers to deliver highly technical results to state highway departments quickly.
The final phase of the cycle involves forensic analyses of damaged sections on the Test Track to determine the contributing factors to pavement distresses. At the end of each cycle, test sections may remain in place for additional evaluation, or are replaced to support new research.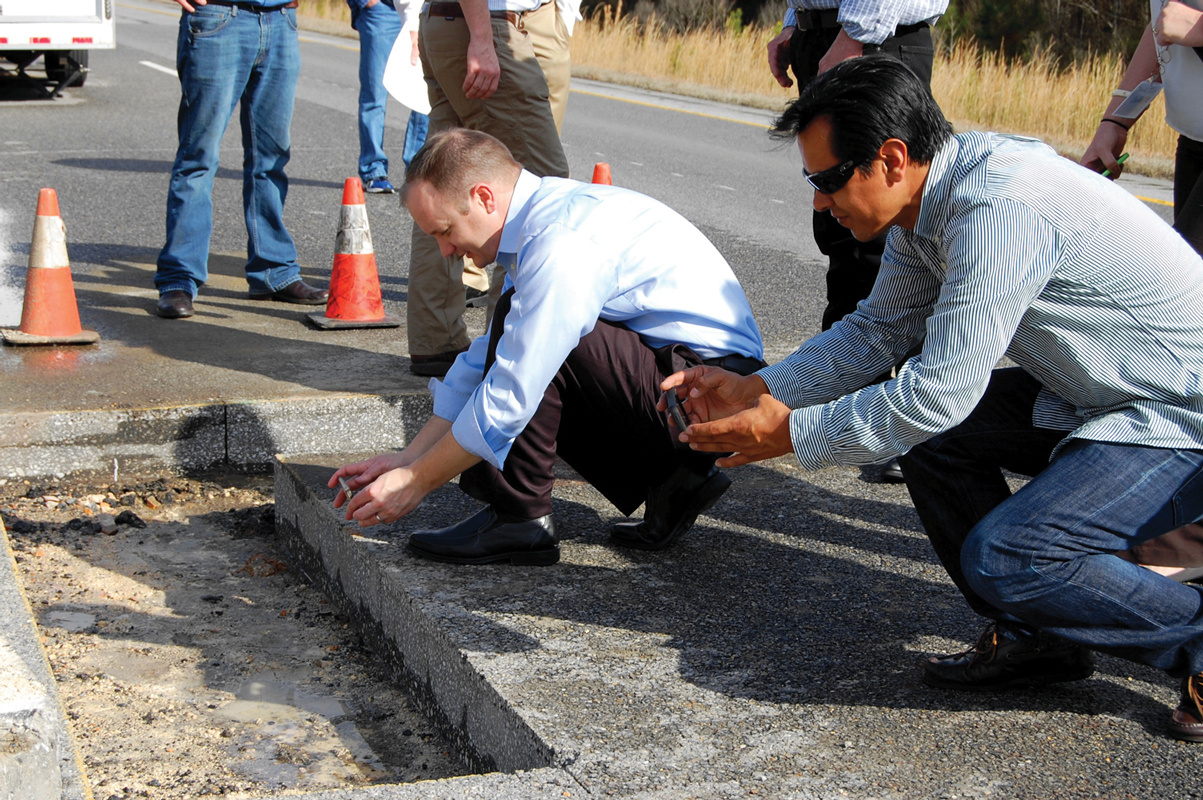 "We spend billions of dollars on roadway infrastructure in this country every year, so we have to do controlled experiments to see what works and doesn't work," said NCAT Associate Director and Research Professor Buzz Powell.
Besides asphalt testing, the NCAT Test Track is used for a variety of transportation-related projects including the development of new heavy vehicle suspension systems, truck platooning, evaluation of alternative fuels, improved tires, a vehicle rollover prediction system, advanced propulsion systems and improved vehicle electronics and safety.
The site of the track also has special geological characteristics that lend themselves to other engineering research studies.
"This site is unique because there is really shallow rock on the west end, but then really deep clay on the east end," Powell said. "It's a national geotechnical experimentation site."
More Than Two Decades of Research and Counting
Before the track's completion, NCAT's work was already widely respected by the asphalt industry across the nation. Research had been conducted with a dozen state departments of transportation. In 1998, the Alabama Department of Transportation and NCAT began planning to construct and operate the Test Track on 310 acres of land. The groundbreaking ceremony was held in September of that year.
The Test Track was finished in August 2000, with the first laps around the track completed that September. Initially, the Federal Highway Administration and nine states (Alabama, Florida, Georgia, Indiana, Mississippi, North Carolina, Oklahoma, South Carolina and Tennessee) sponsored the work at the track. The track has 46 sections divided into 26 sections that are each 200 feet long on each straightaway and 20 additional test sections in the curves.
Finding truck drivers was another important step to operating the Test Track. During the track's first cycle, driving was outsourced to a trucking company, but researchers learned that it was more cost-effective and efficient to hire their own drivers to do the job, a system that is still in place today.
Connecting Lab Predictions to Real-World Performance
Research at the Test Track unites real-world pavement construction with live heavy trafficking in a controlled environment. This allows highway agencies and commercial interest groups to quickly analyze and implement findings from the track.
"Our mission is safe and sustainable asphalt pavements at the lowest possible life-cycle cost," Powell said. "We're the only place that has a track like this. We're the only place that has this outdoor laboratory where we can connect lab predictions to real-world performance."
The type of research conducted at the Test Track is known as full-scale accelerated performance testing. The traffic that would normally travel on a roadway over many years is compressed and driven in only two years. Accelerated testing allows researchers to fully consider the effect of increasing traffic demands on future asphalt performance.
This distinctive type of testing has not only allowed for quick and accurate results, but has also allowed Test Track researchers to save money for their agencies.
In a poll conducted by NCAT, sponsors of the track indicated that on average, each dollar spent on research at the facility saved $46 in real world implementation. In an industry that often relies on a safe bet, the track is an invaluable asset.
"DOT engineers tend to be conservative because there's no incentive for them to try something new that might not work," Powell said. "We stand in the gap for them, and they can do things here that are high risk, high reward. We're making a difference."
Now in its eighth research cycle, the Test Track provides researchers in the asphalt industry opportunities to innovate that otherwise wouldn't have existed. To Powell, learning through pavement failings on the track has brought invaluable insight to asphalt technology across the world.   
"To me, it's incredibly fun to be doing work that leaves the world better than how we found it," Powell said. "In academia, there is a lot of emphasis on how many research dollars you're bringing in. That's never our focus. Our success is measured by the impact of the things that we learn."