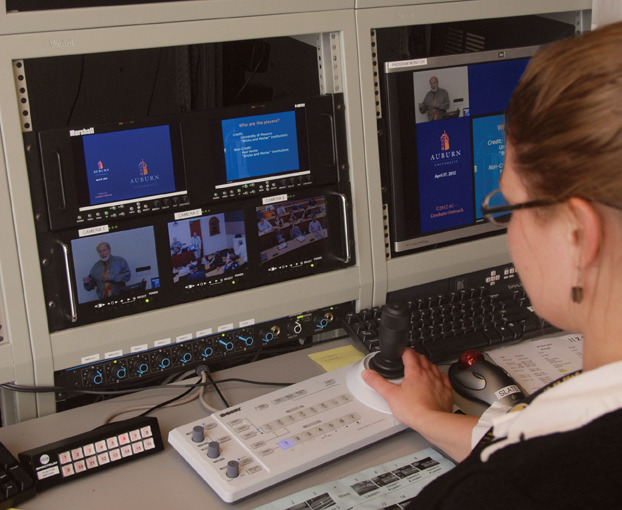 The reasons for wanting to earn an advanced degree are as varied as the individuals who seek them, but all have one thing in common: they want a quality classroom experience. With a history of engineering excellence dating back to 1872, Auburn knows how to deliver that quality — both on-campus and, now more than ever, to distance education students. In fact, a new course delivery system, developed within the college, is providing distance students withan online classroom experience rivaling that of their on-campus peers.
"A few years back, we started looking for off-the-shelf software solutions to enhance the delivery of classroom content to our online customers," says Greg Ruff, director of engineering outreach and continuing education for the College of Engineering. "We soon realized that the only way to meet our goals was to build something in house."
With the help of Auburn Engineering instructional technology specialist Ken Williams, information technology specialists Zeb Whitehead and Jeff Walker, and a small Auburn-based programming firm, Ruff developed a leading-edge recording and delivery system that works with existing infrastructure and improves the experience for students and professors, as well as the staff that administers the program.
"I love this new system," says Robert Thomas, faculty member in the Department of Industrial and Systems Engineering, who teaches a number of distance education classes. "Engineering instruction requires a lot of visuals. This system adapts to the tools I use on campus — overheads, PowerPoints, spreadsheets and video, and blends them seamlessly into the online video stream via split screen technology. This means that I don't have to do a separate set of visuals for distance classes, and that these students get an experience similar to that of my on-campus students."
According to Walker, the system works well with almost any device anywhere, anytime. "We work on PC's, Macs, iPads, iPhones, Android phones and MP3 players. We also work behind U.S. Department of Defense firewalls — something that is critical for our many military clients."
On the delivery side, the system also sports an impressive list of administrative tools and is currently used by the college for its academic credit, certificate and non-credit continuing education offerings. "Students can register and access classes within minutes," says Ruff. "Tests are also done online in a professional and convenient way. Customer satisfaction is higher and my staff loves the back-end functionality and digital records."