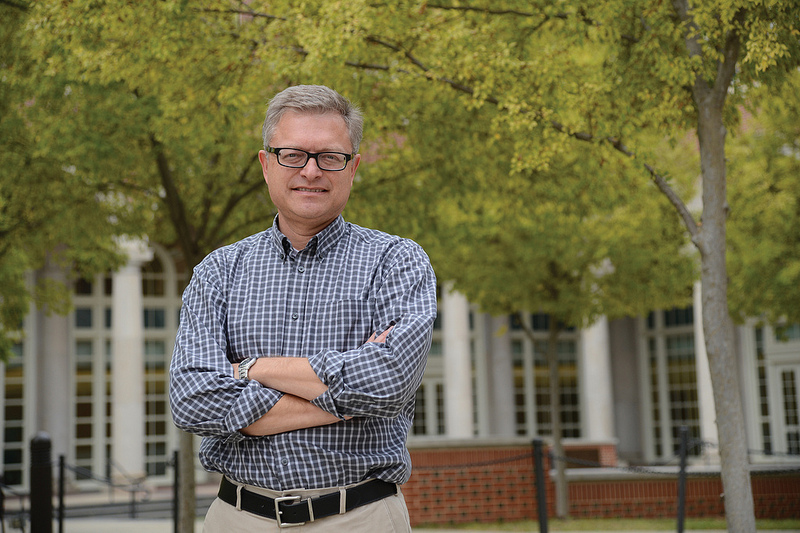 After serving 17 years in the Department of Chemical Engineering, Steve Duke is eagerly embracing his new role as the college's associate dean for academics. After graduating from Georgia Tech, and working in Texas, Duke moved to Illinois where he earned his master's and doctorate in chemical engineering. He moved south again to chart a new career in academia. Charged with overseeing the college's academic programs, Duke ensures the quality of the engineering curricula and provides counsel to faculty, staff and students on a wide variety of academic issues. With a passion for education, he is eager to take the college in a new direction with a special emphasis on the student experience.
MB: How have you settled into your new role as the college's associate dean for academics?
SD: I am honored to work with Dean Roberts and help develop the student experience. I thoroughly enjoyed serving in the Department of Chemical Engineering where I was able to teach students while also performing research. Both of these aspects are my favorite part of the academic world. I always said I would not assume an administrative role unless it was one that related to students, and in this position, I still have that connection. Dean Roberts and I have the same goal of developing students so that by the end of their time at Auburn, they can make a lasting and significant impact on society.
MB: How did your background prepare you?
SD: I grew up right outside of the Atlanta airport and graduated with a chemical engineering degree from Georgia Tech. Then I worked for two and a half years at ExxonMobil in Baytown, Texas, where I met and married my wife Robin. We then moved to Illinois where I earned my advanced degrees from the University of Illinois at Urbana-Champaign. I loved both the classroom and research aspects of academia and wanted to be involved in both at an institution. I heard about Auburn's strong reputation in each of these areas and decided to move here.
MB: What are your priorities for students?
SD: I want all students to have a hands-on experience in engineering. This includes lab research, but I also want students to become well-rounded and be involved in extracurricular activities and volunteer groups outside of the classroom. It is essential for students to learn by giving back and gaining real world experience through service as well. I also want to see more —preferably all—students go through a co-op or internship program while earning their degree. There is no better way to gain real-world experience. You learn countless lessons that prepare you for a career, and enable you to be more successful after graduating.
MB: Do you have goals you want to achieve?
SD: I want to move our vision of helping to link students with industry. It's important that we enable students and employers to network and establish connections, which in turn would foster the careers of our graduates. In addition, we want to have a center that could house laboratories to support project-based learning, including research, service, and entrepreneurial opportunities of our engineering courses. While we are still in the conceptual phase, this center would connect our talented students with corporate and institutional partners and serve as a place to enhance the engineering student experience.
MB: Speaking of the student experience, Engineers Without Borders is a passion of yours. How did you get involved?
SD: In 2007, I approached Dean Emeritus Larry Benefield about the possibility of forming an Auburn chapter of Engineers Without Borders. I had been very involved with the national program prior to coming to Auburn. In 2008, a group of about 15 students was formed, and it has since grown to nearly 50 volunteers. Since 2010, our team has traveled to Bolivia for 10 days each year to help build a better living environment for local residents. To date, completed projects include constructing a solar water shower system for a high school dormitory, developing charcoal from agricultural wastes, and creating a pilot hydroponics demonstration system.
We returned in August from our most recent trip where we began the implementation of a 50-plus acre irrigation project for terraced croplands. The group is now meeting every week to plan next year's trip – and the students are very excited about it. The team has grown so much that we're now considering adding a second site, in addition to Bolivia, which is a wonderful challenge to face.
MB: Your connection to Auburn and Dean Roberts is a unique one. Tell us about it.
SD: While I was earning my master's and doctorate, I was friends with Dr. Joan Brennecke who was Dean Roberts' faculty adviser at the time. I was nearing the completion of my Ph.D. and trying to make the decision of the next step for my future. One night, at a social event, Joan grabbed my arm and insisted I meet "this guy, Chris Roberts, who you must know" and I instantly hit it off with him. He spoke so passionately about Auburn and the chemical engineering department that he sold me on the program — I haven't looked back since.
MB: Your interest in chemical engineering seems to be all encompassing, doesn't it?
SD: Yes! My wife is a chemical engineer, and is a high school chemistry teacher; my daughter, Kate, is a sophomore at Auburn in chemical engineering; and my son, Bram, is a senior in high school and was just accepted into the chemical engineering program at Auburn. Our lives do extend beyond chemical engineering, but at the same time, our common interest makes for some unique family-time discussion.