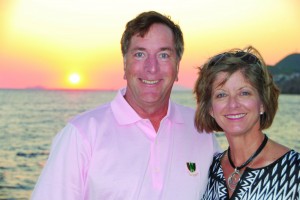 For many, the college experience is a means to significantly broaden one's education. For others, it is the opportunity to make friends of a lifetime. For Charlie Miller, '80 civil engineering, it was both.
Growing up in Louisville, Ky., Miller's parents strongly encouraged him to explore college options that would allow him to experience life beyond home. With a propensity for math and science, he followed in his father's footsteps and chose engineering as his major. He also chose Auburn.
Miller began to create valuable relationships at Auburn through his time in KA fraternity. One of these friendships was with Raymond Harbert who would eventually become much more than a fraternity brother. Now, the two work together as close business colleagues.
For Miller, obtaining an engineering degree was incredibly challenging. "It cultivated discipline and my organization skills by requiring dedication to the demanding coursework," he said. "Even more, I gained the invaluable skill of thinking through a project to anticipate its possible outcomes. It was certainly worth the hard work."
Following graduation, Miller went to work for Brown and Root in Houston as a project manager on a $2 billion gas plant project. "My time with that company allowed me to live abroad in Venezuela for two years. Any company you work with is a chance to grow your real-world experience, and my time with Brown and Root gave me plenty of opportunities to do that."
While at Brown and Root, Miller got a call, not from his fraternity brother, but from Raymond's father, John Harbert. "He told me now that I had some experience, he wanted me to work for his company," said Miller. In 1985, he joined Harbert Corporation doing cost estimations – a position that would enable him to understand the business and financial aspects of large engineering projects. In 1994, he became a founding member of Harbert Management Corporation (HMC), an investment management firm focusing on alternative assets that are not typically found in standard investment portfolios. Since its inception, Miller has served HMC in various treasury and financial management positions including chief financial officer. Today, he is executive vice president and global head of distribution for HMC.
And now, his story comes full circle as he takes a significant role in helping students gain the knowledge and experience that Auburn once afforded him. Miller, along with his wife Lisa, has recently given a $1 million gift to the Samuel Ginn College of Engineering to create an endowment to support a top faculty member with experience and expertise in engineering and business practices.
Miller believes it is crucial that engineering students are familiar with how businesses operate financially. "It is my hope that this endowment will further the college's ability to equip engineering students with a solid understanding of business principles, and enable them to stand out among their peers in the world of engineering and business," he said.
Miller, who serves on the Auburn University Foundation Board of Directors as chairman of the investment committee, noted that Lisa is equally invested in the success of Auburn Engineering. "She has been a life-long partner," he said. "She is my biggest supporter. She knows how much I love Auburn . . . so she loves it, too."
Lisa was raised in Buffalo, N.Y., and graduated from the State University of New York at Buffalo in 1981 with a bachelor's degree in sociology. She is an active community volunteer, and together, she and Charlie have two grown children, Katherine who lives and works in New York City and Jack, a junior at Furman University.
"This was a big decision for us," said Miller. "But we believe that Auburn provides students with a solid foundation, and to future employers, that is everything. We are proud to give back to Auburn, and we are excited about what the college will accomplish in the future."