Every good set of instructions on washing clothes includes the advice to wash whites with whites and not use bleach on colored items. It is doubtful however, that most of those instructions delineate how to wash thousands of pounds of laundry – all at once. For Tillis Brett, '59 industrial management, and his brother Gene, '64 electrical engineering, that's all in a day's work.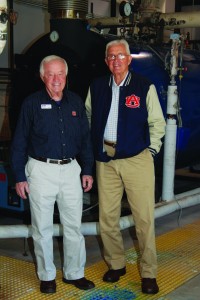 More than four decades ago, the Brett brothers pooled their resources, which amounted to roughly $500, and began selling real estate. They partnered with Tommy Robinson, who had experience in construction, and formed Brett/Robinson Realty – an Orange
Beach, Ala., business that today is a full-service development, construction and management company. Well known for its commitment to quality construction that can withstand the periodic storms and hurricanes of the Gulf Coast, the company's signature properties are the nearly 20 high-rise Phoenix condominiums. These buildings, plus a number of other rental properties, translate into hundreds of units and thousands of beds – that's a lot of linens. Add towels and washcloths, and you literally have tons of laundry.
As their rental units have multiplied, the brothers saw the need for an in-house laundry facility that would cut the cost of "sending their laundry out" and provide a more efficient means to wash, dry, press and fold the vast amount of linens their guests use every day. As a result, they set about creating a laundry facility, in close proximity to their condominiums, that could handle the load.
Last fall, the Bretts invited engineering students to tour the facility and see first hand its processes and machinery. Along with Alice Smith, W. Allen and Martha Reed professor in the Department of Industrial and Systems Engineering (ISE), 11 undergraduate and graduate students traveled to the facility to witness the result of engineering ingenuity on the mundane task of doing laundry.
"The facility was amazing, who knew that there was that much engineering involved with washing linens," said Yousif Abulhassan, a graduate student in ISE. "I was very impressed with how automated the process was for washing the linens and having them transferred from the huge washer to the dryers with minimal human interaction with the machines."
The facility functions with about 90 percent automation. "It was interesting to see how they have set up their in-house plant to drive the laundry process with so much automation," said Prashant Malyala, also an ISE graduate student. "It is incredible how that small footprint of area can result in such tremendous cost cutting in operations, and allow for greater system control compared to an external vendor."
For students studying manufacturing processes, the tour was a real-world look at industrial systems. "This experience was both educationally valuable and inspiring for the students," said Smith. "The facility was impressive with its advanced technology and its streamlined operations, both important aspects of industrial engineering."
The story of the Brett brothers' humble beginnings and their hard work to build a company based on integrity and customer service resonated with many of the students. "The most important take away for the students was learning about the Bretts' high-achieving careers and lifelong dedication to embodying the Auburn spirit," Smith said.
"It was amazing to hear how they were able to use the skills they gained as students from Auburn to live the 'American Dream,'" said Abulhassan.
The brothers also shared the lessons they learned at Auburn. "My engineering degree has served me well," said Gene. "Understanding engineering principles has been important in our work. You have to be concerned about what you produce. Make your work reliable, and people will notice."
Tillis echoed that sentiment noting that their business found its roots in providing a product that people value. "People must know that they can trust you," he said. "There is no better place than Auburn to learn to do the right thing."