Each year, the Auburn Alumni Association recognizes individuals with its Lifetime Achievement Award for outstanding achievements in their professional lives, personal integrity and stature, and service to the university. Established in 2001, the award honors extraordinary accomplishments by members of the Auburn family. Four individuals, which include three Auburn Engineering alumni, received the distinguished award at an induction ceremony in March at the Auburn Marriott Opelika Hotel and Conference Center at Grand National.
Larry Benefield holds bachelor's and master's degrees from Auburn University in civil engineering, and a doctoral degree in civil engineering from Virginia Tech. He began his career at Auburn in 1979 as an associate professor of civil engineering and was later named an alumni professor. Following a stint as interim associate dean for research of the college, he was named Feagin Professor of Civil Engineering, and returned to administration in 1992, when he was named associate dean for academics. He became interim dean of engineering in 1998, and was named dean in 2000.
Benefield has an international reputation for his research and applications in biological treatment processes and, in particular, biological nutrient removal. He has served as the principal author of three highly regarded texts in the environmental engineering field and has published 41 refereed publications and 77 additional publications and technical presentations. He holds professional engineering licenses in Virginia, Alabama and Colorado.
As dean of engineering at Auburn, he spearheaded a number of significant advances moving Auburn Engineering to the highest national rankings in its history. In addition, the college successfully completed a $154 million facility enhancement program.
Benefield's leadership was evident in four critical areas: student recruitment, faculty performance, facilities improvement and financial stewardship and development. He brought the most talented cohort of engineering students to the Auburn campus, with the highest ACT scores in the institution's history, as well as the most recognized in terms of national merit scholarships. In addition, faculty achievements, as recognized by peer review and scholarly publication, reached new highs. Benefield shepherded a building program that transformed the northern sector of the Auburn campus with major projects including the renovation of Wilmore Laboratories and Ross Hall, as well as the construction of both phases of the Shelby Center for Engineering Technology. His tireless fundraising efforts enabled the college to move forward in unprecedented ways.
Benefield also pushed engineering education in the state of Alabama to be responsive to the needs – and the future – of Alabama's citizenry including the creation of a world-renowned curriculum in wireless engineering, academic minors in automotive manufacturing and nuclear power generations systems, as well as unique programs such as the Business-Engineering-Technology program and the Alabama Power Academic
Excellence program.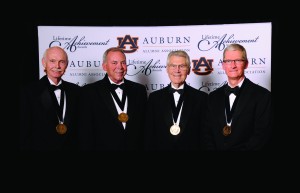 Benefield retired in 2012 after more than 30 years with Auburn Engineering. He earned Auburn's Department of Civil Engineering Outstanding Alumnus Award, and has been inducted into Virginia Tech's Department of Civil Engineering Academy of Distinguished Alumni, as well as the State of Alabama Engineering Hall of Fame.
John W. Brown graduated from Auburn University in 1957 with a bachelor's degree in chemical engineering. Following graduation, Brown took a position in Ohio as a process engineer with Olin/Revere Copper and Brass. In 1961, he moved to Marshall, Texas, to join defense company Thiokol. After three years of cutbacks and lay-offs in the industry, Brown decided to look for more stable opportunities, and in 1965, joined pharmaceutical company Squibb. His assignments ran the gamut from manufacturing and marketing to head of organic synthesis, culminating in a position as assistant to the U.S. company president.
A successful tenure at Squibb led to assuming the role as president of Stryker Corp., then a small family-owned medical equipment manufacturer located in Kalamazoo, Mich. After much convincing, Brown joined the organization with the aim to take it public, and grew the company's sales to $6.7 billion with 17,000 global employees at the time of his retirement as chairman of the board in 2009. Stryker Corp has been named to Forbes magazine's "200 Best Small Companies in America."
Brown has been actively involved in state and local economic development efforts, as well as in the community. He credits much of his success to the education he received as a young man, and he actively encourages young people to pursue higher education to accomplish their personal and career goals. He has been a long-time participant and board member of Junior Achievement, an organization that teaches youth about capitalism and free enterprise.
Brown is a life member of the Auburn Alumni Association, and serves on the Auburn University Foundation Board of Directors. He is a member of the State of Alabama Engineering Hall of Fame.
Tim Cook graduated with a degree in industrial engineering in 1982 after participating in Auburn's co-op program. He earned his master's degree in business administration from Duke University where he was a Fuqua Scholar in 1988.
After graduate school, Cook was hired by IBM, working his way up to the corporation's North American fulfillment director, managing manufacturing and distribution functions for IBM's personal computer division in both North and Latin America. In 1994, he became a chief operating officer of the reseller division at Intelligent Electronics. Three years later, Compaq Computer hired Cook as vice president of corporate materials where he managed the company's product inventory. After six months at Compaq, Steve Jobs, founder of Apple, hired Cook as the manager for worldwide sales and operations during a time marked by a decline in Apple profits. Cook also led the Macintosh division and developed reseller/supplier relationship strategies. After only one year under Cook's direction, the corporation reported profits – a significant turnaround following the previous year's net loss of $1 billion.
In June 2012, Cook assumed the role as Apple's CEO. One of his most significant contributions to Apple during his 15-year tenure has been to revolutionize Apple's supply chain by closing down warehouses and eliminating stockpiled inventory, moving the product directly from the manufacturer to the consumer. Cook also persuaded Apple to partner with external manufacturers rather than manufacturing components in house.
Cook is involved in a number of organizations outside of Apple. He is on Nike's board of directors and has served as a founding member of Auburn University's Industrial and Systems Engineering (ISE) Alumni Council. During his years on the council, Cook made an effort to meet with students and faculty, and has assisted the council in improving both the quality and quantity metrics of the ISE program. He has established an endowed fund for excellence, a professorship and a leadership scholarship in the department. He also serves on the Auburn Alumni Engineering Council, and is a member of the State of Alabama Engineering Hall of Fame.