The Samuel Ginn College of Engineering is leading the effort to examine, refine and improve the world of advanced vehicle manufacturing.
The Southern Alliance for Advanced Vehicle Manufacturing, under a grant from the National Science Foundation, is envisioned as a research-based center to guide vehicular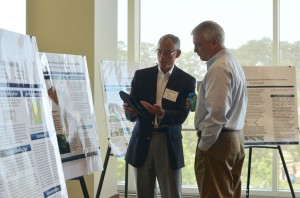 manufacturing companies on improving their capabilities and facilities.
Auburn Engineering hosted an informational session and invited several prominent automotive players, including Kia, Hyundai and Honda, along with representatives from Louisiana State University, Clemson University and the University of Alabama, to become partners and learn more about this initiative.
"We can add value, great value in many cases. Sometimes the cost of membership in the consortium can easily bring a ten-fold return year after year. We can look at their operations and opportunities for employment," said Tom Devall, director of automotive manufacturer initiatives for the college.
As the Southeast continues to boom with automotive plants, Auburn, along with other partnering universities across the South, wants to examine research including lean production, safety and ergonomics, advanced manufacturing processes and data analysis. Faculty and students would perform the research and help solve challenges facing the industry.
"We would utilize the expertise and facilities of each university for the benefit of our industry partners," said John Evans, professor in the Department of Industrial and Systems Engineering. "They will gain real dollar savings by applying the research into their manufacturing processes."
By fostering strong partnerships with industry professionals and other universities, the College of Engineering is poised to solve problems that continue to impact advanced vehicle manufacturing through research and collaboration.