There is nothing particularly special about Bill Goodwin's office on the second floor of the west wing of the Shelby Center. His desk is neat, but not obsessively so. The stuff in his office is also just what you would expect. Some pictures. Bookshelves with the kinds of texts, manuals and miscellany that walks into any room. A couple of low-key items let you know he is an Auburn fan, even though he graduated from the University of South Carolina. A retired naval officer who rose to flag rank with high-level commands in Europe and the U.S., he can recite the Auburn Creed in an almost casual way that makes you believe it more, not less. On the wall to the right of his desk is a photo of the Nimitz-class aircraft carrier USS Ronald Reagan. It's more than just a picture. It's been a part of his life. In a career before his current one as director of the College of Engineering's Alabama Power Nuclear Power Generation Systems program, he was the first captain of CVN-76, the Navy's $5 billion supercarrier that continues in active duty today.
JK: What does it take to build a boat? I'm not talking about laying the keel, but how people are brought together on a project of this scope.
BG: To build a crew, you bring some in by choice, and some by chance. I had some latitude in finding a nucleus of officers in senior leadership positions, but 95 percent of the ship's complement was, in normal fashion, sent to us. We had a couple of dozen people working on the USS Ronald Reagan before there was a USS Ronald Reagan – in what we call the pre-commissioning phase. In September 2001, some departments started on the ship for testing, and a year before sea trials, the crew lived aboard the ship. Some of them were experienced, and others were right out of boot camp. The vast majority had never been to sea before.
JK: Tell me about the sea trials on your ship.
BG: I have to say this first – that it was never my ship. It belongs to the taxpayer, not me. Beyond that, the ship belonged to our crew. It was my pleasure to see a high level of leadership among our officers, because they were given the opportunity to bring themselves together for a common, greater purpose. This was never more evident than during the ship's sea trials in 2003, which I remember well. Four days without sleep. We tested all of the ship's systems, its safety gear, and the many on-board aircraft systems crucial to its operation in a wide variety of circumstances. We also tested our top speed: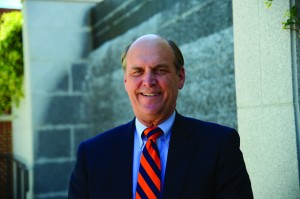 over 30 knots . . . in an unclassified kind of way.
JK: The USS Ronald Reagan is billed as a supercarrier – tell us what that means in terms of size.
BG: Let's look at the flight deck first. It's the size of three football fields, and I always point out to people that it's like standing at the 50-yard line of Jordan-Hare Stadium, with another football field on each end. Or it's from home plate at Plainsman Park to Petrie Hall on the Thach Concourse. The flight deck is four and a half acres, and the bridge is 100 feet above the water line. The deck is 65 feet above water, which is a small advantage coming off the catapult, but also a long way down if something happens. The sight line from the bridge to the bow is such that there is about a 400-yard blind spot in front of you. The ship's company includes about 2,800 officers and sailors, with an additional 2,000 in the air wing – pilots, mechanics and support personnel. The vast majority of the crew is 18 to 20 years old, while most of the others are in their late twenties.
JK: How does that compare to the carrier USS Lexington, where you also served?
BG: You could easily fit the entire Lexington on the flight deck of the USS Ronald Reagan, with plenty of room left. But I have a soft spot for that carrier, a World War II ship with a wooden deck, if that can be believed. I was assigned to it for two years, operating the arresting gear and catapults. Carrier landings are tricky, to say the least, and the USS Lexington, I have to add, is where I made my first 10 landings as a student pilot. Later, I was attached to a squadron on the USS Eisenhower, flying A-7 Corsairs.
JK: Later – much later – you were on the bridge of the USS Ronald Reagan. What was that like?
BG: As captain, working with a hierarchy of officers, the safety and operational efficiency of the entire ship is your responsibility. There are 16 departments on board, sort of like 16 schools and colleges on a university campus, along with a chief engineer, chief supply officer, even medical and dental units. Our bottom line was training for combat missions, always. I was privileged to be the first captain of the USS Ronald Reagan – and with that came the sobering realization that with a 50-year service horizon, the ship's last captain had not yet been born. An engineering fact, if you will: the twin reactors only need to be refueled once during that lifespan. At about 23 years the ship will be drawn out of service to do just that. In a way, it's amazing. Fifty years, two tanks of gas.
JK: Bringing the carrier to life, you have told me, was truly a highlight of your military career – how so?
BG: Mrs. [Nancy] Reagan was the ship's sponsor, and broke a bottle of champagne across her bow in March of 2001. But she was more than that – she was so very gracious, and never turned down a request to write a note to a sailor, something she did quite often. She was honored at an event we held in Williamsburg, Va., that was attended by a virtual who's who of the eight years of the Reagan White House. It's a memory I will always have – Mrs. Reagan on the stage – Jim Brady, former press secretary, in the front row.
JK: How have these experiences informed your Auburn career as director of the Nuclear Power Generation Systems Program?
BG: It's all about leadership and ethics. I have come to believe that leadership is learned through a succession of experiences, and that it doesn't come from reading a book. The same thing with ethics. If you don't have a sense of integrity, you are probably not going to succeed as a leader. In my own career I have had to do the right thing . . . which was so often the hard thing. I hope that makes sense. It's something that students are going to have to learn, particularly in the nuclear industry, which perhaps more than any other, is based on a sense of an ethical compass. There's always a lot at stake. In my course at Auburn – Introduction to the Nuclear Power Industry – I don't preach or proselytize, I simply put integrity into the core of my discussion. It's leadership by example.