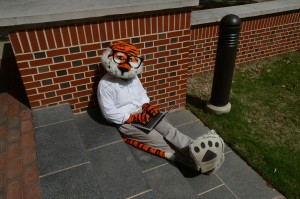 The Department of Electrical and Computer Engineering (ECE) is launching a new online non-thesis master degree program beginning fall 2014. This program joins nine other online graduate degree programs in the college. The new ECE option will not only enable students to take traditional courses to earn a master's degree in electrical and computer engineering, but will also allow more flexibility by providing a means to complete coursework online. Online students will take the same in-class graduate-level electrical courses, accumulating 33 semester hours of credit.
"We are excited to offer this online option to students who are not necessarily on campus, but still want to earn their master's degree through the College of Engineering," said Mark Nelms, chair of the Department of Electrical and Computer Engineering. "It's evident that people are busy with everyday commitments, and this program will make it easier to fit into their schedule, whether after work or during the weekend. The great advantage to online courses is that students can watch the class and complete the coursework at any time."
Auburn Engineering's online graduate degree program continues to rank among the highest in the nation. Currently, 87 students are enrolled in the college's online programs, and enrollment is expected to grow.