Throughout their college careers, students face a number of challenges and questions: What classes do I take? What activities should I get involved in? Who's giving away free food so I can eat today? Perhaps, however, the most important and life-changing decision is: what can I do with this degree to find meaningful work that I enjoy?
Auburn University's Cooperative Education (co-op) program is helping make that challenge a little easier to figure out. A co-op is an opportunity for students to work at a company in their field of study during alternating semesters. Students have the benefit of enrolling in a supervised program working within a company while also earning a salary.
"I decided to get involved with the co-op program to further my education and gain experience in a working environment," said Audrey Branyon, '14 industrial and systems engineering, whose assignment was with Mercedes-Benz. "After you have completed the program, you become a student with at least a year's worth of working experience on your résumé."
The university's co-op program dates back to 1937, and has grown steadily to become one of the most valuable student experiences offered. "During the early years, we did question whether the process was going to work, but it has become one of our biggest success stories at Auburn," said Kim Durbin, director of the Cooperative Education Program.
Its level and reputation rapidly increased when Auburn converted to the semester system from the quarter system in 2000 because students were on a consistent schedule. This allowed companies to recruit co-op students more effectively because most universities operate on a semester system.
The change created year-round co-op coverage enabling students to stay with an employer for a longer period of time. "Moving to the semester system was a win-win for the college and companies," Durbin said. "Students can stay with their employer longer and gain more experience, and the associated administrative tasks have decreased 25 percent for both Auburn and the companies that hire co-op students."
Engineering students account for 93 percent of the total number of co-ops at Auburn. During the spring 2014 semester, 252 students within engineering elected to participate in the co-op program. This opportunity is popular for students because of the advantages it offers in learning valuable skills outside of the classroom, earning a paycheck and networking with industry professionals. For many students, the experience is priceless, and for professors, it is an opportunity to see students begin to develop as professionals.
Co-op assignments are earned through a rigorous interview process that begins with on-campus interviews with company recruiters.
"I heard about Auburn's co-op program when I was a freshman in engineering orientation. It sounded like a great way to experience how working in software engineering related to my classes," said Heather Neely, '14 software engineering. "It was the first time I'd interviewed for a job of any kind, so I was nervous, but I ended up learning a lot about myself," she said.
Neely noted that while recruiters place a strong emphasis on initial interviews, students are grading the company as well.
"I realized while the interviewers use this process as an opportunity to discover your personality, abilities and other characteristics that are more than the résumé they have been given, it is also an opportunity for an interviewee to ascertain what a company is like from its employees," Neely said. "Before, I had not realized that both sides in an interview are evaluating each other."
After students make it through interviews and offers, the learning and job experience truly begin.
"Program participants learn valuable lessons in human relations through associations in an adult environment," said Durbin. "The maturity and discipline they gain is usually reflected in the students' personal relations with others. After graduation, these associations often help ease the transition from student to professional," he said.
Some may think co-op is code for "coffee fetcher," but that could not be further from the truth. Students tackle the same issues and challenges that full-time employees face, and they are expected to contribute to the solution.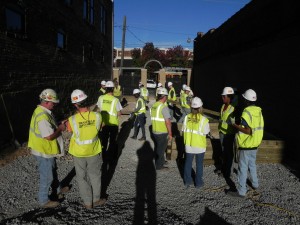 "The team depends on you and expects you to provide input and help with the project," said Spencer Norrell, '13 civil engineering, who is a former co-op student and is now a full-time employee at Brasfield & Gorrie general contractors. "They want you to know every aspect of the industry including how to start and finish a construction project, as well as the business side," he said.
Ryan Whitmore, '14 mechanical engineering, worked with structural aerospace material functions during his co-op with the Aviation and Missile Research, Development and Engineering Center (AMRDEC) at Redstone Arsenal in Huntsville. He specifically studied composite design and fabrication, as well as structural design and analysis testing hardware, including a structronics bending apparatus and a rocket motor closure. Upon graduation, Whitmore decided to take a full-time job with AMRDEC.
"My co-op assignment was an opportunity to apply my classroom knowledge to the industry and give purpose to my coursework. In addition, I was able to improve my technical ability and design experience, which prepared me for my senior design project," said Whitmore.
Many co-op students find that they are able to apply their work experience back to the classroom and view learning in a new light.
"Learning in the classroom is focused on a particular topic, while working emphasizes how to solve a particular problem. That, in and of itself, can be very different, as your objectives are so incongruous," said Neely. "Through co-oping, I was finally able to understand why such an emphasis is placed on teaching how to learn."
Professors also notice the added benefits of having co-op students in the classroom to better illustrate classroom concepts."The program motivates all students to do better in the classroom by providing a sense of purpose to abstract concepts," says Sushil Bhavnani, Henry M. Burt, Jr. professor in the Department of Mechanical Engineering. "It is particularly energizing to students who are in the middle third of the class in terms of overall performance. They become active partners in classroom discussion because instructors can use student work experiences to underline practical aspects of course content."
Co-op opportunities also enable students to explore new areas and establish relationships with professionals in industry, allowing them to "test drive" their career and determine if they truly belong in their field of study.
For example, Norrell began his first co-op term with Brasfield & Gorrie in the estimating division in Nashville; during his second term in Gainesville, Fla., he worked on a multi-use community project. For his third term, he worked in project management at Auburn's Center for Advanced Science Innovation and Commerce building. Following graduation, Norrell was offered a position in the commercial estimating division with Brasfield & Gorrie – in many ways, where his career began as a student.
Even students who decide not to work as a full-time employee at their co-op company find the benefits invaluable toward pursuing their career aspirations.
"Because of the professional network I developed, I have been able to obtain recommendations from many managers who already know my capabilities and work ethic," Branyon said. "Those connections allowed me to obtain a full-time job at Zachry Holdings in May."
Companies have high expectations when hiring an engineering student for a semester, but they also want co-op students to enjoy other aspects of joining a work team. Brasfield & Gorrie plans excursions each semester with co-op students including paintball, rock climbing and golfing. ADTRAN, a telecommunications network provider that also hires several engineering students each semester, gives students a break from work to play ultimate frisbee and soccer, or to attend arena football and hockey games.
"The students we have here are social and there's always a group who is up for doing something, whether trying out a new restaurant, going to a concert or playing flag football," said Erin Austin, a university recruiter for ADTRAN. "If there's something fun you want to do, you can usually count on a co-op student to go with you."
A reciprocal relationship
The advantages of a co-op assignment are not solely for students – companies stand to benefit as well. Access to well-prepared students, the ability to gauge students' knowledge and their already highly developed work ethic are just a few reasons the co-op program offers a two-way street.
"The co-op students we hire bring new ideas to the table," said Austin. "Many are creative and think 'outside the box,' and it is great to see that enthusiasm and creativity."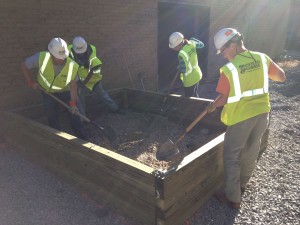 Annslee Hillyer, human resources coordinator at Brasfield & Gorrie, said the company prefers Auburn engineers because of the reputation they have for learning quickly and for fitting into the company.
"Auburn engineers are very well educated and they're exactly what we're looking for in an employee," Hillyer said. "Co-op students from Auburn's College of Engineering excel in our company and are successful. With that kind of history, we'll continue hiring them."
With so many benefits, including nearly $9 million in collective wages earned from co-op students in 2013 alone, the program continues to demonstrate its positive effect on both students and companies.
An echoing statement among co-op students has been simple: the experience gained in the real world is priceless and prepares students for a successful academic and professional career.