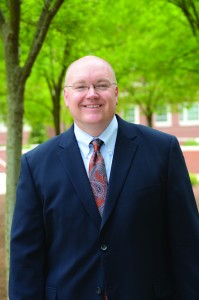 These are particularly exciting times in the Samuel Ginn College of Engineering as we continue to experience growth in our academic, research and outreach programs. We are working particularly hard at providing our students with highly meaningful engineering experiences both inside and outside of the classroom.  The breadth and depth of this experiential learning contributes significantly to their potential as future engineers. I often describe obtaining an Auburn Engineering degree as a "full contact sport." It is not a passive endeavor. Our students do not just sit in the classroom and absorb content. Rather, we challenge them to experience engineering first-hand – from the first day they come to us as freshmen until the day they leave us with their degree, and beyond.
This issue of Auburn Engineering showcases some of the many ways our students gain a well-rounded engineering education. These examples include co-op and internship opportunities, participation in student competition teams such as our rocket and rover challenge teams, and undergraduate research that has resulted in four of our students being awarded prestigious National Science Foundation Graduate Research Fellowships.
It is important to note that our achievement in these areas is a group effort.  Frankly, the outstanding contributions of our students and faculty are made possible by our alumni and friends. You will see in this issue that a number of our alumni have provided critical financial resources to further advance our college.  We are extremely grateful for this support, including a new endowed faculty chair that will support a recognized leader at the interface of engineering and business, as well as gifts to continue our vision to maintain a vibrant engineering campus and state-of-the-art research facilities. These gifts are truly vital to sustaining our position as a leader in engineering education that impacts society in highly meaningful ways.
All of these factors are contributing to the quality of our students and faculty, as well as the strength of our academic and research programs. For example, our undergraduate program is ranked 30th among public institutions, with our graduate program ranked 38th, according to U.S. News & World Report. In addition, we were recently ranked 25th nationally in enrollment according to the American Society for Engineering Education. These accomplishments are due in large part to the success of our faculty – success that has resulted in our college being ranked in the top 50 nationally in total research expenditures for the past eight years.
For those of you who do not have the privilege of being on campus every day as I do, I can assure you that it is a truly inspiring place to be, and the work that our Auburn engineers are performing is making a difference! Our job is no small responsibility – thank you for helping us to engage in a "full contact sport" that prepares our engineers for the world that awaits them.