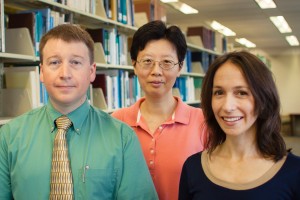 Chemical engineering faculty members Robert Ashurst, Elizabeth Lipke and Jin Wang were selected from among educators nationwide to attend the 2014 Frontiers of Engineering Education symposium in Irvine, Calif.
The two-and-a-half day event hosted faculty members from around the country to discuss innovative educational approaches in a variety of engineering disciplines. The goal of the symposium was for all participants to share, learn and bring back ideas relating to research and best practice in education.
Ashurst has earned several accolades, including the William F. Walker Teaching Merit Award and the Outstanding Chemical Engineering Faculty Award. His chemical engineering research interests include micro and nano electromechanical systems design, novel thin film processing and semiconductor materials processing.
Lipke has been recognized with the National Science Foundation's Faculty Early Career Development Program Award and the Mark A. Spencer Creative Mentorship Award. In addition, Lipke was also selected to attend the National Academy of Engineering's U.S. Frontiers of Engineering symposium.
Wang received the Ralph E. Powe Junior Faculty Enhancement Award and has been awarded several national grants including one from the NSF totaling $400,000 to study cellular behavior and one from the U.S. Department of Agriculture's National Institute of Food and Agriculture relating to biofuels processes.
"These three individuals truly deserve this national recognition," said Mario R. Eden, chair of the Department of Chemical Engineering. "Selection to attend this symposium is highly competitive, so this is another example of the world-class quality of our dynamic faculty. I'm eager to hear what they learn and how their newfound knowledge can be applied toward continuing to elevate Auburn's engineering programs."