A wife, a mother of three boys all under the age of 6, and an Auburn engineer who became a doctor – whew! How does she do it all? Melinda Sava, a 2001 chemical engineering honors college graduate, says she's still trying to figure it out and owes much of her maternal and professional successes to her engineering degree. A Birmingham native, Sava met her husband, Trevor, while both were attending Auburn, and today the family resides in Nashville.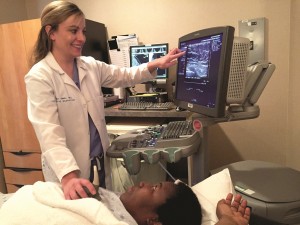 GR: Why did you want to be an engineer and then decide to become a doctor?
MS: I like science and math and wanted a major that focused on those subjects. I was drawn to engineering because it was challenging and gave me career options. After working at Southern Company, I decided to pursue a career in medicine. I enjoyed the problem-solving and principles behind engineering and wanted to apply those same principles to people and health, rather than to plants and power. It was a challenging transition, but one I am thankful I made.
GR: Where did you attend medical school and what is your field of study?
MS: I attended the University of South Alabama College of Medicine for four years and finished a year-long internship in Birmingham. After my internship, I completed a five-year residency in radiology and a fellowship in breast imaging at the Cleveland Clinic in Ohio. I didn't think much about radiology when I applied to medical school, but I was drawn to the specialty for its growing technology and the opportunity to do image-guided procedures for patients.
GR: Where do you work and what is it like being a radiologist?
MS: I work in Nashville at the St. Thomas Center for Breast Health with Premier Radiology. As a radiologist, I interpret images such as mammograms, X-rays, ultrasounds, CT scans and MRIs, make recommendations to referring doctors and perform image-guided procedures to help diagnose and treat disease. I primarily see women who are getting mammograms to help detect possible breast cancer or to evaluate a breast concern. I enjoy educating women through an often-anxious time, working with an interdisciplinary team of clinicians, surgeons, oncologists, therapists and technologists to help individualize patient care in an ever-growing field of medicine.
GR: How did you make the transition from engineer to doctor?
MS: Engineering was not about memorizing and regurgitating facts, but rather about applying science, solving problems and predicting processes with multiple variables. I approach patient care with that same mentality and am always thinking a few steps ahead, which makes each day different and keeps my job challenging and rewarding.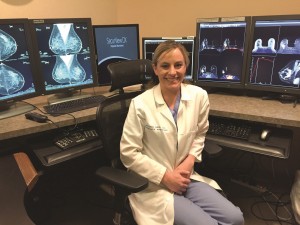 GR: What is it like coming home to three little boys after a full day of work?
MS: Trevor and I have three sweet little boys who happen to be big Auburn fans: Hunter, 5; Hayden, 4; and Maylon, 2. They keep us laughing and very busy. Although I believe my Auburn Engineering education has made me a better professional, I might argue that it has also made me a better mom, too. I'm pretty good with Legos and can assemble a pretty awesome train track!
GR: Why did you decide to attend Auburn?
MS: Having grown up in Birmingham as an Auburn fan, attending Auburn for my undergraduate education was definitely a consideration. After looking at many colleges, I decided Auburn was my best fit. I loved the opportunities it offered me. I could pursue a degree in engineering, but still have the option to obtain other majors and minors without transferring to another university. I was excited to be a part of the Honors College and receive scholarships and not assume huge student loans. And, I was pretty sure I would have fun living in an environment with nice people, while not being too far from home. Auburn more than exceeded my expectations.
GR: I understand you and your husband, a 2001 international business and logistics graduate, aren't the only members of your family to earn Auburn degrees.
MS: My mom, three brothers and many of my cousins are alumni. My oldest brother, Adam, who also lives in Nashville, graduated in electrical engineering in 1997. Patrick graduated in 2003 with a business degree and David completed an industrial design degree in 2005.
GR: Do you have many opportunities to visit Auburn?
MS: My parents still live in Birmingham, which makes for a nice stop from Nashville to Auburn. We attend at least one football game each season and are excited to live in Nashville, which is close to our alma mater so we can share the fun with our kids.