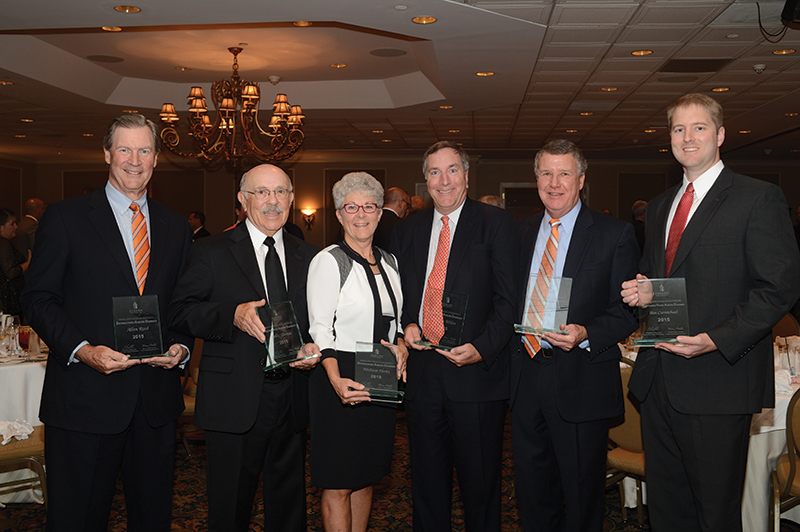 The Auburn Alumni Engineering Council honored six alumni at its annual awards banquet held Oct. 2. These individuals have served as outstanding ambassadors of Auburn University and the Samuel Ginn College of Engineering, and have made distinct contributions to the engineering profession. This year, five recipients were presented with the Distinguished Auburn Engineer Award and one was named Outstanding Young Auburn Engineer.
Melissa Herkt
Distinguished Auburn Engineer
Among many firsts throughout her career, Melissa Herkt was Auburn Engineering's first female co-op student, spending three semesters with Alabama Power as a design engineer. She graduated with honors from Auburn in 1977 with a bachelor's degree in civil engineering. Following graduation, Herkt joined Exxon Research and Engineering Company. For nearly two decades, she led major global capital projects for refining, chemicals and offshore developments around the world. As a construction engineer, she was Exxon's first female posted overseas.
Working mostly with petrochemicals at Exxon, she switched to pharmaceuticals as a project director with Hoffman-LaRoche, and later as vice president of global project management with GlaxoSmithKline. After eight years in the pharmaceutical industry, Herkt moved to Austin, Texas, in 2004 to lead the Process Systems and Solutions business division of Emerson Process Management — overseeing 4,000 employees providing process-improvement solutions. She retired in 2012 as president and chief operating officer for the unit.
A life member of the Auburn Alumni Association, Herkt earned its highest honor, the Lifetime Achievement Award, in 2015. Additional recognitions for her outstanding contributions to the engineering and construction industries include her induction into the National Academy of Construction in 2009 and the State of Alabama Engineering Hall of Fame in 2008. She also received the Richard L. Tucker Leadership and Service Award in 2012 and the Construction Industry Institute's Outstanding Implementer Award in 2004.
Herkt is a member of the Auburn University Foundation board of directors and a generous benefactor of the College of Engineering, establishing the Melissa Brown Herkt Endowment for scholarships in civil engineering. She is a member of the Auburn Alumni Engineering Council and serves as a mentor and three-time member of the Engineers Without Borders' travel team to Bolivia.
Charlie Miller
Distinguished Auburn Engineer
Charlie Miller earned a bachelor's degree in civil engineering from Auburn in 1980, and later completed the Wharton Executive Program on financial management at the University of Pennsylvania. He joined Brown & Root, a global engineering, construction and services company in Houston, where he served in project management positions and worked overseas in Venezuela.
In 1985, Miller went to work for Birmingham-based Harbert Corporation where he managed cost estimates for large engineering projects. As a founding partner, he played a key role in the company's transformation into Harbert Management Corporation, a privately owned alternative asset investment firm with approximately $4.4 billion in assets under management across 10 discrete asset classes. During his career at HMC, Miller worked in several treasury and financial roles, including treasurer and director of corporate acquisitions. He served as executive vice president and chief financial officer from 2002-11 and became executive vice president and global head of distribution. He currently oversees all fundraising, capital acquisition and investor relations operations.
A dedicated alumnus of Auburn University, Miller serves on the Auburn University Foundation board of directors as chair of the investment committee, as well as the Auburn Alumni Engineering Council, and is a life member of the Auburn Alumni Association. He and his wife, Lisa, support Auburn's 1856, Samford and Foy societies and engineering's Eagles and Keystone societies. They have also generously established an endowment to support an outstanding faculty member with expertise in engineering and business practices.
Allen Reed
Distinguished Auburn Engineer
Allen Reed earned a bachelor's degree in aviation management in 1970 from Auburn, as well as an MBA from Georgia State University and certification as a chartered financial analyst, one of the most recognized and respected global investment designations. Reed is the retired president and CEO of General Motors Investment Management Corporation and chairman of the General Motors Trust Bank. He was responsible for overseeing the investment activities of the GM savings and pension plans, which was the largest U.S. corporate pension fund. Prior to joining GM in 1994, Reed was president of Hughes Investment Management Co., a subsidiary of the Hughes Aircraft Company.
Reed's distinguished reputation is evidenced by numerous professional service activities. He serves as special adviser to the financial committee of the Auburn University Foundation board of directors and adviser for the Howard Hughes Medical Institute. He is the director of Legg Mason and Morgan Stanley Mutual Funds and serves on the board of executives of the New York Stock Exchange and board of directors of the University of North Carolina Endowment and Foundation Funds. Plan Sponsor magazine named him Innovator of the Year in 2000 and awarded him with its Lifetime Achievement Award in 2006.
Reed and his wife, Martha, have supported Auburn University with generous gifts to the Samford Society, the College of Engineering's Keystone and Eagles societies and the establishment of two endowed professorships in the college.
John Smyth
Distinguished Auburn Engineer
John Smyth graduated from Auburn in 1970 with a bachelor's degree in chemical engineering and later completed an executive development program at Texas A&M in 1985. Following graduation, he joined Memphis-based International Paper, one of the largest paper companies in the world. While at IP, Smyth rose through the ranks from an entry-level process engineer to a mill manager, among other high-level managerial positons. In the early '90s, he was the project manager for a $300 million expansion at the Riverdale Mill in Selma, Alabama. He served in his final role as a project and start-up manager for the installation of a $200 million pulp plant in Russia until his retirement in 2009, completing a successful and distinguished 39-year career with the same company.
Smyth was named Outstanding Alumnus by the Department of Chemical Engineering in 2005. In addition to his service on the engineering council, Smyth is a member of the Auburn Pulp and Paper Foundation and founding member of the Alabama Center for Paper and Biosource Engineering. He enjoys keeping the paper industry's business activities in the forefront of the college's academic programs. Each time he visits campus for council or foundation meetings, he devotes a great amount of his time mentoring students and sharing his insights about the industry.
Smyth and his wife, Melanie, have established an endowed scholarship in chemical engineering. They support the college's Keystone Society, as well as Auburn University's Samford Society, and are engaged in numerous community service and church activities.
John Thomas
Distinguished Auburn Engineer
John Thomas earned a bachelor's degree in mechanical engineering from Auburn in 1960. He led an exemplary career with NASA in numerous key engineering positions. His first assignment was as a lead test facility engineer working on rocket engines for the Saturn IB launch vehicle. He then served as a lead systems engineer on the nation's first space station called Skylab, from its development, its launch from the Kennedy Space Center and flight operations at the Johnson Space Flight Center.
When the tragic Space Shuttle Challenger disaster occurred in 1986, Thomas led the accident investigation, initializing redesign and recertification of the solid rocket motor, the cause of the Challenger explosion. Later, after his team successfully redesigned the motor and returned the shuttle to flight, the Orbiter returned with a new issue — severely damaged thermal protection tiles that protect the vehicle during reentry into the earth's atmosphere. Once again, Thomas was called upon to oversee the team as they determined the debris that damaged the tile and recommended solutions to prevent future damage.
After a productive career with NASA, Thomas joined Lockheed Space Operations at the Kennedy Space Center as vice president and site director. Later, he became vice president and general manager of a multifaceted service contract for NASA, which included the development of an advanced solid rocket motor. Following his work at Lockheed, Thomas became a member of Lee and Associates, LLC, where he has served for the past 15 years as a mentor and consultant for NASA and the aerospace industry.
In addition to his extensive professional success, Thomas is engaged in the community through both his time and philanthropic involvement. He is a member of the Auburn Alumni Association, has presented lectures to aerospace engineering design classes and generously contributed to the engineering gift fund. He is the recipient of the Department of Mechanical Engineering's 1987 Outstanding Alumni Award. He and his wife, Sara, are in several community outreach and church activities. Thomas is a command pilot for Mercy Flight Southeast and Sara is a retired nurse. Together, they provide emergency transportation to economically disadvantaged patients at no cost to passengers throughout the Southeast.
Ben Carmichael
Outstanding Young Auburn Engineer
Ben Carmichael earned two Auburn degrees: a bachelor's in electrical engineering in 2000 and master's in chemical engineering in 2005. He earned his professional engineer license in 2005. For the past two years, Carmichael has served as the nuclear fuel supply lead for Southern Nuclear Operating Company where he manages the procurement, strategy, budget and analysis of nuclear fuel for Southern Company's reactor fleet.
Carmichael joined Southern Company nearly a decade ago and has worked in a variety of positions including system planning, fleet operations and fuel services in Southern Company Generation, a business unit that manages the operation of 73 fossil and hydro plants for Southern Company. He has also worked as a civil engineer for Southern Nuclear Operating Company at the Farley Nuclear Plant. Before joining Southern Company, Carmichael was an estimator and assistant project manager for Brasfield & Gorrie in Raleigh, North Carolina.
He is dedicated to Auburn and understands the importance of engaging the college's young alumni. He is a charter member of the Auburn Engineering Young Alumni Council and served as the board's first chair from 2013 to 2015.