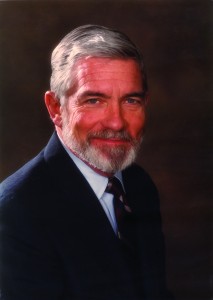 The Auburn Engineering family lost one of its dedicated members of the Auburn Alumni Engineering Council and a gracious benefactor of the Samuel Ginn College of Engineering. Thomas Lowe Jr., a 1949 civil engineering graduate, was elected to the council in 1974, and was a member of the college's Eagles, Ginn and Keystone societies, as well as Auburn University's 1856 Society Founders' Circle. Through the generosity of Lowe and his wife, Bettye, the Tom and Bettye Lowe Lobby and Grand Foyer in the Shelby Center for Engineering Technology were named in their honor.
A practicing engineer for more than 60 years, Lowe founded Lowe Engineers, Inc., in 1957 and played an extensive role in the commercial and industrial development of Atlanta and the Southeast. After leading the company for 27 years, he passed the baton to his son, Tim, in 1984 who continued to oversee the firm's success.
In 1974, Lowe was elected to the Fulton County Board of Commissioners in Georgia. He was the board's longest-serving member, having worked 40 years before his retirement in December 2014. Lowe was commissioned in 1949 as a second lieutenant in the U.S. Army, retiring at the rank of captain, and was a National Skeet Shooting Association life member, champion skeet shooter and member of the NSSA Senior All-American team. Furthermore, he was involved in the planning of the 1996 Olympics in Atlanta and was instrumental in developing Wolf Creek Skeet and Trap Range, a host range for Olympic shooting competition later named the Tom Lowe Shooting Grounds in his honor.