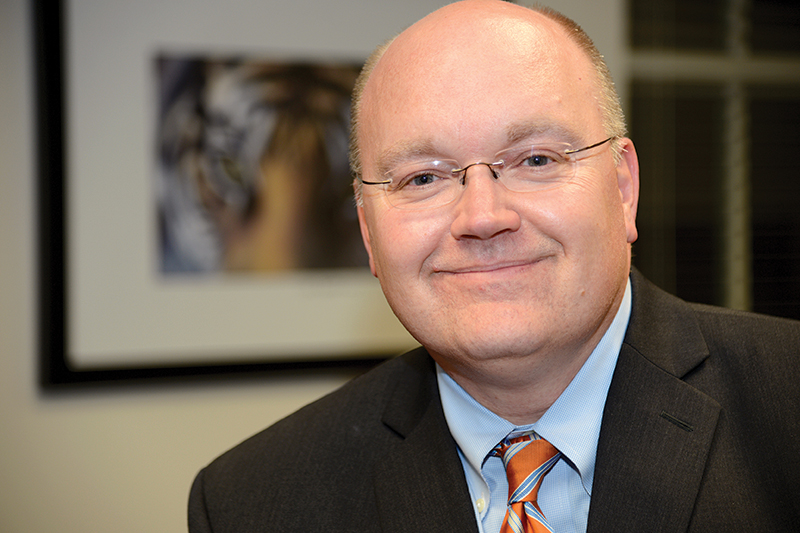 I am overjoyed to be able to share with you that, though it has only been half a year since the university's Because This Is Auburn $1 billion campaign went into its public phase, the College of Engineering has already reached its initial goal of $200 million. This support, both pledged and in hand, will allow us to better accommodate our students, faculty, programs and facilities into the future. This is happening because of you, our generous alumni.
It is because of you that we have exceeded our initial scholarship and fellowship goal, thereby creating new opportunities for deserving students. We are committed to continuing to increase this kind of funding so that we may offer financial incentives and compete with other prestigious institutions for the most outstanding students.
It is because of you that the college will be able to provide a rich, student-centered experience through enhanced recruiting, curriculum advising, career mentoring and job placement, tutoring and academic support, international studies, student projects and competitions, professional societies and student organizations, and curriculum development to spur teaching innovation. These areas of programmatic support remain critical as the college moves forward.
It is because of you that we will further advance our facilities. We are in the process of creating a student achievement center, made possible by a gift from John and Rosemary Brown, which will house the college's support programs and serve as a central meeting location for our students. In addition, renovations are being made to the Gavin Engineering Research Laboratory, formerly known as the Textile Engineering Building, made possible by Charles and Carol Ann Gavin.
The building will house the newly established Center for Polymer and Advanced Composites which will focus on research, graduate education and collaborative outreach opportunities to advance economic growth in Alabama and the Southeast. Portions of Broun Hall, the home of electrical engineering, will also be renovated thanks to a gift from Dorothy Davidson, chair and CEO of Huntsville's Davidson Technologies. Her gift honors her late husband Julian Davidson, a 1950 Auburn electrical engineering graduate and defense industry pioneer.
It is because of you that faculty members will be better supported in their research through laboratory equipment, professional development and grants. To continue to build a leading engineering program, we must secure the resources necessary to attract and retain the most exceptional engineering educators and researchers.
Finally, we are seeking to add several new faculty positions as we continue in this campaign in order to meet the ever increasing interest of students in our engineering programs. We look forward to what else we can accomplish together during the remainder of the campaign.
Why are we able to achieve these things?
Because this is engineering. Because this is Auburn.
Christopher B. Roberts