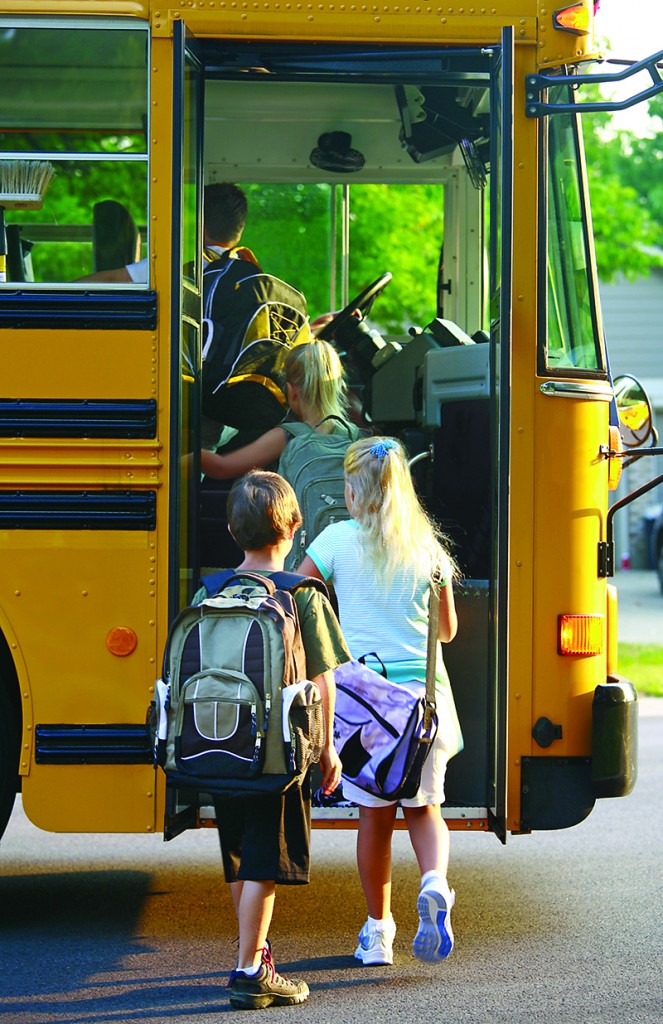 School bus-related stories draw attention because these recognizable big yellow vehicles transport the most precious passengers — children. Ensuring their safety is paramount once those wheels begin rolling down the road.
It was, therefore, no surprise Auburn industrial and systems engineering doctoral student Yousif Abulhassan attracted such a large audience to his dissertation defense, including school principals, school bus manufacturers and Alabama Department of Transportation coordinators. Many of these audience members had participated in Abulhassan's research and all were quite interested in the outcome of his work. His research looked for ways to improve school bus safety, particularly as it relates to emergency evacuation systems and the physical capabilities of young children.
As a doctoral student in the Occupational Safety and Ergonomics program, Abulhassan completed a required advanced safety course taught by industrial and systems engineering faculty member Jerry Davis. It was at this point that school bus safety, one of the major topics of this course, became Abulhassan's passion and the topic for his dissertation.
"While it is a fact school buses are among the safest mode of transportation for getting children back and forth to school, it is important to continue to look for ways to utilize technology to enhance school bus safety," Abulhassan said.
His dissertation studies have focused on the provisions of Federal Motor Vehicle Safety Standard 217, which specifies the size of school bus emergency exits and the force required to open these exits. Upon reviewing the literature, Abulhassan noted the standard does not consider the physical capabilities of the youngest school bus passengers. He also noted that the National Highway Transportation Safety Administration and National Transportation Safety Board have expressed concerns regarding the operability of the emergency exits following a rollover accident and the impact of inoperable exits on emergency evacuation. Finally, an emergency egress time standard that can be used to evaluate the effectiveness of school bus emergency exits does not exist. Abulhassan's dissertation looks to provide solutions to these challenges.
To aid in his research, Auburn secured a generous donation from Blue Bird Corporation, a bus manufacturer headquartered in Fort Valley, Georgia. The company donated the rear end of a retired 78-passenger school bus. The section weighed an unmanageable 1,700 pounds. So, with the assistance from the Auburn Fire Department, a hydraulic rescue tool was used to help divide the section into two portable test apparatuses.
Kevin Snowden, the pupil transportation program coordinator for the Alabama State Department of Education Office of Supporting Programs, helped recruit student volunteers for the study from Oak Mountain Elementary in Birmingham and Jim Pearson Elementary in Alexander City. Debbie Horton, principal at Oak Mountain Elementary School, expressed great interest in participating.
"I drove a school bus in the early '90s while teaching for Midfield City Schools," Horton said. "I have always believed that school buses were the safest way to transport students, but always knew that as technology advances so should bus safety. My hope for this study is to provide the research to identify necessary changes to school buses so that we continue to provide the safest transportation possible for our students."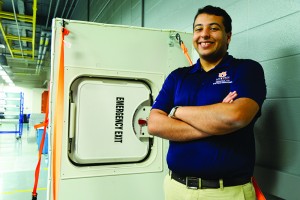 Abulhassan's first study was a collaborative project with Aimee Callender, assistant professor in Auburn's Department of Psychology, and was funded by the Auburn University Intramural Grant Program. This work assessed whether early elementary age children are capable of opening a school bus emergency escape roof hatch and are able to escape through it. Abulhassan was interested in whether the participants are strong enough to open the hatch, whereas Callender studied whether the children could read and comprehend the evacuation instructions.
Abulhassan observed that kindergarten students are unable to exert 20 pounds of force. Unfortunately, FMVSS 217 specifies that opening a roof evacuation hatch may require up to 20 pounds of force. In contrast, first- and second-grade students are able to exert 20 pounds of force. Indeed, as the volunteers' age increases, the percentage of self-extrication increases.
"We noticed some of our younger subjects were unable to self-extricate through the roof hatch due to insufficient upper body strength. However, another factor contributing to poor self-extrication by some students was limited friction between the smooth ceiling surface and those students' shoes," said Abulhassan.
The second study was funded by the National Institute for Occupational Safety and Health and assessed whether students could unlatch the rear emergency door when the school bus is upright or rolled over, and if they are able to self-extricate through the opening when the bus is rolled over. Abulhassan observed that almost all of the children in kindergarten through second grade were able to unlatch the handle when upright and rolled over. However, they were not able to exert 40 pounds of force, which FMVSS 217 specifies as the maximum permissible force required to unlatch a rear emergency door.
Fortunately, much less force is required to unlatch the rear emergency door of many buses, including the one donated by Blue Bird for Abulhassan's study. As a result, almost all of the children were able to unlatch the rear emergency door of the test apparatus.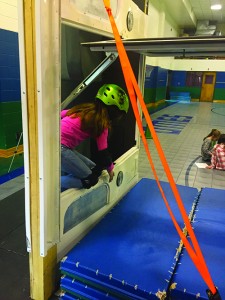 "The rear emergency door on a school bus weighs approximately 90 pounds, and when the school bus is rolled over on the driver's side, the door must be fully open for it to lock in the open position. Due to the heavy weight of the door and the chance that it would slam shut, we were unable to test if children had the physical capabilities to open the door when the school bus was rolled over," said Abulhassan.
Principal Horton of Oak Mountain Elementary School was impressed by Abulhassan's study. "Being able to partner with Yousif and Auburn University was an exciting opportunity," Horton said. "During the study, we were able to collaborate on formulating school bus safety enhancements with enormous real-world value."
The third study, also funded by NIOSH, determined how long it took students to evacuate a school bus when upright or rolled over. Abulhassan observed that student flow rates, or the number of persons evacuating per minute, was doubled when the last row of seats were removed from the bus.
While these studies yielded useful and compelling data, Abulhassan emphasized that his work revealed only the tip of the iceberg and additional research needs to be pursued.
"Studies using a larger subject population would be more definitive," he said. "Plus, there are many other variables to be considered, including fear, injuries, disorientation and environmental stressors."
Roundtable conversations following Abulhassan's dissertation defense gave the audience an opportunity to put his work into context and to discuss future collaborations.
"Having the bus manufacturers present at Yousif's presentation and roundtable discussion allowed attendees to share suggestions for enhancing school bus safety with the people responsible for implementing these design changes," Horton added.
Following graduation in May, Abulhassan hopes to obtain a faculty position so that he can continue to engage in safety research and education.