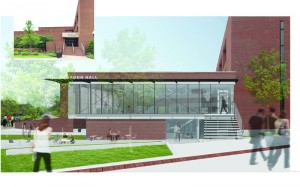 An intense programmatic phase is underway as the Samuel Ginn College of Engineering is in the beginning stages of two major renovations and a highly anticipated addition to the campus.
Thanks to an $8 million transformational gift from 1959 textile management alumnus Charles E. Gavin III and his wife, Carol Ann, the former Textile Building has been renamed the Gavin Engineering Research Laboratory. Work will soon begin to temporarily relocate equipment from the Gavin Laboratory, which will be renovated into a state-of-the-art research facility that will incorporate an additive manufacturing facility and a new polymer and composite laboratory. Following the renovation, the shops and L-Building will be razed to pave the way for another revolutionary facility for engineering students.
The Brown-Kopel Engineering Student Achievement Center, made possible by a $30 million gift from 1957 alumni John and Rosemary Brown, will enhance a multitude of student support services by creating a comprehensive facility capable of significantly transforming the personal and professional success of tomorrow's Auburn engineers.
Representatives of the college, including associate deans, administrators and advisers, have traveled to numerous prestigious universities across the country during the past year to visit and perform extensive research on comparable student support facilities. In addition, the college has collaborated with students, faculty, staff and alumni through several town hall meetings and email surveys to collect feedback on the new center.
The Brown-Kopel Engineering Student Achievement Center, scheduled to open by spring 2019, is slated to incorporate high-contact initiatives that support students and the college through recruiting; curriculum advising; career mentoring; a tutoring center; maker spaces; an international experience office; a leadership and professional development center; an industrial relations and innovation center; and a career placement office.
Another iconic engineering facility will soon be renovated, thanks to a $5 million gift from Dorothy Davidson in honor of her late husband, Julian, a 1950 electrical engineering graduate and defense industry pioneer. Broun Hall, the home of electrical and computer engineering, will receive a major facelift, specifically to the most highly trafficked areas that students use as study areas.
The renovation will open up the facility to more natural light, while also allowing ample student study space conducive for collaboration among students and faculty. This improved learning environment will incorporate the latest technologies, in turn providing engineering students with the tools and skills necessary to become tomorrow's leaders.