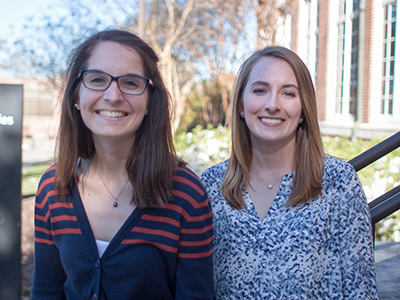 Sara Head and Jennifer Kaczmarek, seniors in chemical engineering, have been named Barry M. Goldwater Scholars, only two of 252 students nationwide.
Head and Kaczmarek are researching ways to engineer materials to regenerate cardiac tissue under the direction of Elizabeth Lipke, associate professor in the Department of Chemical Engineering. Their research will better help scientists and doctors understand the use of gelatin as a developmental model that is similar to the structural and biological properties of the heart.
Both students presented their research findings at the 2015 Biomedical Engineering Sciences annual meeting and, along with Lipke, have also co-authored a technical journal article currently under review.
In addition to dedicating their time to potential life-saving research, Head and Kaczmarek are active in several student organizations including the Biomedical Engineering Society, the American Institute of Chemical Engineering, Tau Beta Pi Honor Society and Phi Kappa Phi Honor Society. Kaczmarek is also a member of the Auburn University Marching Band.
The Goldwater Scholarship, established in 1986, rewards outstanding undergraduate students who plan to pursue a career in mathematics, science or engineering. Each scholarship award may be up to $7,500 annually.