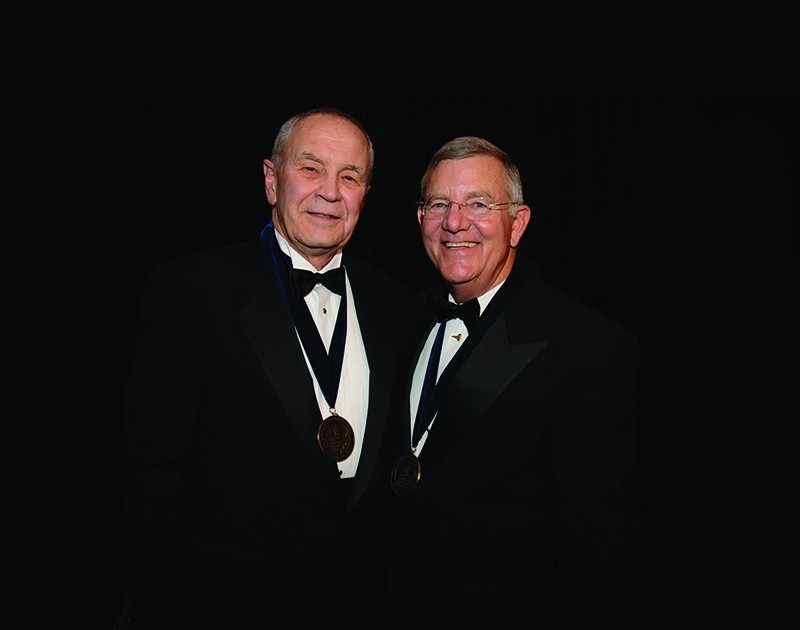 Each year, the Auburn Alumni Association recognizes individuals with its highest honor, the Lifetime Achievement Award. Established in 2001, the award highlights Auburn alumni accomplishments.
In 2016, four recipients, including two Auburn Engineering alumni, were honored for exceptional achievements in their professional lives, personal integrity and stature and service to the university.
Jim Voss, '72 aerospace engineering, began his career at NASA's Johnson Space Center in 1984. Three years later, he was selected as an astronaut, trained for space shuttle flights and was sent to Russia to be a backup crewmember to the Mir Space Station.
His 10 years of shuttle space flights include 163 days as an Expedition 2 crewmember on the International Space Station. His career also includes a tenure as vice president for space exploration systems at the Transformational Space Corp., vice president of engineering for SpaceDev and director of advanced programs at Sierra Nevada Corp. In 2003, he retired from NASA and returned to Auburn where he served as a professor and associate dean of development. After his time at Auburn, Voss went to the University of Colorado, serving as a full-time scholar in residence in 2009. He was inducted into the Alabama Aviation Hall of Fame in 2001 and the State of Alabama Engineering Hall of Fame in 2002. He is married to Suzan Curry Voss, '71, who is a member of the Dean's Leadership Council in the Auburn College of Sciences and Mathematics. In honor of Jim and Suzan's contributions to Auburn, they are members of the College of Engineering's Ginn Society and the university's Foy and Samford societies.
Walt Woltosz, '69 aerospace engineering, started his career overseeing development of simulation and modeling software for space and military systems. Later, after his mother-in-law was diagnosed with amyotrophic lateral sclerosis, or ALS, he established Words+, a company offering communication needs for the severely disabled. In 1988, astrophysicist Stephen Hawking wrote "A Brief History of Time" using Woltosz's technology.
Woltosz's first augmentative communication system for people with severe communication disabilities remains on display at the Smithsonian Institute. Woltosz also developed simulation and modeling software for the drug industry, and today more than 200 pharmaceutical firms use this to analyze new products, including the world's top 15 pharmaceutical firms. He serves on the Auburn Alumni Engineering Council, leading the council's research committee as chairman, and is a member of the Auburn University Foundation Board. Following a transformational gift in 2013, the college named the Woltosz Engineering Research Laboratory in his honor. Woltosz and his wife, Ginger, are members of the College of Engineering's Keystone, Ginn and Eagles societies. They are also members of the Tigers Unlimited Foundation's All-American Society and the university's Petrie and 1856 societies.