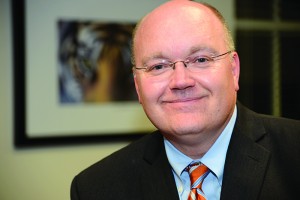 We are continuing on an amazing trajectory in the Samuel Ginn College of Engineering, as this year the college reached its highest enrollment to date with a total of 5,818 undergraduate and graduate students.
In addition to our student enrollment, our facilities are also growing. The former Textile Building — now named the Gavin Engineering Research Laboratory — and Broun Hall are being modernized to meet the needs of rapidly evolving industries, while construction of the eagerly anticipated Brown-Kopel Engineering Student Achievement Center is on the horizon. We are nearing completion of the programmatic phase for this new center, as representatives from the college, including myself, associate deans, administrators and advisers, have traveled to numerous prestigious institutions across the country to perform extensive research on comparable student support facilities. In addition, we also collaborated with our students, faculty, staff and alumni through town hall meetings and email surveys to collect vital feedback on the new center.
While our growth is much to celebrate, the accomplishments of our students, faculty and alumni truly distinguishes what Auburn Engineering is all about. Inside this issue, you will read about Sara Head and Jennifer Kaczmarek, who were recently named Barry M. Goldwater Scholars, which rewards elite undergraduate students in engineering, mathematics and science from across the nation. You'll also read the inspiring story of Anna Wilson, a sophomore in industrial and systems engineering, who is defying the odds through her incredible work ethic and determination.
This issue also features the phenomenal work done by postdoctoral fellow Meredith Reid in the field of schizophrenia at the university's MRI Research Center. In addition, you'll read about 1974 electrical engineering alumnus Ron Lipham and his wife, Lynda, and their philanthropic support of research in this area.
You'll also find the Cupola Report inside this edition, as we recognize those alumni, friends and corporate partners who contributed financially to the college in 2015. Because of these generous donors, we are continuing to propel upward as the best student-centered engineering experience in America.
Thank you for your continued support of the college. We hope you will join us in the fall for one of our football tailgates or for one of our many events celebrating the successes of our students, faculty and alumni, as together we are all Auburn Engineering.
-Christopher B. Roberts