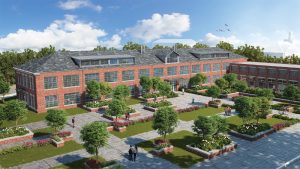 As part of more than $60 million in new construction and renovation, the college recently broke ground on the first of three major projects. Thanks to an $8 million gift made possible by Carol Ann and Charles E. Gavin III, the first project will include the renovation of the Textile Building into the Gavin Laboratory. This will allow the college to demolish the Engineering Shops and L-Building, and construct an elevated garden area. Site preparation began summer 2016, and construction is anticipated to be completed by November 2017.
An additive manufacturing facility will be incorporated into the building renovation, allowing students to gain experience with emerging fabrication technology, as well as a new Center for Advanced Polymers and Composites to continue the college's research in this area to meet industry needs. The renovated structure will include new research laboratories, as well as a facility for the Nuclear Power Generations Systems Program, a new wind tunnel system, a series of hands-on student project areas and collaborative meeting spaces.
The south entrance of the Gavin Laboratory will also be renovated to allow students more convenient entry to the building when coming from the heart of campus, while also providing accessibility to the Brown-Kopel Engineering Student Achievement Center once it is constructed.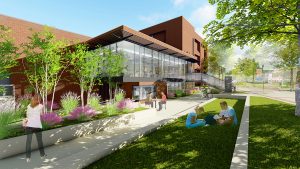 Broun Hall, home to the Department of Electrical and Computer Engineering, will also be renovated to provide students with an improved learning environment, thanks to the generosity of Dorothy Davidson, chair and CEO of Huntsville's Davidson Technologies. Davidson's $5 million gift honors her late husband, Julian, a 1950 electrical engineering graduate and defense industry pioneer. The Broun Hall improvement will include the Julian Davidson Pavilion, which will incorporate a modernized entrance that will invite natural light into the building, while also adding the latest instructional technologies and creating a more dynamic setting for students.
Construction of the Brown-Kopel Engineering Student Achievement Center will begin once the Board of Trustees approves the final plans. This state-of-the-art facility, made possible by a $30 million gift from John, '57 chemical engineering, and Rosemary Brown, '57 chemistry, will enhance a multitude of student support activities, including student recruitment, curriculum advising, tutoring, career mentoring, job placement and an industrial relations hub. The center will also create space for innovative student maker spaces, flexible technology-rich classrooms and an engineering international experience office.
To learn more about our current construction projects, click here.