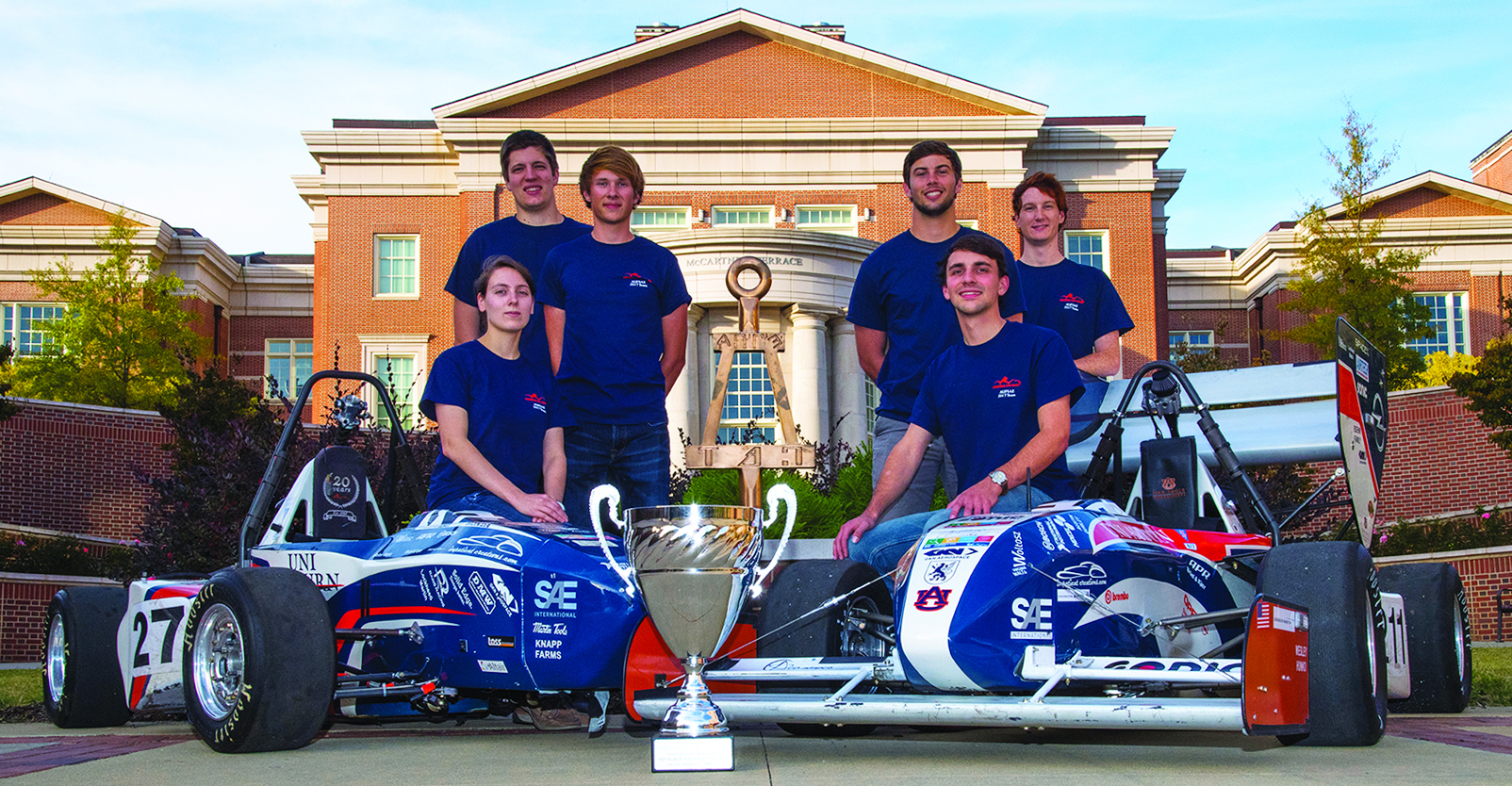 When the final scores came in at Formula West in Lincoln, Nebraska, this summer, feelings ran high on Auburn's travel team – it was our first overall win in two decades of racing in what is arguably the Society of Automotive Engineers most challenging student contest. Auburn had come close before, finishing second, third, fourth and fifth, all part of a comfortable number of top tens. But this was a ringing validation for the team's many long nights and lost weekends.
Indeed, while Auburn participates in a number of student competitions, each with its own challenges and obstacles, it would be hard to think that there's a tougher nut to crack than Formula SAE. The international competition draws colleges and universities from around the world – Europe to Africa and the Pacific rim to the Indian subcontinent, as well as all of the Americas – north, south, central, and the Caribbean.
The largest competitions annually involve nearly 150 vehicles, with every name-brand engineering program that comes to mind – MIT, Cornell, Michigan, Purdue, Wisconsin, Georgia Tech, Florida, and yes, Auburn.
The competition draws from an essentially clean sheet of paper every year, meaning the team cannot recycle last year's car. It's also relatively open – any kind of combustion engine can be used up to 700 cc, and it can be turbocharged, supercharged or naturally aspirated. The limiter is that the engine must breathe through a 20 mm intake manifold, and the chassis must meet stringent safety regulations that are carefully vetted before the cars hit the track.
Race week begins with static show-and-tells featuring design, engineering, cost and marketing reviews, and ends with crowd-favorite dynamic events – skidpad, acceleration, autocross and endurance, which consists of a grueling race punctuated by a driver change at the mid-point. It's a race car graveyard for designs that aren't carefully thought out, and machines that haven't been robustly constructed.
Auburn's designs this year reflected careful and iterative movement in some areas, and complete departures in others.
"This year represented our fifth generation composite tub," explained Drew Campbell, a mechanical engineering senior from Birmingham who is in charge of chassis development. "The tub is stiffer and lighter at 36 pounds, but we're already looking ahead to further improvements in '17, when we will extend the composites beyond the bulkhead at the driver's back."
It's not an easy thing to push the envelope every year. This time out the team used ultra-lightweight carbon suspension links for the first time, but quality control issues led the team back to more traditional chrome-moly steel links after testing found flaws in the former suspension parts.
"We're going to have the carbon links back on the car next year," Campbell promises. "What happened this year just reflects the fact that not everything is going to necessarily work right off the bat, but requires more development time and supplier oversight."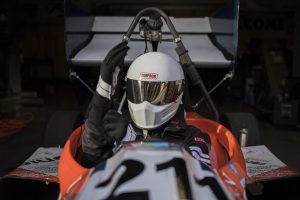 The big news this year was the adoption of an aerodynamics package with wings front and rear, along with other aero bits on the fuselage.
"We went from 206 composite pieces last year to about 250 this year, primarily because most of the aero parts are made from composite," said Payson Williams, a senior in mechanical from Houston who serves as team captain. "We produced most of these parts in house, with all but the largest being autoclaved in our shop. The ones that wouldn't fit, like the tub, went to GKN Aerospace for curing."
The aero package allowed the team to put 40 pounds of downforce on the track at 35 mph, which is frequently the speed taken through track corners. They plan to up the number for next year, maybe doubling downforce to 80 pounds.
"The math is there," Campbell said, "Force is mass times acceleration."
Campbell also said that in real-world testing, the car felt slower and heavier through the corners with the aero package, adding that the team felt the need to go to a harder compound on a heavier tire so that the rubber didn't overheat from the additional downforce.
"But when we tracked our lap times and converted those numbers into competition points, we came out 34 ahead," Campbell explains.
F=ma! Also accelerating is the team's use of telemetry and software solutions, with quantum advances in data logging.
"For the first time we were able to use data logging during the actual race, with real time data transfer that let us read vital signs on the car while it was in competition. The next iteration is to allow the driver to change parameters himself, and switch between drive modes, peak power settings, traction control bias and ignition cutouts during gear shifts," Williams added. "It's where so much development is really happening."
In fact, he points to developments that would have seen unimaginable even five years ago.
"We are repurposing our 2015 cars with sensors and actuators to make it a driverless car that we are entering into competition in 2017," he explained. "It reflects the innovation that is happening on a broader scale in the automobile industry."
Peter Jones, the group's advisor and Woltosz Professor in mechanical engineering, agrees.
"This is one of the great things about our student groups – in addition to our traditional combustion car, we now have an electric vehicle and the beginnings of a driverless car. When our students graduate and take jobs, they are not only prepared for the new technologies that are being developed, but ready to contribute from the beginning."
Team captain Williams and technical director Campbell, along with team leaders Michael Moritz, aero/suspension/steering, and Steve Hough, engine, are taking a more immediate look at life.
"We have four competitions next year," Williams says. "Detroit, Lincoln, Barrie, Canada, and the Hockenheim Ring in Germany – with about 12 days between them . . .
so that whenever I think of what a watershed year this has been, it all just seems like preparation for 2017. It's a lot of hard work, but it's teamwork and it's all a lot of fun."
Sponsor support keeps Smith in the game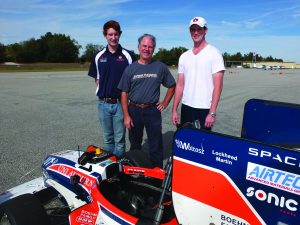 When Austin Smith showed up for Formula Sponsor Day on a crisp fall morning, he didn't expect to see anything all that different. An engineering account manager for National Instruments and 2010 graduate in mechanical engineering, he drove during his days on the team, as well as in previous sponsor days since graduating.
"I was surprised," he admits. "The biggest thing was that I could drive the car deeper into corners and still have grip. It was a lot of fun to get behind the wheel of this vehicle, with the benefits of an aero package and a really nice power train. It's quick."
He points to the difference that six or seven years can make.
"Now the technology is more readily available to get the team to the next step, utilizing tuning parameters like in-cylinder combustion pressure, just to name one element. There's also more room to innovate with new engine and chassis strategies because you're not having to build these resources almost from scratch."
It's working out well he adds, and he commends the team for their continued hard work.
"This isn't just a seat-of-the-pants assessment. The team has results on the track to back up what they're doing. As an alumnus of both the team and the college, it means a lot to me to see the direction they are going."