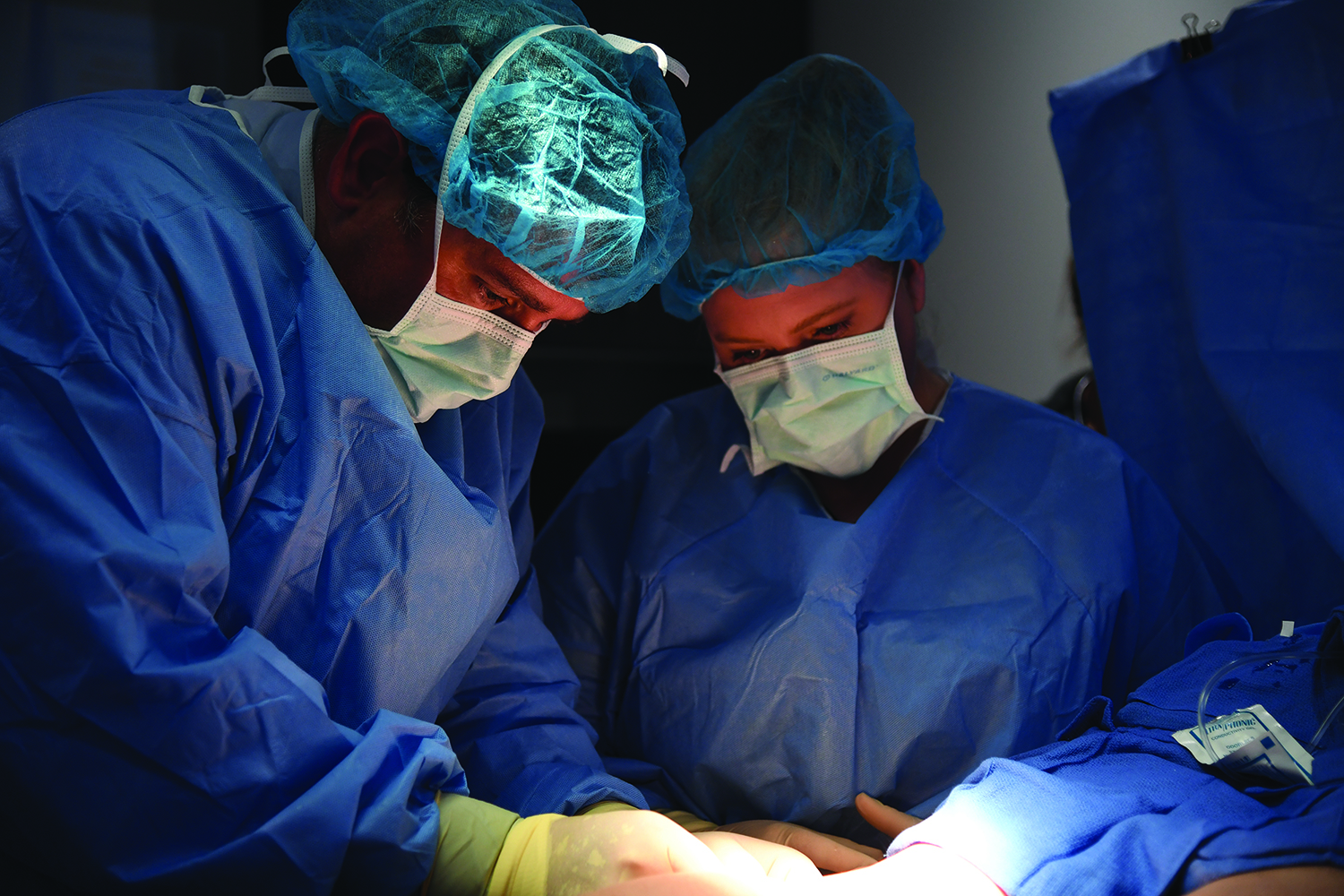 Jason Thompson knows the way to a person's heart, and if there's a problem with the major cardiac muscle that pumps life through our veins, he fixes it – cardiac stents, angiograms, arteriograms. These are only a few of the procedures he performs.
The cardiologist has always considered himself a fixer, not only with medicine but also in every aspect of his life. Tackling complex problems to achieve his career goals was something he learned through Auburn Engineering.
However, his journey hasn't always been smooth sailing. Thompson, '93 chemical engineering, put himself to the test, studying late nights for medical school exams while simultaneously earning his doctorate. Overcoming cancer while in residency would be his next achievement, but he got through it and has become an even stronger person for it.
Originally from Trussville, Thompson said he always wanted to be a physician. In high school, he excelled in science and math, so he knew engineering would be a natural fit.
In 1989, Thompson visited the university for E-Day and after seeing engineering students engaged and excited about their classes, he knew Auburn Engineering was where he needed to be. It just had "the right feel."
"I loved it, loved the curriculum, the skill set that it taught me in terms of problem solving and really how to approach a problem," Thompson said.
Even as a high school senior, Thompson said the faculty was extremely approachable.
"It's home, and to some degree it will always be home," he said.
After completing his bachelor's degree in chemical engineering in 1993, Thompson worked at a Swiss company for one year before deciding he needed a graduate degree. Many of his coworkers had their doctorate, and he quickly realized he would be a better engineer if he went back to school.
A few years later, he returned to the Plains and studied under Christopher Roberts, dean of engineering who then served as chair of the Department of Chemical Engineering. While in graduate school, Thompson helped start Roberts' lab, and the two developed a close relationship – one they continue to build upon today. He said he and his fellow graduate students had more interaction with Roberts than the typical doctoral student.
"We would roll up our sleeves in the lab side-by-side with him to determine directions of research, protocols and structure of the projects we were doing," Thompson said. "He was a friend, even at that early age, and he has continued to be."
In 2000, Thompson became Roberts' second graduate student to receive a doctorate.
According to Thompson, Roberts' best quality is his genuine interest in his students not just professionally, but on a personal level as well.
"He still stays in touch," Thompson said. "It's nice to know you have someone like that in your corner, someone you can always pick up the phone and call, and there's not going to be this distance and time between you. It's like you were in his lab yesterday."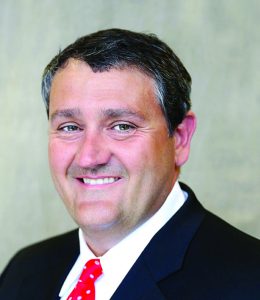 Decisions, decisions
Aside from having a blast in graduate school, Thompson began wondering if he should be doing something more. Without telling his parents or Roberts, he started studying for the MCAT.
By day, he was in the lab teaching two classes as a graduate assistant, and by night he hit the books, not expecting to pass.
"I thought a poor performance on the MCAT would just end this dream for me, and I wouldn't have to address it," Thompson said.
He passed, but he wasn't sure if medical school was the right move. Even going into the interview round, nobody knew he was pursuing this dream he thought he would never achieve. Sure enough, after his interview he received a call and was accepted into medical school at UAB.
However, Thompson was still torn on his decision. He thought 'what do I do?' The first person he told was Roberts. When he heard the news, Thompson said he was fatherly and told him he would support him the whole way.
"He said, 'You're going to finish your Ph.D. too,'" Thompson said with a chuckle.
Living in Birmingham, he would drive to Auburn on weekends for research with his fellow graduate students. To avoid paying two rents, he stayed in the Phi Gamma Delta house, his fraternity during his undergraduate years.
Once in medical school, Thompson realized the true benefit of an engineering background. At the beginning, it was hard since he didn't have as much medical knowledge. But by year three, when problem-solving was needed, Thompson said he and the other engineers in his class rose to the top.
Examining data requires sifting through what's important so decisions can be made. Thompson said the training he received while obtaining his doctorate was invaluable during this process. However, he struggled with memorizing all the medical material. He said there isn't much memorization involved in engineering. Professors taught a way to approach a problem and how to apply principles, but once you knew how to solve the problem, it was all calculations.
"I had this blue recliner in my den that I grew to hate," Thompson said. "But I would sit in that recliner, and for 12 hours a day I would memorize transcript after transcript, and that was very different for an engineer who never had to memorize anything."
Residency and his battle with cancer
It all started Sept. 10, 2003, when Thompson and his wife, Tami, visited the doctor for her ultrasound. He was busy working as a resident at UAB, and she was 32 weeks pregnant. The OB-GYN told them there might be chromosomal issues with their first child, Libby, so they were hoping the ultrasound would be normal. Fortunately, everything was just as it should be, signaling their baby was fine.
That night, the excited couple went to dinner in downtown Birmingham to celebrate the great news. Thompson said his wife suggested he have a glass of wine for the occasion. Within 15 minutes he started having neck pain.
"I started pressing around, and I found a lymph node in a place where you shouldn't feel a lymph node," Thompson said.
One of his mentors always liked medical trivia and an odd question he always asked was, "What causes lymph node pain in the setting of alcohol?" Thompson said that immediately came to him, so he worried it could be Hodgkin lymphoma.
"My wife will tell you that over the years I have diagnosed myself with a number of things," Thompson said with a laugh. "And in fairness I have, most of which have not proven to be accurate. But that one was accurate."
Thompson said he made a few calls and received a CAT scan the next day. The results showed stage two Hodgkin lymphoma. The next week he started cycles of chemotherapy that would last six months.
"It's amazing how you can go from the top of the world to the depths in a matter of seconds," Thompson said.
From finishing his third year of residency at UAB Hospital and being named one of the chief residents to being matched with Johns Hopkins Hospital in Baltimore to further his academic research, everything stopped in that moment.
For a couple days, the weight of the diagnosis was overwhelming. Between doctors trying to stop Tami's contractions from sending her into pre-term labor and him getting a port implanted for chemotherapy, Thompson's life seemed to be spiraling out of control.
But in the whirlwind of it all, Thompson found a different perspective. On day three, he contacted a friend from medical school. She was diagnosed with Hodgkin lymphoma as a medical student six years before. He told her he was sick, and she responded with, "Jason, that is such a blessing."
At the time it was hard to hear, but now Thompson feels his illness has completely changed his life – for the better.
"At the end of the day it was probably the greatest blessing I ever had," Thompson said in reflection. "You can't let it define you, but it changes you."
Amidst the chemotherapy and disease, he was able to finish his residency – a testament that he said was not to him, but his coworkers. Each night he was on call, a fellow resident would relieve him of his duties and tell him to go home for eight or nine hours to rest.
"It was just amazing," Thompson said. "Had it not been for them, I would have had to bow out for a period of time."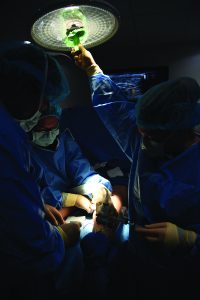 The engineering of surgery
During his residency, Thompson rotated through every surgery specialty, gaining as much experience as possible. But when it came to cardiology, he said it was love at first sight. However, it didn't come without demanding, labor-intensive work.
Early in his career, he thought he would spend the majority of his time performing procedures in the lab, but now his passion is working at the Birmingham Heart Clinic, where he has been for nine years. He sees anywhere between 140–150 patients per week, which allows him to interact with them more since he sees many of them on a regular basis.
In addition to working 9 a.m. to 5 p.m., he has to be prepared for emergency calls after hours, such as acute heart attacks. There isn't a typical day in cardiology because of its diversity, according to Thompson.
He said cardiology has shifted in the past 10 years, from primarily focusing on the heart to looking at the whole body, as well. Cardiologists have to be prepared for just about anything. Thompson specializes in cardiac catheterization, performing arteriograms and reading echocardiograms, or stress tests, during any given week. However, he said there are many engineering applications in his day-to-day work.
When he calculates valve areas in a heart, he uses the Bernoulli equation to determine rise and fall in pressure and flow of blood pumped by the heart. This uses the equations in the same way chemical engineers look at fluid flow. Techniques used in engineering imaging are also apparent in cardiac imaging. Materials science is used when constructing stents made out of different materials. Nitinol retains strength better than regular metal stents, making it possible to stent legs.
"Materials engineering has probably had the biggest impact in terms of the practice of cardiology," Thompson said.
How cancer changed his life
Overcoming cancer has helped make Thomson a better surgeon, physician, husband and father to his three children: Libby, 13; Lauren, 8; and Walker, 6.
"It permeates every area of my life," he said.
Being a doctor, Thompson read various scientific studies for Hodgkin lymphoma following his diagnosis. Seeing his survival rate drop from 70 to 50 percent across multiple articles "would take the wind out of your sail," so he had to stop researching.
One of the hardest things Thompson needed to do was truly accept the role of patient and put his trust in the doctor's hands. He had to stop trying to solve the puzzle and let his doctors do the problem-solving.
Having been a patient and seeing things from the other side allowed him to improve his own patient care as a doctor. Getting pricked with needles over and over for lab work made Thompson aware of the pain patients have to undergo. When he started practicing medicine again, he vowed to limit lab work as much as possible. Thompson also realized, after hearing his own diagnosis, how overwhelming complex medical issues can be, so he worked to explain things better and educate his patients on a level each of them could understand.
Cancer also renewed Thompson's faith in people. He said he and Tami probably didn't cook dinner for four months. Neighbors, patients and community members brought food to their doorstep, uplifting the Thompson family during a difficult time.
Support system
Tami has stood by his side through it all – picking up the kids when Thompson works late nights, understanding his schedule and valuing all the hard work he put in to get to the point where he is today. Thompson said he couldn't do it without her. They met during Jason's third year of graduate school on the Plains. Best friends and very much alike, the couple works as a team to ensure everything gets done.
During his treatment, Tami supported him, especially by making side effects easier to deal with. She exchanged his electric razor with a regular one because he was prone to excessive bleeding and slipped silk pillowcases on his pillows to reduce hair loss. His 10-minute morning routine quickly turned into an hour as he searched cabinets for his trusty electric razor – things they both laugh about now.
Even his Auburn Family supported him through his cancer. When Roberts heard about Thompson's diagnosis, he worried about his friend and former student.
"I think it hit him hard as well," Thompson said.
Auburn University and Auburn Engineering helped shape Thompson into the man he is today. With three children, sometimes it's hard to make it back to campus, but he said the family has recently been able to visit more often. He and Tami have even explored ways they could retire in Auburn.
"It's a special place, and I think that's lost on people who don't have a connection to Auburn," Thompson said.