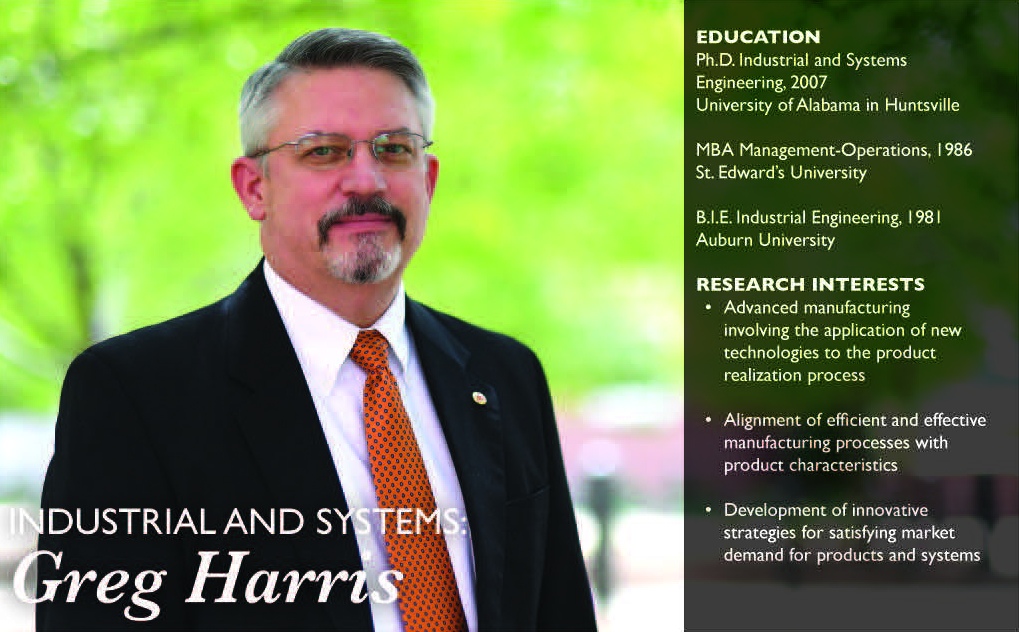 For Greg Harris, the Auburn Engineering experience has come full circle. A 1981 graduate with a bachelor's degree in industrial engineering, Harris returned in 2016 as an associate professor of industrial and systems engineering and director of the Southern Alliance for Advanced Vehicle Manufacturing.
During the past 35 years, he has put his engineering talents to good use in positions with industry, government and academia. Now back at Auburn, he is merging the three through his work with the Southern Alliance for Advanced Vehicle Manufacturing, a consortium led by the university to advance the region's automotive industry through university research and technical expertise.
"This is an opportunity to bring together all the things that I think are important," says Harris, who earned his doctorate at the University of Alabama in Huntsville. "The alliance is working on real industry problems by using academic research to address those challenges while applying advanced manufacturing processes and technologies to solve manufacturing problems. An important goal of the center is to develop robust relationships between industry and academia."
Before returning to Auburn, Harris was the program manager for the Digital Manufacturing and Design Innovation Institute, a cornerstone of former President Barack Obama's initiative to spur American competitiveness through next-generation manufacturing centers.
Harris and his colleagues are building partnerships with industry collaborators that will lead to technological advancements all along the automotive supply chain.
One of the alliance's long-term goals is to develop agile manufacturing systems, allowing organizations to pivot quickly without experiencing loss of productivity, efficiency or profitability.