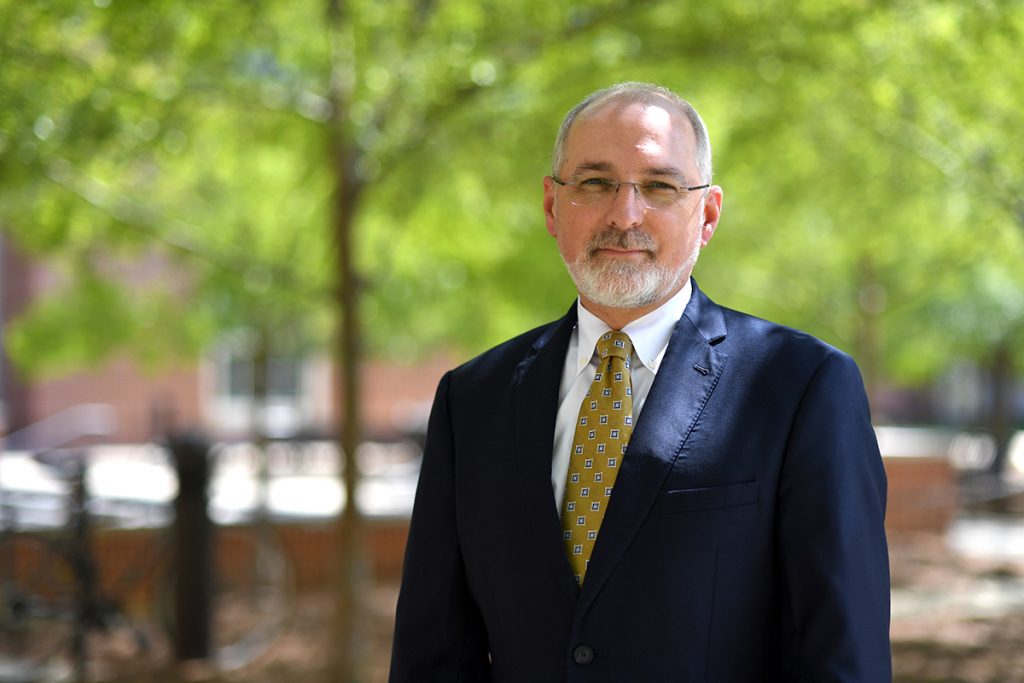 Steve Taylor is the associate dean of research in the College of Engineering. He previously served as the head of the Department of Biosystems Engineering. He earned both his bachelor's and master's degrees in agricultural engineering from the University of Florida and went on to obtain his doctorate, also in agricultural engineering, from Texas A&M.

MB: How has the transition been from department head to associate dean?
ST: I've definitely gone from working on a smaller level to a larger scale. As department head, I had to represent the faculty and be their voice. I was able to prepare and be knowledgeable enough about their research that I could go out to industry, as well as the public, to advocate on a faculty member's behalf for more research funding. Now, I'm trying to do the exact same thing, but on a college level that includes a much wider net of research.
As part of my responsibility, I want to connect our faculty to funding agencies including the Department of Energy, the National Science Foundation and private industry. I see it as my job to understand the funding needs of our faculty, and support them in providing those research opportunities.
MB: What has been the most surprising lesson you have learned since becoming associate dean of research?
ST: The growth of economic development occurring at the local level. I never realized how many companies, especially international ones, actually came to Auburn Engineering to learn about our capabilities. We recently had an Italian manufacturer visit our college to learn how they could partner with us in aerospace manufacturing. It's amazing how we attract the interest of these worldwide companies, and the impact their partnership could have, not just our college, but on the city of Auburn as a whole. The more companies interested in doing business with us, the greater the economic rewards for us, Auburn University and the city of Auburn.
Another lesson that I'm still learning is how to accomplish everything I want to without necessarily having the time I need. It's a balance of trying to address the urgent every day needs and the big-picture work I'm doing to get research grants approved while serving as the liaison between our faculty and the Engineering Business Office to meet our funding deadlines.
MB: Tell us about some of the research happening within the college.
ST: Our faculty members are conducting groundbreaking research within several areas that could change the industry. For instance, companies are looking to us for ways to manufacture 3-D products on an industrial level while achieving economic savings. Thanks to our additive manufacturing initiatives, we're closer toward finding how to do just that, and now we have several companies interested in partnering with us to further that research. We're also conducting autonomous vehicle research and studying how to decrease driver stress and increase fuel efficiency in commercial trucks. A lot of funding has been allocated toward driverless vehicle research across the country, and we're part of a revolution that could make a permanent impact on the shipping industry.
I'm also proud to see that we're collaborating with other colleges on Auburn University's campus. Faculty members in chemical engineering are working with the Harrison School of Pharmacy on drug delivery methods to improve cancer therapies. Professors in the Department of Civil Engineering are partnering with faculty members from the School of Forestry and Wildlife Sciences to study the relationships between vegetation and the water cycle and the effect they both have on densely populated environments.
We have a lot of exciting research occurring in the college that I'm continuing to learn about every day. The more I learn, the more I want to encourage our faculty to pursue these opportunities and ultimately change lives.
MB: What are your goals for the next 10 years?
ST: I want to double the number of our Ph.D. students and increase our research program visibility. In addition, I want the College of Engineering to be known as a prominent research institution across the country among graduate students. Finally, I will continue to seek out new ventures for more collaboration with other units across the university.
MB: When you can look back on your time as associate dean, what do you want your legacy to be?
ST: I want to be known as the person who was a bridge-builder in our college. It's important that I continue to put teams of faculty together and provide them with the resources they need to be successful. I also want to help fulfill the dean's goal of growing our graduate class through our research programs. We have so many areas of study to offer students who want to continue their education at the graduate level, and we need to encourage that development.
Scholarship is also something we want to increase, and I personally want to see our Auburn Engineering students go off into the world and make a major impact, whether that's through new patents or technologies. I'm always proud when a faculty member from another institution tells me a story about how impressed they are by the caliber of students in our college. While it's important for me to help bring in research dollars, that's not what defines me. Someone once said, 'In 20 years, they remember you by your students and your legacy, not by the amount of money you brought into a college.'"