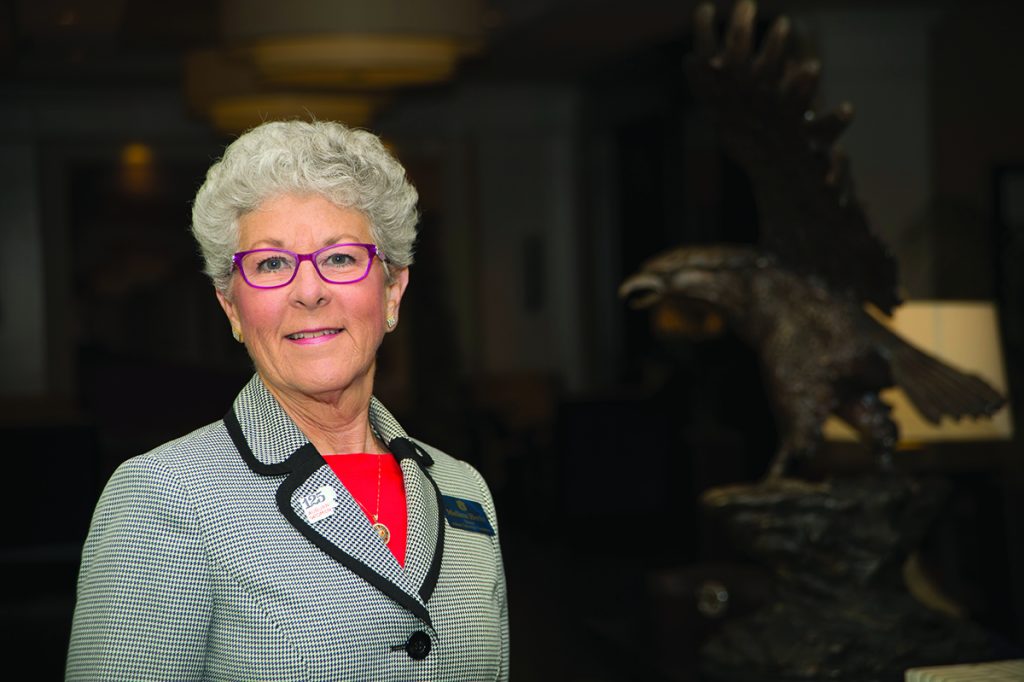 It never bothered Melissa Herkt – then or now – that she was one of three women to graduate in civil engineering in 1977.
"I transferred into Auburn from a community college as a rising junior, and always found the Auburn campus friendly and open," she recalls. "I was so focused on working and studying hard, and so set on finding a good job. It's where most of my energy went."
She does recall, with a laugh, that one of her civil professors told her that he would look out of his Ramsay Hall window after class, and watch her cross the street to McDonald's with some male students in tow as they went for coffee and conversation.
"If I had to do it all over again, I would have started at Auburn," Herkt reveals. "Then, as now, I love the Auburn campus, the look and the feel, and the opportunities. I didn't know then how to apply for scholarships, and  I went to a community college because that's  all I thought we could afford."
Herkt says that something else she missed out on were extracurricular activities, mostly because of her work schedule, but probably as well, because the range and scope of activities that are now available on the Auburn campus – dozens of student groups in engineering alone – weren't that readily available in the early '70s.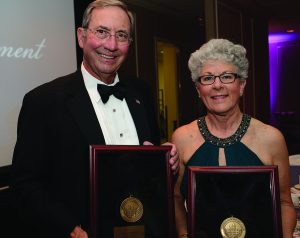 But the jobs were there, she says with a smile.
"If you were a female engineering graduate, you had a lot of job offers to choose from," she recalls. "I took a position with Exxon because they told me that if I spent a couple of years stateside in training, I could see the world. I began at Bayway refinery in New Jersey, and did just that."
Herkt worked in several European countries during her time with Exxon, as well as with other companies. Some locations were hard for her to love – "When you're 25 and live in a town of 20,000  and don't have television     . . . and you're lonely . . . you know, what are you going to do?" There were, of course other, enviable locations that served as eurotour destinations, such as England and France.
As much as any of these she relished her time in Barranquilla, Colombia, where Exxon built a $3 billion open-pit coal mine nearby in the early '80s. There was a huge amount of infrastructure to develop, a deepwater port to bring online, and rolling stock to buy, ranging from tugboats, airplanes, to some 100 large trucks – all, she says, an engineer's dream. (note the mine was not in the town …
"I'll tell you this too," she says, " I learned there and at the Canadian tar sands that the women truck drivers were much better than the men for reasons almost nobody can argue. They didn't take the chances the men took behind the wheel and they didn't wring the engines out. The rolling stock lasted longer with women behind the wheel."
It was during her time in Colombia that she also learned to speak Spanish, a skill that she used much later down the line when she began to volunteer as an alumni advisor to the Engineers Without Borders teams that were engaged in work in the remote Bolivian village of Quesimpuco, in irrigation infrastructure projects.
"I think that you have to speak the language if you really want to understand another person, and understand their culture. I have been to Bolivia with EWB four times, and made some dear friends there because I could speak to them," she points out. "It's been a real joy, not only in doing that, but in being able to ask the questions, and to translate for others."
In addition to her work with Engineers Without Borders, Herkt has recently become involved in the College of Engineering's 100+ Women Strong program, which seeks to recruit, retain and reward female engineering students.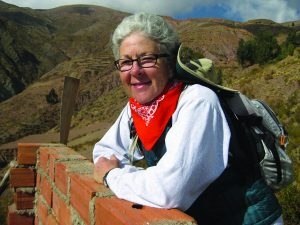 "I have always had some level of involvement with this group, but my commitments and my travel schedule were limiters," she notes. "Now that I live in Auburn, I am looking forward to more involvement, particularly in the area of retention. My advice to freshmen and sophomores who are questioning their commitment to study engineering is always the same.
"Don't give up before you get started. Yes, it's hard, and yes, there is a lot of work, but it is so worth it. I would also counsel juniors and seniors to seek out co-op assignments, as I did, or internships . . . the experience will help you find out if you are cut out for engineering, if it's something you will enjoy. If it isn't, it gives you a chance to alter what you're doing."
Herkt is also one to ask students to look at the opportunities, which in engineering, she adds, are limitless.
"There is nothing that says you have to sit in an office and pound out equations on a calculator," she exclaims. "I never did that! I worked in project management, designing and building, and in general business heading up a large company P&L. My last corporate move was in the Process Systems and Solutions business unit for Emerson Process Management, which was a global unit with more than 5,000 engineers."
Her background is one that Auburn has taken advantage of, naming her to the university's Foundation Board, which oversees gift development. She's in her third year with the board, and serves on the finance and real estate committees; in January, she will become treasurer. She also serves on the Auburn Alumni Engineering Council.
An undercurrent in Herkt's life has always been change – the need to forecast it, adjust to it, ultimately, to push it forward.
"I'm sometimes asked what I feel my legacy is – and hopefully, that's still unfolding – but something that comes to mind is the work I did at GlaxoSmithKline , where there was a management track and a technical track, with the latter tapping out long before the former. I was able to help redefine that, to the point where you can now stay in the technical track to the director level, which is just below where the VP slots are. It's a significant improvement and it keeps great engineers in their field of expertise.
"I learned how to navigate this by listening, which is something I want our students to learn as well. I also want them to find out and work though the fact that they are not necessarily the smartest person in the room – although that may well have been the case all the way through high school."
To grow from that point, she asks students . . . to ask a lot. She also suggests being open to the mentoring process, or to shadow an engineer at work. She suggests as well that students take advantage of the membership of the Alumni Engineering Council, which even now is ramping up its efforts to work with students on leadership issues and mentoring.
"I have never seen a group so focused on the success of our students, on giving them the confidence to succeed," she concludes. "It's something my mother gave me, and I want to pass it along as well. It humors me to think that this person, who was really not a math person like I am, believed in me, and convinced me, that I could do anything I set my mind to, including seeing the world. I want to give that to our students as well."
KINDRED SPIRITS
Natalie Mills picked up the phone, dialed her parents and held her breath. This was not going to be an easy conversation for the Auburn sophomore – she was quitting engineering.
Her parents got the first word in when they picked up because they were eager to share some good news – they received a letter that morning reporting that she had earned a full ride scholarship from a civil engineering alumna.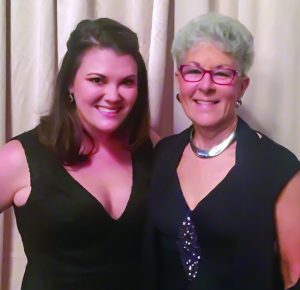 "Well, I actually called you up to tell you I'm quitting," she replied, to which her parents said, "This donor – Melissa Herkt – she didn't give up. She kept going and did some great things in engineering."
That comment put some steel back into Mills, and she accepted the scholarship, did well in school, and has gone on to a position with Southern Company Services in Birmingham.
"When it sunk in, I couldn't believe it," she said. "My parents and I were living in Florida at the time, so it was a full out-of-state scholarship. That was wonderful, but it's not the end of the story. I met with Melissa when I was student, first at an Alumni Engineering Council banquet, when I was a Cupola Engineering Ambassador and our advisor sat me at her table.
"I met her again on an occasion or two as a student, and now I have reconnected with her through our 100+ Women Strong program. I'm not sure I told her this, but she became much more than a donor – she became an example to me, an exemplar of what you can become. She showed me that one person can make a difference in your life."
Natalie has taken an active role in 100+ Women Strong and is currently co-chair of the group's executive committee. She has become a donor and mentor as well, in no small part she says, to honor that someone who made a difference in her life, who became that someone to challenge her, who became that someone to build an engineer.
And, of course, that someone is Melissa Herkt, whose presence and career, "challenges me still today in a way that matters and always will."